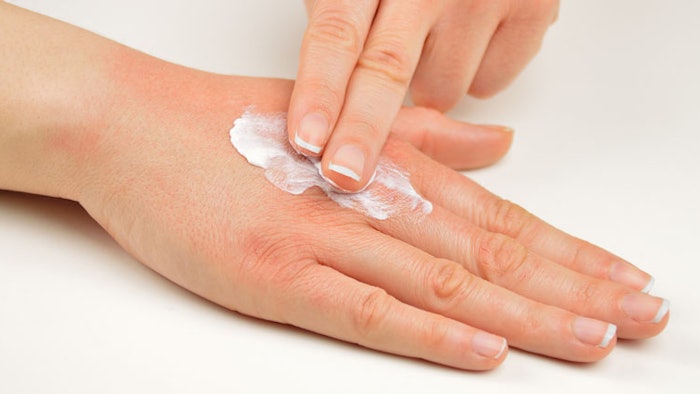 Researchers at Kao Corp. have discovered that the ceramide profile of atopic skin can be shifted toward that of healthy skin through the daily application of a lotion containing synthetic pseudo ceramide. The results of their work were published online in the Journal of Investigative Dermatology.
According to the study, stratum corneum ceramide levels are decreased in non-lesional sites in atopic skin, which is one of the causes of stratum corneum function decline. However, little is known about the relationship between changes in the ceramide profile and stratum corneum functioning in atopic dermatitis. This was the focus of the present study.
See related: A Delicate Dance, Mildness and Efficacy to Cleanse Compromised Skin
Test Method
A panel of 38 patients presenting with atopic dermatitis as diagnosed by a dermatologist treated their skin twice daily with a test lotion for four weeks. During that period, they did not use other medical treatments or skin care products. Stratum corneum samples were collected by tape-stripping before and after the four weeks of treatment.
Synthetic pseudo-ceramide and endogenous ceramides in the stratum corneum were examined using normal phase liquid chromatography-electrospray ionized (NPLC-ESI) mass spectrometry. Stratum corneum water content was determined by skin conductance measurements.
Results
The endogenous stratum corneum ceramide profile showed a shift after four weeks of daily treatment with the test lotion. In particular, ceramide NH and NP levels were increased, and ceramide NS and AS levels were decreased. Furthermore, a lengthening of the ceramide NS carbon chain also was also observed. These results indicated the endogenous ceramide profile characteristic of atopic skin shifted toward that observed in healthy skin.
Conclusions
The authors concluded that daily treatment with lotion containing synthetic pseudo-ceramide changed the endogenous ceramide profile of individuals with atopic dermatitis to that of healthy skin. The penetration of synthetic pseudo-ceramide into the stratum corneum also was confirmed. This information is important for skin care in patients with atopic dermatitis, and Kao will use these insights for future investigations.