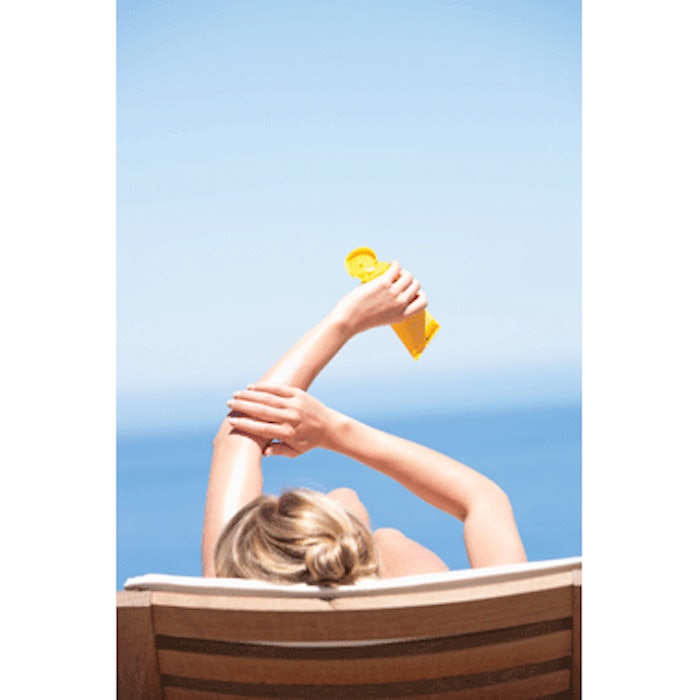 There is something new under the sun! Late last year Congress enacted the Sunscreen Innovation Act, which the president signed into law on November 24. The Act amends the U.S. Food and Drug Administration's time and extent application (TEA) program for sunscreen actives and imposes time limits on the ingredient review process. The TEA, finalized by the FDA in 2002, permits companies to apply for expedited approval for sunscreen ingredients that have been in continuous use for five or more years in a single country. Unfortunately, TEA applications have not yet resulted in the approval of any new sunscreen actives.
When the FDA finalized its long-awaited Final Sunscreen Monograph in June 2011, many industry experts expected it to include approval of several new active ingredients. It did not. As months went by without further additions to the sunscreen formulary, dermatologists joined with product manufacturers and organizations such as the Prevent Cancer Foundation to push for approval of at least some of these time-tested new ingredients.
The Sunscreen Innovation Act requires the FDA to review and report back on new TEA applications within 11 months and mandates that the FDA report back to Congress on its progress toward review of the current backlog of TEA submissions within eight months. Some of these applications have been under review since 2003 (see "Awaiting FDA Approval").
"At its core, the Sunscreen Innovation Act is a step in the right direction in the fight to eradicate skin cancer," says Brett M. Coldiron, MD, president of the American Academy of Dermatology (AAD). "A more timely review process for sunscreen ingredients could help alleviate our nation's growing skin cancer burden by providing consumers with more choices to fit their individual needs and preferences."
Great Expectations
Europe has 28 approved active ingredients and Japan has 42. In contrast, only 17 actives are FDA-approved for use in sunscreens in the U.S., and the FDA has not approved a new sunscreen active since 1990. "Many of the ingredients awaiting FDA review have been in use for more than a decade in Europe and Asia, and there are no data to suggest that any of them are dangerous," says Darrell Rigel, MD, New York dermatologist and medical director at Schweiger Dermatology Group.
Most of the ingredients approved for use in the U.S. only protect against UVB rays. While seven of the ingredients say they protect against UVA radiation, only avobenzone and zinc oxide provide long-wavelength UVA protection.
Other chemical ingredients—oxybenzone and methyl anthranilate, for example—provide only partial broad-spectrum UVA protection. Avobenzone (Parsol 1789) does provide broad-spectrum UVA protection, but it quickly loses potency when exposed to UV radiation unless it is combined with a photostabilizing agent.
Both titanium dioxide and zinc oxide provide excellent UVA and UVB protection and they are often blended with their chemical counterparts to create cosmetically elegant formulations that are easy to apply, feel good on the skin and provide broad-spectrum protection.
Image copyright Getty Images.
[pagebreak]
Ecamsule (Mexoryl SX, L'Oreal), was approved by the FDA in July 2006, but because L'Oreal went through the traditional drug-approval process rather than getting ecamsule approved under the sunscreen monograph, it cannot be used in other sunscreen products. This short-wavelength UVA absorber has been a popular photostabilizer in European sunscreens for years, allowing fragile ingredients like avobenzone to go from losing potency within 20 minutes of sun exposure to providing UVA protection for up to three hours.
"We strongly support having a wide variety of sunscreen ingredients, which, in turn, provides manufacturers with the ability to innovate and develop products that people enjoy using," says Lisa Powers, executive vice president of the Personal Care Products Council.
Formulators like Robert Manzo of Skinprint, a company that develops sunscreen products for sale in both the U.S. and Europe, find current restrictions frustrating. "Some of the ingredients available in Europe and other countries allow us to formulate more appealing products with greater efficacy," he says. "For example, Tinosorb S covers the UVA 1, UVA 2 and UVB ranges of ultraviolet light. It's photostable so it doesn't break down in UV light, and it can actually stabilize other sunscreen ingredients. It also increases the aesthetics of the sunscreen formula, which can lead to more tolerated use by consumers for reapplication."
"The sunscreens we have now are not bad, but some ingredients could potentially be better," says Dr. Rigel. "UVA blocking agents like Parsol or avobenzone are good but not very stable. The addition of Mexoryl SX could help keep them from breaking down in sunlight. Tinosorb is another interesting option, which can even be used in detergents to give clothing the ability to block more UV radiation."
Bisoctrizole (Tinosorb M) absorbs both UVB and UVA rays, and it can also reflect and scatter UV radiation. Skin penetration is minimal and it degrades very little in sunlight; it can help stabilize other UV absorbers as well. "We use it in Avène High Protection SPF 50+ available outside the U.S.," says Ewelina Aiossa, director of marketing for Pierre Fabre USA. "As skin cancer rates continue to climb, we need to be able to react faster with a more diversified portfolio of sunscreen actives, including those that have long been in use in Europe, Canada and other countries. We are relying on sunscreen science that's over a decade old—practically ancient in the world of medicine. Americans shouldn't have to wait decades for access to the most advanced effective sunscreens."
Tinosorb S has the same attributes as Tinosorb M and is more oil soluble. Mexoryl XL is the oil soluble version of Mexoryl SX. Other ingredients awaiting approval are Amiloxate from Symrise (symrise.com), Enzacamene from EMD (emdchemicals.com) and octyl triazone from BASF (basf.com)—all are UVB filters with a long history of use in other countries.
Continuing Cautions
The FDA still has a lot of work to do when it comes to sunscreen regulations. In addition to reviewing the growing list of sunscreen actives, the agency has said it will address the need for an upper limit on SPF claims. It has also called for more data on the effectiveness and safety of spray-on sunscreen products.
Image copyright Getty Images.
[pagebreak]
In September 2014 the FDA's Nonprescription Drugs Advisory Committee (NDAC) called for long-term safety studies of sunscreens and expressed concern that the
current "ingredient focused monograph" process for over-the-counter drug approval could fail to detect issues with actual products, such as increased skin penetration when combined with an otherwise inert vehicle. "Sunscreen filters do behave very differently in formulations," says Manzo. "A formulation with an ingredient that provides lower surface tension on the skin, allowing the sunscreen to spread more uniformly, may be more effective. But while the focus may be on active ingredients, professional cosmetic chemists understand the effects of combining ingredients in formulation, and the final formulation must undergo safety and efficacy testing to prove label claims."
Several NDAC panel members also said additional safety data should be collected in potentially more vulnerable populations, such as children, the elderly and people with skin barrier-compromising conditions such as psoriasis or eczema.
"As physicians, we rely on the FDA to ensure that all sunscreen products are safe and effective when used as directed. We are consistently seeking out new evidence to help our patients, and would welcome supporting data to show sunscreen effectiveness, particularly in specific populations," says Dr. Coldiron.
Another ongoing area of concern is the use of nanoparticles of titanium dioxide. Nanoparticles are thousands of times smaller than a speck of dust and while existing studies have given authorities little reason to be concerned about absorption into the skin, the jury is still out on other safety issues. Some experts suggest that nanoparticles of titanium dioxide could heat up as they absorb UV rays and damage the skin as they penetrate—a number of manufacturers have responded by coating the nanoparticles with silicon or aluminum to minimize any potential injury.
"While we have years of data on the European ingredients under FDA review, we don't have years of data on nanoparticles. We need to find out how nanoparticles penetrate. Sunscreens using nanoparticles do have appeal, but these would be a new generation of sunscreens beyond the currently well-tolerated ingredients," says Dr. Rigel.
More important than any single ingredient or potential danger is the ongoing issue of sunscreen use. Most of us know we should wear sunscreen daily, but fewer than one in ten apply a sunscreen year round, according to a recent U.S. Department of Health and Human Services survey.
"Scientific evidence supports the benefits of sunscreen to minimize short- and long-term damage to the skin from UV radiation and outweighs any unproven claims of toxicity or human health hazard. The Academy encourages all Americans to use sunscreen as part of an overall sun-safe regimen," says Dr. Coldiron.
The hope is that innovation will be spurred by the introduction of new FDA-approved UV filters, in turn leading to products that are easier to apply and more appealing to the general population.
Image copyright Getty Images.
[pagebreak]
Awaiting FDA Approval
The following eight UV filters have been awaiting FDA approval for five to a dozen years.
Amiloxate (isoamyl p-methoxycinnamate), also known as Neo Heliopan. Approved in the EU and Asia. Submitted 2002.
Bemotrizinol (bis-ethylhexyloxyphenol methoxyphenyl triazine), also known as Tinosorb S. Approved in the EU and Australia. Submitted 2005.
Bisoctrizole (methylene bisbenzotriazolyl-tetramethylbutylphenol), also known as Tinosorb M. Approved in Australia and Japan. Submitted 2005.
Drometrizole Trisiloxane, also known as Mexoryl XL. Approved in the EU. Submitted 2009.
Ecamsule (terephthalylidene dicamphor sulfonic acid), also known as Mexoryl SX. L'Oreal was granted FDA approval for a specific formulation of ecamsule in 2006, but it is not approved for use in other formulations. Submitted 2007.
Enzacamene (dimethico-diethylbenzalmalonate), also known as Parsol SLX. Approved in the EU and Asia. Submitted 2002.
Iscotrizinol (diethylhexylbutamido triazone ), also known as Uvasorb HEB. Approved in the EU and Asia. Submitted 2005.
Octyl Triazone (ethylhexyl triazone), also known as Uvinul T 150. Approved in the EU, Australia and Japan. Submitted 2002.
Linda W. Lewis is a contributing editor of MedEsthetics.
Image copyright Getty Images.