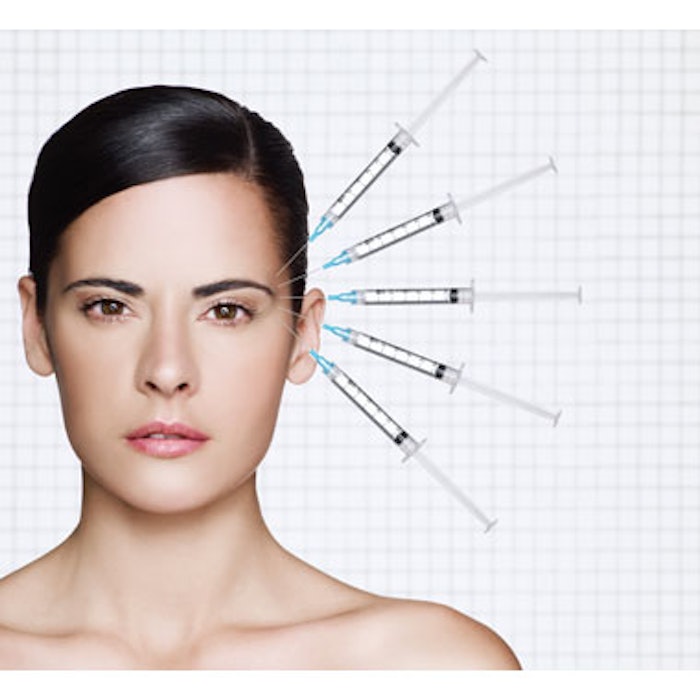 In the January 2015 issue of Plastic and Reconstructive Surgery, Manhattan plastic surgeon Michael A. Kane, MD, argues that when it comes to nonsurgical periorbital and brow rejuvenation, the best results come from using multiple modalities to treat the full range of concerns at once rather than singling out just one. We spoke with five prominent aesthetic practitioners who agree that today's patients achieve the best results when treated with a combination of muscle-relaxing neurotoxins, versatile dermal fillers and energy-based devices. While the results may not last as long as surgery, the risks are minimal and patients express a high degree of satisfaction. Is it any wonder that surgical cosmetic procedures have decreased by 12% since 2000, while minimally invasive cosmetic procedures have soared by 144% (2013 Plastic Surgery Statistics Report, American Society of Plastic Surgeons)?
"I use a lot of different toxins and energy devices (we have more than 15) and customize each treatment regimen for the person sitting in front of me," says Florida dermatologist Kenneth Beer, MD, associate clinical professor at the University of Miami and director of Cosmetic Bootcamp, an educational program for providers. He also co-authored an article, published in the January 2014 issue of the Journal of Drugs in Dermatology, on aesthetic treatments for the eyebrow and periorbital region.
Jill Waibel, MD, founder of Miami Dermatology and Laser Institute, finds that offering multi-modality procedures as treatment packages is a win-win. "What we've found is that someone will come in for an IPL treatment and, as the skin responds, she looks in the mirror and all she can see is forehead wrinkles. That's why we now offer packages like the Fresh Start or the Fountain of Youth—a group of treatments designed to address not just one problem but a group of often related complaints. While the patient may come in for a specific treatment, what she really wants is to look her most beautiful, and these packages deliver that. The package approach has really worked for us," she says.
"We've also found that cosmetic treatments can be synergistic. For example, fractional resurfacing opens up channels into the dermis that allow us to deliver products like vitamin C or a neurotoxin. By combining modalities we achieve results that are far better than the individual treatments," Dr. Waibel adds.
Softening Dynamic Rhytides
Neurotoxins remain the No. 1 treatment option for dynamic wrinkles around the eyes. "Most people benefit from neurotoxin injections for crow's feet and to help lift the brow," says Thomas E. Rohrer, MD, of SkinCare Physicians in Boston. "The basic 150kD BoNT/A active molecule is the same for all of the neurotoxins used in aesthetic practices. If you understand the dosing and get that right, the results should be equivalent."
"In the state of Nevada, toxin bottle size is a determining factor," says H. L. Greenberg, MD, founder of Las Vegas Dermatology. "State law says we have to sell botulinum toxins by the bottle. As a result I end up using more Botox or Xeomin for periorbital areas because they come in 50-unit bottles; however, we will use a full bottle of 300 units of Dysport with distribution to the periorbital skin if the patient desires. I have no personal preference and offer all three toxins. We mix our Botox and Xeomin at 1mL/100 units and Dysport at 1mL/300 units."
Dr. Waibel notes that many patients ask specifically for Botox, because it is the most established brand name. Yet, there are benefits to carrying multiple toxins. "A few will come in saying, 'Botox didn't work for me,'" she says. "We know that usually means the treatment wasn't properly done in some way, but rather than going into that, we can now say, 'Why don't we try Dysport or Xeomin.'"
Image copyright Getty Images.
[pagebreak]
Whichever brand the physician and patient choose, the injector's skill will affect outcomes much more than the specific product. "It comes down to dosing correctly and proper technique to put the proteins in the correct place," says Dr. Beer.
Skin Texture and Laxity
For deeper wrinkles, skin laxity and hollowing under the eyes, there are a number of energy-based devices that are used to rejuvenate the periorbital area. "We have about 40 lasers in our practice," says Dr. Waibel. "But for the periorbital area my favorite is a fractional ablative CO2. It's like taking an iron to wrinkles—they're just gone. We do a lot of men as well as women."
In the January 2014 issue of the British Journal of Dermatology, Elisabeth Kohl, MD, reported results of her study using profilometric skin analyses to evaluate the effectiveness of fractional CO2 laser resurfacing in 25 patients. Wrinkles were significantly smoothed in all areas of the face, but the best results were in the cheeks and periorbital area.
"Typically it takes four treatments or so for patients to achieve the desired result of skin that feels tighter and looks less wrinkled and more youthful," says Dr. Greenberg. "The procedure involves numbing the eyeball itself and applying eye shields to protect the globe. We have Cynosure's Smart Skin Fractional CO2 Laser, and I love it. It allows me to adjust the power, dwell time, distance between pulses and size of the pulse area. I feel very much in control with this laser."
Sam Rizk, MD, a New York City facial plastic surgeon who specializes in facial rejuvenation, prefers The Cortex System from Ellman, which combines ablative CO2 and fractionated Erbium YAG. "I like it for lower eyelid fine rhytides," he says.
Though fractional CO2 is fast becoming the gold standard for wrinkles, there are a number of other devices that can improve skin tone, including radiofrequency- and ultrasound-based skin tightening devices and nonablative lasers.
"The type of energy device we use depends on the patient's skin type and tolerance for risk and downtime," says Dr. Beer. "For instance, if a patient can't have a week of redness, there is no point in discussing CO2 laser resurfacing. Instead we will suggest less aggressive treatments like radiofrequency or Fraxel."
Ultherapy is the procedure currently getting the most attention for periorbital rejuvenation. Ulthera, acquired by Merz Aesthetics in June 2014, received FDA clearance to market its unique microfocused ultrasound device for eyebrow lifts in October 2012. At the American Society for Dermatologic Surgery (ASDS) Annual Meeting in November 2014, Sabrina Fabi, MD, and Mitchel Goldman, MD, presented data from 48 patients who underwent one microfocused ultrasound treatment. The patients were assessed
at 180 days by a blinded reviewer using the Global Aesthetic Improvement Scale. The average score was 1.8, with 67% showing visible improvement.
Image copyright Getty Images.
[pagebreak]
At the American Academy of Cosmetic Surgery (AACS) Annual Scientific Meeting in January 2015, Wm. Philip Werschler, MD, presented data from a study of 20 patients who received a single microfocused ultrasound treatment of the face and neck. Photographs were taken before and immediately after treatment and at 90, 180 and 365 days later. Blind, masked assessment recorded overall improvement in lifting and tightening of the skin for 71% of patients based on photos taken at the 90-day follow-up visit. At the one-year follow-up, 89% of patients expressed satisfaction with the procedure.
Relatively new devices, like the Alma ClearLift, BTL Aesthetics Exilis Elite and the EndyMed 3DEEP multi-source phase-controlled radiofrequency device, have joined Solta Medical's Thermage in the category of skin tightening. Each of these devices now offers specialized handpieces and/or treatment protocols for lifting brows and tightening skin in the periorbital area.
The cost of lasers and skin tightening devices is a significant factor for patients. In some practices, less expensive chemical peels and microneedling devices provide a welcome—and effective—alternative to lasers. "I personally have had four Dermapen microneedling procedures performed and I offer microneedling to patients as a CO2 laser alternative," says Dr. Greenberg. "There is minimal downtime and the results are fantastic in terms of leaving skin feeling rejuvenated and refreshed. We apply topical hyaluronic acid or growth factor postprocedure to speed healing. We also have patients spray with Avène water to hydrate damaged skin."
Filling the Void
"Fillers are my favorite tool in the periorbital area," says Dr. Rohrer. "As we age the bony orbit gets wider and orbital structures drop into the void that's created there, giving us hollowing and darkness in the undereye area. We can't replace the bone, but we can simulate a more youthful look with fillers. A little filler under the lateral part of the eyebrow can lift and enhance this area. A little under the eyes can help create a more open-eyed effect. This process alone can make a huge difference in the way someone looks. Hyaluronic acid fillers are the best and safest products for use in the eye area."
Dr. Beer uses Restylane (Galderma) and Belotero (Merz Aesthetics) around the eye. "It is critical to use small amounts here and to stay under the muscle to avoid blue blebs," he says. "There are a lot of very important structures in this neighborhood. It is not an area that should be poked at without an understanding of the anatomy."
Fillers also play an integral role in Dr. Waibel's periorbital rejuvenation packages. "Our complete eye package almost always includes fillers like Restylane and Restylane Silk for the tear trough," she says. Restylane Silk was introduced by Galderma in February 2015. It is FDA-approved for use in the lips and for fine lines around the mouth, but many physicians are finding its smaller particles equally useful for the delicate skin around the eyes.
"I refer out the fillers and Botox to derms, but I do use PRP (platelet-rich plasma) for undereye hollows—it does not clump up like fillers and it's your own natural cells, so there's no allergic response," says Dr. Rizk. "Sometimes I use fat transfer for carefully selected patients (thick skin is better) and I inject it deep. Unfortunately, fat can also clump up. It needs to be purified and free of globules—more of a paste-like injection."
A study published in the March 2014 American Journal of Dermatology and Venereology by Salah Hashim Al-Shami, found that three injections of autologous PRP at one-month intervals into the periorbital area as well as the whole face improved periorbital hyperpigmentation, a common complaint that can be very difficult to correct. Photographic assessment at the six-month follow-up showed that 21 patients had moderate to excellent improvement, and 19 patients had mild improvement of dark undereye circles.
Image copyright Getty Images.
[pagebreak]
Continuing Care
A good topical homecare regimen is highly recommended to help maintain results of the above procedures. "The most important component is a good moisturizer with a sunscreen in it. Adding other products to help exfoliate and rejuvenate helps keep periorbital skin looking great," says Dr. Rohrer. "We do prescribe tretinoin products and carry a wide selection of face creams with retinoids."
Dr. Waibel agrees, "Skin around the eyes usually needs special attention. We like Skinceuticals Eye Cream, and for some people we suggest Retin-A covered with Aquaphor as a nighttime regimen. We have also found that many women don't put sunscreen around their eyes because of irritation or because they believe it interferes with makeup. We try to steer them to a wonderful tinted compact from Avène that looks like a foundation but is a very good sunscreen. This can be used as a base with makeup over the top. Another solution we stress is wearing good sunglasses to protect the eyelids."
Dr. Greenberg also recommends special products around the eyes. "We offer both the Neocutis and SkinMedica eye care lines in my office," he says. "We also recommend the Opal Eye Serum applicator by Clarisonic for even better results."
Eyelash products, such as Allergan's Latisse and over-the-counter RevitaLash mascaras, help to enhance the results of periorbital treatments by plumping up eyelashes and even brows. "The somewhat recent addition of topical bimatoprost solution (Latisse) to our aesthetic arsenal has been great," says Dr. Rohrer. "It can make a significant difference in someone's eyelashes and brows."
Linda W. Lewis is the contributing editor of MedEsthetics.
Image copyright Getty Images.