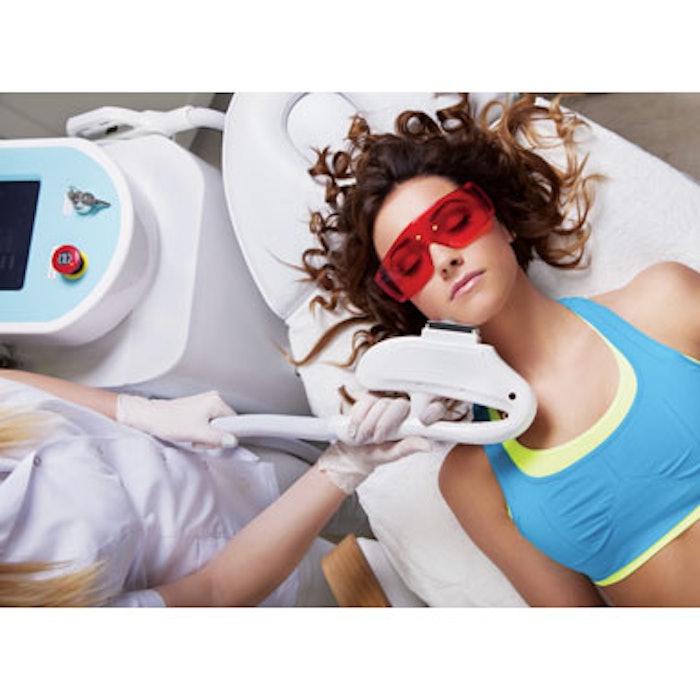 By Cheryl Whitman Beautiful Forever Consulting


One of the things that makes the medical aesthetics industry so exciting is the near constant influx of new technologies, new techniques and new research related to cosmetic enhancement and antiaging. Virtually every aspect of what was considered "state of the art" 10 years ago has changed—not once, but many times.
Not surprisingly, practitioners and facilities that want to maintain their market share must stay up to date on the latest advances in aesthetic enhancement and be willing to adopt new technologies that deliver better outcomes or provide new solutions for difficult-to-treat concerns. Not only can introducing new technologies improve care, it helps to attract and retain patients who want to experience the latest and greatest procedures.
But with equipment costs ranging anywhere from $50,000 to $150,000, it is key to investigate new technologies thoroughly prior to purchase and create a plan that will ensure adequate demand once the new device or treatment is in place.
Investigating New Technologies
Once you have determined that your practice and patients will benefit from a new technology, it's time to decide which device you should purchase. In many cases, there are multiple suppliers available, so you want to look at not only the reputation of the manufacturer and the specific device, but also what kind of training, marketing support and financial incentives the companies offer.
Some factors to consider are:
Is the efficacy of the device supported by references from qualified physicians?
Does the manufacturer offer marketing support—such as in-office signage and promotional materials, co-op advertising dollars and consumer marketing programs, e.g., physician finders or custom websites—that will help drive patients to your facility?
Does the manufacturer offer full training support, including training for front desk and support staff?
Does the manufacturer offer attractive financing options, including rent-to-own options?
Does the device require consumables, and can your market support the treatment cost?
Attracting Patients to New Technology
Once you've decided on a device, the real work begins. In order to maximize the potential of new technologies and treatments, practices must take a three-prong marketing approach that includes:
Creating awareness among both prospective and existing patients;
Generating interest by showing patients what your new technology has to offer;
Motivating action by giving patients a reason to send an email or make an appointment.
The best way to create awareness of your new offering is to introduce it to your existing patient base through internal marketing efforts. These include: video loops in reception areas, in-office signage, patient newsletters, blog posts and social media announcements. In addition to—and in conjunction with—your own efforts, take advantage of all marketing support provided by the manufacturer.
Blog posts should be short—250 words or so. These educational posts, which appear on your website, can also be shared on social media and in your patient newsletters. The content of the post should include an announcement of the new treatment and a brief description of how it works as well as before and after images. In order to generate interest and motivate action, offer a discount promotion or announce an event at which patients can see the treatment performed and learn more.
Image copyright Getty Images.
[pagebreak]
Video blog posts are also effective marketing tools. The videos should be less than three minutes long and include before and after photos, a demonstration of how the new treatment works, why you feel the new technology is a valuable addition to your treatment menu, and why patients should choose you to have this treatment performed. The video can be shared on YouTube, your practice website and social media pages.
Social media posts are short—typically less than three sentences. The most effective posts include: an inspirational quote about your new treatment; posting a question about aging and offering the answer with your new treatment; offering a discount incentive; announcing an event related to the new technology; or posting a trivia question about your new treatment and offering a discount reward to winners.
Patient testimonials, which can be shared in video loops as well as in all of your online marketing efforts, are a valuable means for generating interest among both prospective and existing patients. If you have not yet developed your own testimonials, manufacturers will often include these as part of their collateral marketing materials. As you begin offering the new treatment, ask satisfied patients if they would be willing to share a written or video­taped testimonial. Remember, if the patients are offered free or discounted treatments to try the new technology, this must be disclosed on their testimonials.
Generating PR through your local media is another way to create awareness and garner interest. Work with your manufacturer or practice marketing team to create a press release on the new procedure that includes the physician's biography as well as an explanation of why this new technology is unique and superior. Include the videos you've created and invite the local media in to see your practice.
In all marketing efforts, keep in mind that some prospective patients may be uneasy with the thought of the actual treatment—technology is exciting, but pain, needles and probes can be scary. Therefore, you want to focus more heavily on the results and benefits rather than the medical details of the procedure.
As you implement your marketing promotions, remember to measure your results. Have the receptionist ask the patient or interested caller how they heard about the procedure and/or include this question on your patient forms. This will help you fine-tune your marketing efforts.
Staying abreast of new technologies and offering your patients the most effective treatment options is key to creating—and maintaining—a thriving medical aesthetics practice. With careful planning and a commitment to internal and external marketing efforts, you can help ensure that patients in your community will enthusiastically welcome your new treatment options.
Cheryl Whitman is the CEO of aesthetic business consulting firm Beautiful Forever and author of Beautifully Profitable/Forever Profitable. Contact her at [email protected].
Image copyright Getty Images.