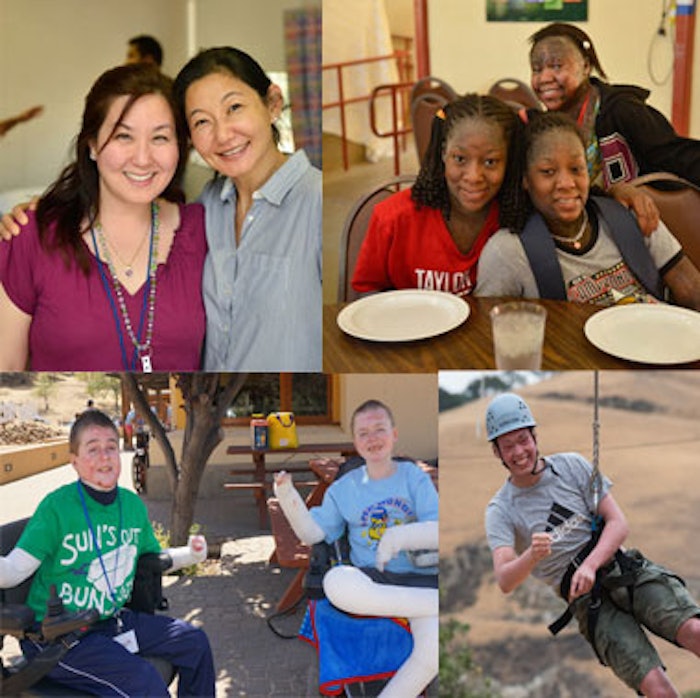 When she was 11 years old, Francesca Tenconi was diagnosed with pemphigus foliaceus and began receiving treatment for her potentially fatal skin condition at a number of university hospitals. There, she met other children suffering from skin disease and commiserated with the unique problems they all had to face. For her 16th birthday, Tenconi asked for donations to create an organization for kids with dermatologic diseases in lieu of presents; four days later, the Children's Skin Disease Foundation (CSDF) was formed.
Through the newly formed nonprofit CSDF, Tenconi started looking for a way to create a support system for kids with skin diseases that was also fun.
Her family was alerted to a campsite in Livermore, California—near their hometown of Walnut Creek—that was being built to accommodate children with special needs. The idea of Camp Wonder began to take shape after 16-year-old Tenconi visited the site with her mother. "We went out and we visited the campsite, and it just seemed like a great way to bring all these kids that had experienced skin disease together, along with their families, in a fun environment," she says. "It's about giving the kids a week of normalcy—a respite from their illness—and just letting them be kids for a week. So that's how the idea of Camp Wonder came about—it really combined all the different missions we had for the CSDF."
Camp Wonder quickly grew—in its first year (2001) there were only about 30 people, including campers, counselors and medical staff. Now, the camp hosts up to 200 staff and attendees each year. "It's grown tremendously, really beyond my expectations," says Tenconi. "In terms of the CSDF, we use Camp Wonder as a sort of base where we're able to meet the families and then offer other programs. We now have scholarships, education programs and family assistance programs, and we try to identify the kids at camp that we feel can benefit from our other programs."
The foremost benefit of Camp Wonder is that kids can leave their dermatologic conditions behind for one week. "The camp is a place where the kids don't stare at each other, and they don't ask questions about their skin diseases. The focus is on the kids and not their condition," she says.
In 2012, Galderma partnered with Camp Wonder, supplying the camp with free Cetaphil products and providing a grant to help cover camp and travel expenses. "We raise money all year long. One of the ways we raise money is through the support of Galderma and Cetaphil, but we also raise additional funds to pay for all costs associated with camp," says Tenconi. "We cover all costs from transportation to programming; the families don't pay to come to camp."
She points out that because there are so many medical needs and financial burdens associated with chronic illnesses, the camp functions as a reprieve for families in addition to their children. "When you have a sick child, it can be all-consuming, so for the families it's a week of respite as well," she says. "Some parents will stay close by and create their own little support group amongst themselves, and use it as a little vacation for the week. Some parents choose to go home and spend that time with healthy siblings who may feel a little overlooked throughout the year. The ways that the families can choose to use that time is really multifaceted."
Camp Wonder is able to allow the children to enjoy activities, such as swimming, rock climbing and talent shows, thanks to volunteer medical staff—led by medical directors Stefani Takahashi, MD, and Jenny Kim, MD—who are always nearby and go the extra mile to make sure campers stay healthy. Many of the children have bandages or dressings that must be replaced daily, and the medical staff is able to work around what campers want to do for the week. "We have a schedule for dressing changes to make sure that everybody gets what they need. If a camper wants to do something that is a little more dirty and would require a dressing change after the activity, the med staff makes sure that they can accommodate that. Our medical staff is truly phenomenal and they work around the kids' schedules," says Tenconi, adding that last year staff provided 21 dressing changes in just one day.
Today, the goal of the CSDF is to make sure that dermatologists nationwide are aware of their efforts, so no pediatric patient misses out on the opportunity to attend. Dermatologists who would like to refer patients to Camp Wonder can email Tenconi personally at [email protected] or use the Contact Us page on the CSDF website, www.csdf.org. The camp accepts children with any dermatological disease between the ages of 6 to 16. "We always like to stress that we take any child with any skin disease, regardless of severity," says Tenconi. "We don't discriminate in any way. The emotional and social issues that kids with skin disease experience really is not determined by the severity of their disease. They all need a support system."
Physicians may also volunteer to work at the camp by contacting Tenconi personally or through the CSDF website, where they can donate to the cause as well.
Photos courtesy of the Children's Skin Disease Foundation.
Laura Beliz is the associate editor of MedEsthetics.