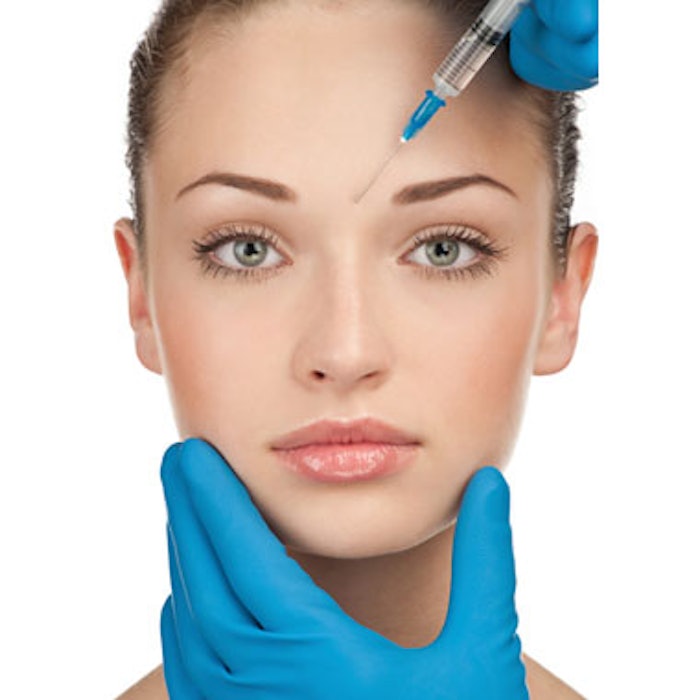 In a study published in Dermatologic Surgery (October 2015), researchers Martina Kerscher, MD, et al, investigated the safety and efficacy of incobotulinumtoxinA (Xeomin, Merz Aesthetics) when treating upper facial lines (UFL), which included a combination of glabellar frown lines (GFL), horizontal forehead lines (HFL) and lateral periorbital lines (LPL).
A total of 156 healthy subjects with moderate to severe GFL, HFL and LPL at maximum contraction were randomized to treatment with incobotulinumtoxinA (105 subjects) or placebo (51 subjects). For the treatment group, 54-64 total units were administered (20 units in GFL; 10-20 units in HFL; and 24 units in LPL). Investigators evaluated Merz Aesthetics Scale (MAS) scores for each area at maximum contraction on Day 30, both separately (responder = score of "none" [0] or "mild" [1]) and combined (UFL; sum score ≤ 3).
They noted a significant improvement with incobotulinumtoxinA versus placebo for GFL (84.5% vs. 0.0%), HFL (70.9% vs. 2.1%), LPL (64.1% vs. 2.1%) and UFL combination (55.3% vs. 0.0%). Two cases of mild eyelid ptosis occurred in the treatment group.
Photo copyright Getty Images.