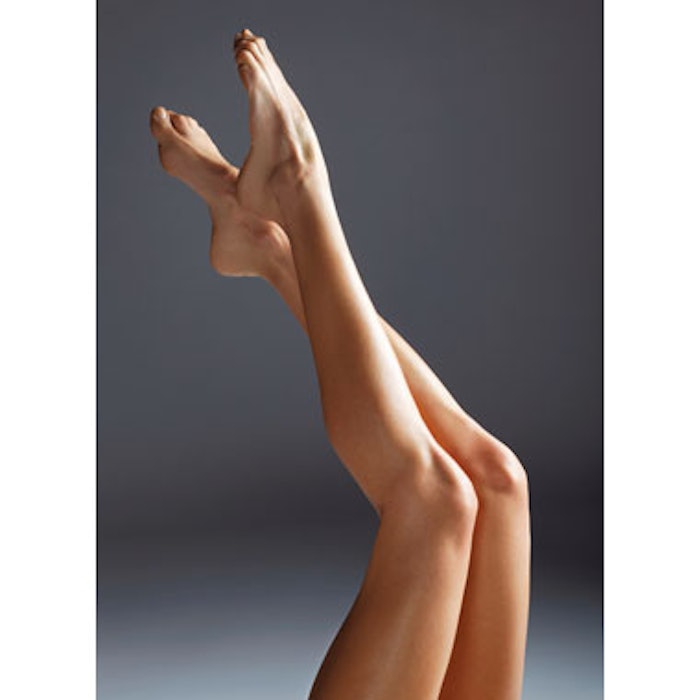 The year 2016, which marks 20 years since Grossman and associates reported the first use of a laser to remove unwanted hair, may also prove to be a watershed year for energy-based hair reduction. Laser and light-based devices for hair removal are better than ever, and for the first time, physicians now have the option of a microwave energy device. In July 2015 miraDry (Miramar Labs) became the first microwave device approved by the FDA for the treatment of underarm hair of all colors as well as the permanent reduction of underarm sweat. Another innovator, Sienna Labs, is developing a totally new approach: metal-coated nanoparticles that can be delivered through the skin to enable energy devices to more effectively target and kill unwanted hair follicles of all types and colors. To bring you up to speed, we asked a panel of four experts to tell us how their hair reduction procedures have evolved with new technologies and a better understanding of potential outcomes.
The Need for Clear Expectations
"The FDA came up with the phrase 'permanent hair reduction,' but in my opinion there is no such thing," says dermatologist and cosmetic surgeon Mitchel P. Goldman, MD, founder and medical director of Cosmetic Laser Dermatology in San Diego. "One thing we have learned in our practice is to say we're offering 'semipermanent hair reduction.' Some patients see 20% to 30% of treated hair grow back lighter and thinner, and so naturally they don't believe you are providing permanent hair reduction. Honesty is so important in medicine. Physicians have been burned by using this terminology."
Setting realistic expectations begins with the initial consultation. "In our practice, we ask a wide range of questions about skin problems, sun exposure, previous procedures and general health, which can take 30 to 45 minutes," says Warren B. Seiler III, MD, of Seiler Skin Cosmetic Laser & Aesthetics Center in Birmingham, Alabama. "We also ask why the patient wants permanent hair reduction. We then give a conservative estimate of the number of procedures needed—adding that it could be more—and let patients view information on the cost of each procedure along with a long list of things they should and should not do during the treatment term, including the requirement to purchase some medical-grade skin preparation and aftercare products. We also do a test spot, which should be done on every patient. We have a 98% or better consultation conversion rate."
Use the Right Tools
All of our panelists agree that today's hair removal devices offer enhanced safety through better computer technologies and more effective cooling. "They are also faster and don't break down as often," says Dr. Goldman. "We use a number of lasers for hair removal, including a long-pulsed alexandrite (Cynosure and Syneron Candela) and a long-pulsed Nd:YAG (Cynosure and Syneron Candela), but our workhorse is the Lumenis LightSheer Duet because it offers a combination of wavelengths and settings that allow us to customize the service for the patient."
Like Dr. Goldman, all of our panelists have multiple devices at their disposal and can choose a device based on the individual's skin type, treatment area and hair color.
Dermatologist E. Victor Ross, MD, of Scripps Clinic Carmel Valley in San Diego also takes the patient's ability to handle pain into consideration. "My preferred systems in patients with a reasonably good pain threshold are the long-pulse alexandrite and 810nm diode lasers for lighter skinned patients, and the Nd:YAG laser for darker skinned patients," he says. "The advantages of these systems are high efficacy and good safety. For patients with lower pain thresholds or those who want to forego the use of a numbing cream, motion techniques with diode lasers and/or intense pulsed light devices—as well as large-spot, low fluence devices—might be preferable, although more treatments might be necessary."
Photo copyright Getty Images.
[pagebreak]
Some of the latest device introductions in this category include systems like the Soprano ICE (Alma Lasers), the Cutera excel HR and the Clear + Brilliant pélo from Solta Medical. The Soprano ICE is an 810nm diode laser that features Alma's Super Hair Removal technology, which allows operators to treat at 10 hertz per second. It also offers multiple cooling mechanisms for greater comfort. Cutera's excel HR combines a 755nm alexandrite and a 1064nm Nd:YAG with sapphire contact cooling. A touch screen allows operators to shift easily from one wavelength to the other and treat large areas with an 18mm spot size. The newest device in this category, introduced in September 2015 by Solta Medical, combines an 808nm wavelength with a novel linear scanning approach with integrated contact cooling. The Clear + Brilliant pélo also offers the fastest and largest treatment area available (50mm by 15mm) compared to other diode lasers.
"I would say that over the last five years devices and technology have continued to improve, but there were no major innovations until this year," says Jeremy Brauer, MD, of Laser & Skin Surgery Center of New York, referring to the miraDry, which gained FDA approval in July 2015 for the treatment of unwanted underarm hair and permanent reduction of underarm hair of all colors.
"What makes this technology unique is that hair reduction is not achieved by targeting the pigmentation of the hair, but instead the level of skin where the hair resides. It is the first device that allows the physician to target axillary hair of all colors in patients of all skin types, achieving reduction of up to 70% in just one to two treatment sessions," says Dr. Brauer. "This is significant, as we usually recommend at least five laser treatments to achieve similar results. While its role within the space has yet to be fully explored or defined, I think it is a significant adjunct and is at least complimentary to the existing armamentarium."
Miramar Labs began a roll-out of the miraDry device with the introduction of the miraSmooth underarm hair removal treatment available in selected markets in August 2015. According to company brochures, local anesthesia takes care of the pain so all the patient feels is slight suction and some warmth from the handpiece. There is some swelling and redness, and patients may experience some soreness for a day or two but most can resume normal activities the same day. The company calls the launch of miraSmooth a perfect addition to plastic surgery and dermatology practices looking to offer their patients the latest in aesthetic procedures.
"There are very few good options for patients with lighter hair," says Dr. Ross. "The microwave device might represent a good opportunity for patients looking for hair reduction in the axilla."
Dr. Seiler is considering purchasing the miraDry, but says he would use it primarily to treat sweating and not for hair reduction. "You do see some hair reduction with the miraDry," he explains, "but treatments are relatively painful and expensive compared to other devices.
"Before investing in any hair reduction laser, you first need to learn the physics of the device and how it affects all types of skin. Don't just rely on what sales reps say. You want a device with enough energy to kill the follicle quickly and safely," continues Dr. Seiler. "Second, let your clientele guide your purchase. If you can purchase only one device, a diode laser is the best because it can be used on a wider range of skin types. An alexandrite can't safely treat darker skin and, while a 1064nm laser is safest for dark skin, it is more painful and may not produce the best results for patients with lighter skin."
Photo copyright Getty Images.
[pagebreak]
In addition to better cooling, larger spot sizes and new microwave-based devices, Sienna Labs is developing a silver nanoparticle topical preparation that Dr. Goldman calls "the single most exciting new technology out there. It penetrates into the hair follicle and can be tuned to be activated by energy from almost any laser," he says. "The silver nanoparticles safely and effectively heat and destroy the hair follicle no matter what color the hair or skin may be. It is in pivotal trials right now and my expectation is that it will be generally available in 2016 or 2017."
Sienna Labs refers to its patented technology as Targeted Plasmonic Therapy (TPT) and in press releases explains that TPT is being investigated for acne treatments as well as hair removal indications.
Treat With Care and Skill
A retrospective study by Paloma Tejero, et al ("Adverse Effects of Laser Hair Removal," Journal of Surgery, March 2015), reviewed 300,000 medical laser hair removal sessions conducted between June 1998 and April 2014 in an effort to assess the incidence of significant adverse events. They concluded that "laser hair removal is still a safe and effective method, but it is not risk-free, and it requires significant training and regular maintenance of safety protocols." Our panel agrees and adds some cautions.
"Laser hair reduction, as with many cosmetic laser procedures that have been around for some time, is much safer now than it was when originally performed," says Dr. Brauer. "However, one cannot completely eliminate the possibility of scarring or changes in pigmentation and, therefore, correct selection of the patient, device and parameters as well as proper training are essential in minimizing those risks."
Dr. Ross attributes this improved safety largely to "a better understanding of the need to use longer pulsed technologies and longer wavelength technologies overall for darker skin types, particularly the use of the Nd:YAG laser for patients with skin types V and VI."
Unfortunately that doesn't mean the danger of burns has disappeared. "I'm called on to serve as an expert witness far too often by attorneys for patients who are burned and suffer scarring from hair removal procedures," says Dr. Seiler. "While the use of an approved hair removal laser in the right hands should never result in a burn, improperly used it can actually remove skin. These are complications that many do not realize can really occur. We have performed more than 9,000 laser procedures in our practice and about one-fifth of those were for permanent hair reduction. We treat a wide range of patients and due to proper use of devices, practitioner training and experience, we have never had a burn."
The risk of injury is not the only problem that concerns Dr. Seiler. "Treatment with the wrong kind of device or undertreatment that does not kill the hair follicle may mean the patient continues to have hair growth, but the hair is weaker and loses pigment," he explains. "The patient does not achieve permanent hair reduction and often is no longer a candidate for effective laser hair reduction. I hate seeing people waste money on ineffective or risky treatments and am passionate about advocating for stricter laws governing all medical procedures in my state and all other states."
Photo copyright Getty Images.
[pagebreak]
While all laser hair removal procedures are still done by physicians in Dr. Brauer's practice, many physicians now delegate most or all of these procedures to physician extenders. State laws vary wildly on who can perform laser hair removal and under what kind of supervision. In its advice to those seeking hair removal procedures, WebMD uses the term "technician" rather than doctor to describe the person performing the procedure. Yet the literature is clear that lack of experience is a major contributor to significant adverse events and poor outcomes.
"I did all of my own laser hair removal procedures for more than eight years before finally training an esthetician," says Dr. Seiler. "And I'm still heavily involved in the process."
Dr. Goldman's experience is similar. "For many years I did my own hair reduction procedures but now I delegate them to my physician assistant, Leysin Fletcher, PA-C, who is also our laser safety officer in charge of managing our 45 laser and energy-based devices," he notes. "She is extremely well trained and the physicians in our practice still see every patient before treatments begin. A physician is always on site when procedures are being done."
Linda W. Lewis is the contributing editor of MedEsthetics.
Photo copyright Getty Images.