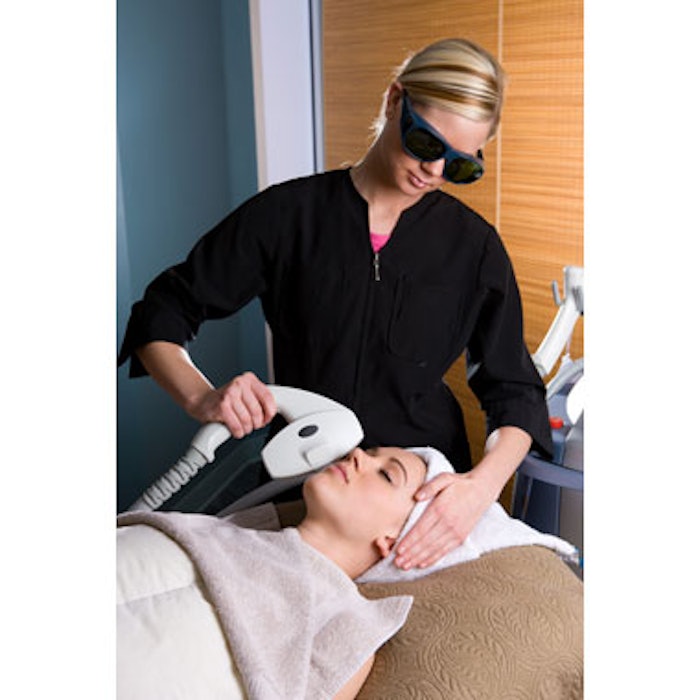 In a study published in Lasers in Surgery and Medicine (August 2016), researchers Douglas C. Wu, MD, PhD, et al, sought to evaluate the safety and efficacy of combining multiple laser modalities in a single treatment session. Between January 1, 2010, and January 1, 2013, 50 patients underwent a multimodal facial laser resurfacing procedure consisting of the sequential use of a 595nm pulsed dye laser, 755nm alexandrite laser, superficial fractionated and fully ablative CO2 laser, superficial fully ablative erbium-YAG laser, and deep fractionated ablative CO2 laser in a single treatment. Improvements in dyspigmentation, rhytides, telangiectasia and skin texture were assessed, as well as patient satisfaction, healing times and tolerability of procedures.
Patients' dyspigmentation, rhytides, telangiectasia and skin texture were assessed at baseline. Standardized clinical photographs were obtained prior to treatment, at three months and long-term up to 1.5 years after treatment; the photos were evaluated by two blinded physicians. Notable telangiectasia and erythema were treated with the 595nm long pulsed dye laser; discrete pigmentary lesions were treated wit the Q-switched 755nm alexandrite laser; then superficial fractioned CO2 (Active FX) was applied to treat fine lines in the perioral region, cheeks and eyelids; perioral lines and any scars were then treated with the pulsed Er:YAG; and finally, full face and neck treatment was performed with deep fractionated CO2 (Fraxel Re:Pair).
Improvement was observed in all clinical parameters with an average 68% improvement. Patient satisfaction was also high (3.1 out of 4 for the 28 patients who responded). Practitioners used topical anesthesia and nerve blocks, and patients reported no pain during treatment with a healing time of nine days ± four days.
The researchers concluded that, "Mega-combination treatment utilizing a variety of laser devices in a single treatment session is safe and highly effective at achieving facial rejuvenation. This approach represents an efficient use of both patient and physician time and resources."
Photo copyright Getty Images.