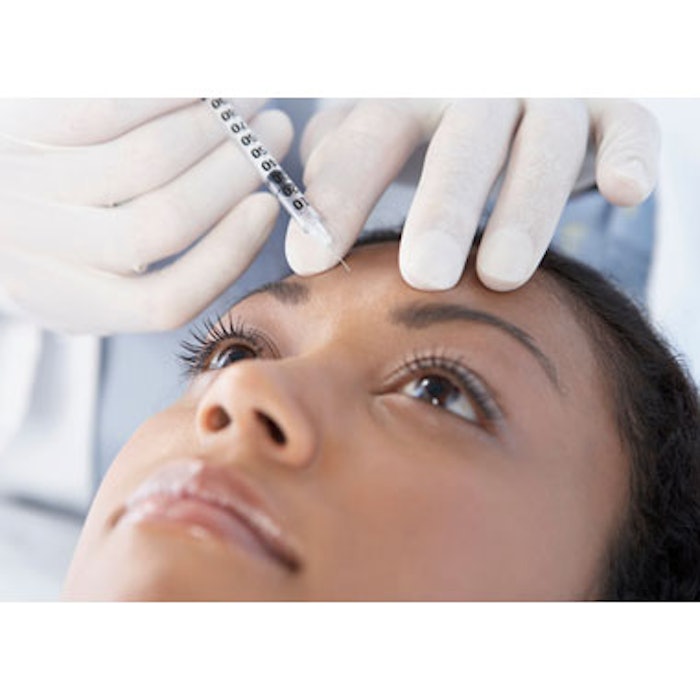 In "Advancements and Refinements in Facial Neuromodulators," an article published in Plastic and Reconstructive Surgery (October 2016), Reza Kordestani, MD, Kevin H. Small, MD, and Rod J. Rohrich, MD, discuss the popularity of neuromodulators for facial rejuvenation and present key steps for the treatment of facial rhytides.
They noted that to minimize complications and optimize results, physicians must have knowledge of facial anatomy, perform accurate facial analysis, and be familiar with neurotoxin characteristics. Additionally, the three U.S. Food and Drug Administration (FDA) approved neurotoxins—onabotulinumtoxin A (Botox, Allergan), abobotulinumtoxin A (Dysport, Galderma) and incobotulinumtoxin A (Xeomin, Merz)—are not interchangeable in terms of dosage and effect.
The authors presented and discussed the following as an approach to treating the face with neurotoxin:
Indications: Examine rhytides using a top-down approach, and always include facial animation. Counsel patients regarding off-label use, including frown lines, forehead creases, neck banding, etc.
Preparation: The authors compare dosages—2.5U of Dysport is comparable to 1U of Botox; 1U of Xeomin is comparable to 1U of Botox—and discuss reconstitution and dilution of each toxin.
Technique: An accompanying video documents a stepwise approach to facial rejuvenation with Botox, though the authors note that all neuromodulators can be used similarly in the appropriate concentrations. (Video available in the "Related Videos" section of the full-text article at www.prsjournal.com.)
Postprocedure care: Patients should not massage the area after injection but may resume normal activities immediately. The authors note that because patients may have variable responses, detailed procedure notes are instrumental for optimizing future outcomes.
Complications: They attribute common adverse effects—such as localized pain, infection, inflammation, tenderness, swelling, erythema and bruising—to poor injection techniques, adding that incorrectly administered injections may paralyze muscles unintentionally, causing upper eyelid ptosis, diplopia, smile asymmetry, drooling or speech difficulties. To counteract complications, use an oral cholinesterase inhibitor.
Photo copyright Getty Images.