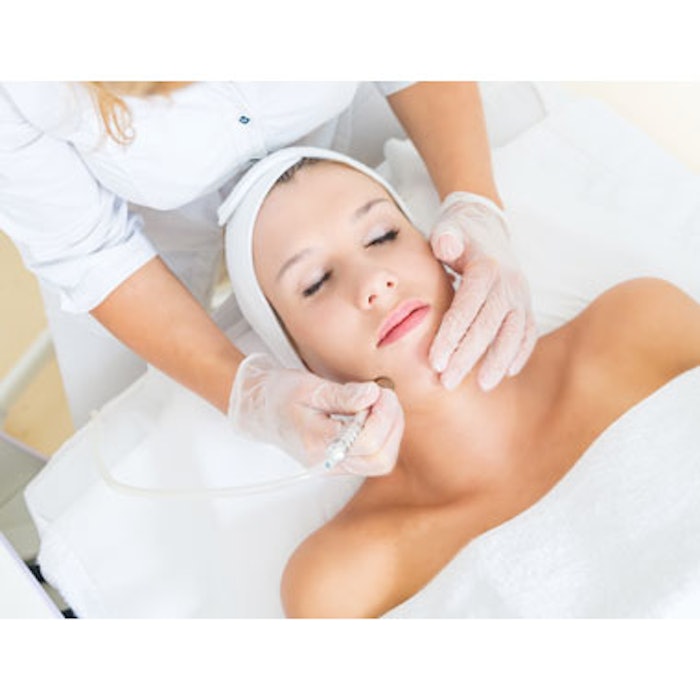 Developed in Italy in 1985, the first microdermabrasion machine blasted the epidermis with aluminum oxide crystals to remove the outermost layer of dead cells and then vacuumed away the debris to reveal fresh, glowing skin. While the results are much the same today, the process now involves a dizzying array of micro-exfoliation choices. In addition to aluminum oxide, microdermabrasion machines now spray sodium chloride, sodium bicarbonate and magnesium oxide. Some devices don't use crystals at all.
Instead, they employ tips or paddles encrusted with dia­mond fragments or silicon carbide, or bristles to sand away and dispose of that dull outer epidermal layer. Another option, dermaplaning, uses what looks like an electric razor, which has an oscillating blade to scrape away dead skin and fine hairs on the skin's surface. The newest and fastest growing form of micro-resurfacing is hydradermabrasion, a liquid-based exfoliation procedure.
"Microdermabrasion has remained consistently popular in my dermatology office for well over 10 years, in spite of our having adopted other technologies," says Mary Lupo, MD, founder of the Lupo Center for Aesthetic & General Dermatology in New Orleans and one of the country's leading experts in nonsurgical skin rejuvenation. "We use our SilkPeel System (Envy Medical) most often to treat discoloration from acne scars (PIH) and melasma, or for mild photoaging to give skin an overall glow."
Microdermabrasion remains among the top five minimally invasive cosmetic procedures according to sta­tistics updated annually by the American Society of Plastic Surgeons (ASPS). In 2000 microdermabrasion ranked third behind neurotoxins and chemical peels with 610,705 procedures. In 2015 it ranked fifth behind neurotoxins, fillers, chemical peels and laser hair removal with 800,000 procedures performed, a drop of 9% from 2014. This drop, however, may result from confusion about what is included under the ASPS "microdermabrasion" category.
The ASPS website defines microdermabrasion as using "a minimally abrasive instrument to gently sand your skin, removing the thicker, uneven outer layer." This would seem to include all of the micro-exfoliation choices listed above. Edge Systems, however, does not consider its HydraFacial a microdermabrasion machine. Practitioners may include hydradermabrasion when asked about microdermabrasion, but do they always?
Infusing Success
Myken Swaithes, medical esthetician and laser light specialist at the Center for Plastic & Reconstructive Surgery in Ann Arbor, Michigan, makes a distinction between microderm­abrasion, dermal planing and liquid-based ex­foliation. "Tra­ditional microdermabrasion has become less popular since 2010," she says, "and new-generation physical ex­foliation techniques, such as dermaplaning and the HydraFacial, have increased in popularity.
"HydraFacial MD is our most popular form of micro-resurfacing," continues Swaithes. "It's an all-in-one treat- ment that combines physical and chemical exfoliation with deep cleaning the pores, while adding hydration and antioxidants into the skin."
The HydraFacial MD device was introduced in 2008. It uses a 4-in-1 Vortex tip to deliver a stream of glycolic and lactic acid-based fluid onto the skin as it simultaneously vacuums away excess fluid and dead skin cells. A second salicylic acid solution helps to clean pores before an antioxidant serum is delivered to the exfoliated skin.
In addition to the three core treatment fluids—Glysal, Beta-HD and Antiox+ serum—practitioners can choose among four special fusions designed to offer specific solutions: Britenol to combat discoloration, Dermbuilder to minimize fine lines and wrinkles, and CTGF (connective tissue growth factor) to help rejuvenate skin.
Photo copyright Getty Images.
[pagebreak]
In the spring of 2016, Edge Systems doubled down on its efforts to help spas build repeat business with the introduction of Perk. Perk combines gentle vacuum exfoliation with skincare products designed to appeal to the millennial gen­eration's desire to prevent signs of aging. There are three brief, low-cost customized treatments that target the face, lips and eyes. At the end of each treatment, the patient receives the remainder of the treatment solution to take home. When they run out of product, it is time to book another treatment. Perk can also be used as an add-on for HydraFacial and other medspa treatments.
One of the driving forces behind the shift to dermal in­fusion has been the trend toward more customized, con­cern-specific aesthetic treatments. "We almost always combine microdermabrasion with dermal infusion," says Dr. Lupo.
SilkPeel, which exfoliates the skin with a diamond tip while simultaneously infusing treatment liquids into the skin, tripped this switch in 2005 with its Pro-Infusion solutions. The company has continued to update these over the years with products like ClarityMD Pore Clarifying System for acne and Lumixyl Solution for uneven pigmentation.
In 2015, Envy Medical introduced the SilkPeel3. Along with a sleeker, more compact design, the SilkPeel3 also includes dual infusion ports. "The dual-port design will make combination treatments catering directly to individual needs a reality," says Felipe Jimenez, PhD, Envy's chief scientific officer. "For a patient with combination skin, we can use an infusion of ClarityMD across the oily T-zone and then switch to a hydrating solution for drier areas, ensuring optimal results for all skin types."
DermaSweep MD, which uses graded bristle tips for microdermabrasion, focuses its marketing on customized treatment protocols using targeted SkinFusions. The com­pany offers PeelFusions for skin renewal, EpiFusions with vitamin C and kojic acid for brightening, and Premium-Fusions—such as NuCell with growth factors, peptides and antioxidants—for age management.
Multimodal Devices
In the past, providers typically chose between crystal and crystal-free microdermabrasion devices, but today—in addition to the introduction of liquid infusion—major microdermabrasion manufacturers like BHC International (Smart Peel), Dermamed Solutions (MegaPeel EX) and Aesthetic Technologies (Parisian Peel) are adding special options to their units, including red and blue LED light ther­apy, and tools for massage and oxygen infusion.
The success of Edge Systems' HydraFacial MD has also spawned other water-based exfoliation devices. The newest of these is the AquaClean from Skin Alchemy. AquaClean's Aqua-Sphere Vacuum Applicators do not abrade the skin, and are smooth and gentle with no sharp or abrasive edges. Aquaporin solutions are automatically dispensed through the handpiece's central aperture and debris is cleared with vacuum.
"AquaClean targets a wide variety of skin concerns," says esthetician Ginger Francis of Skin Alchemy in Lynn Haven, Florida. "We use it for dull, dehydrated, lackluster skin as well as for acne prevention and control. It does an amazing job with blackhead removal, especially on the nose. We have added a Pore Flush treatment to our service menu using the salicylic solution. When I finish this treatment, I hand the patient a mirror to look at the areas treated. I have had patients cry because they thought they would never have pores this clean! It keeps them happy and coming back."
Photo copyright Getty Images.
[pagebreak]
Before and After
Microdermabrasion and micro-resurfacing are popular treatments that have stood the test of time because they are fairly inexpensive and offer immediate results. For practices, they offer the benefit of creating repeat clients who come in monthly or bi-monthly to refresh their skin.
Many practitioners use microdermabrasion in conjunction with other treatments. One popular option is to use microdermabrasion as a pre­treatment with chemical peels, or you can alternate microdermabrasion treatments and mild chemical peels to help patients maintain a clean, glowing complexion.
The most recent clinical research involving micro­dermabrasion combines it with platelet-rich plasma (PRP) injections to treat striae distensae. Dermatologists at Tanta University in Egypt randomly assigned patients with striae distensae to three treatment groups: PRP injections, microdermabrasion and a combination of PRP and microdermabrasion. Results (published in the December 2015 Journal of Cosmetic Dermatology) showed significant im­provement in patients treated with both PRP and micro­dermabrasion in the same session compared to those treated with PRP or microdermabrasion alone.
"Collagen and elastin fibers were markedly increased in the dermis at the end of treatment sessions," they reported. "Platelet-rich plasma alone is more effective than microdermabrasion alone in the treatment of striae distensae, but it is better to use the combination of both for more and rapid efficacy. However, each one of them is well tolerated by the patients, safe and cost effective."
Although it has evolved over the course of three de­­­cades—from crystal to crystal-free, to liquid-based exfoliation and combination treatments—microderma­brasion's ability to offer gentle exfoliation and pore cleansing for a wide range of skin types and skin concerns has helped it earn a permanent place in medspas and aesthetic practices.
Linda W. Lewis is the contributing editor of MedEsthetics.
Photo copyright Getty Images.