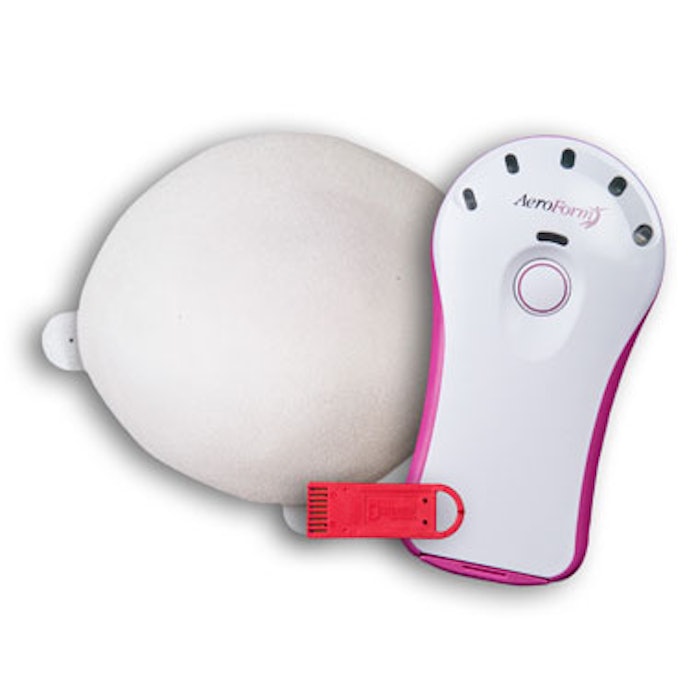 AirXpanders has received U.S. Food and Drug Administration (FDA) de novo clearance for the AeroForm Tissue Expander System, a Class II medical device used for breast reconstruction following mastectomy. The needle-free device is activated by a handheld wireless controller that administers programmed amounts of CO2 (up to three times a day) to gradually stretch the tissue. Clinical data demonstrated that patients who used the device safely achieved full expansion in weeks (rather than months) and completed their reconstruction faster than with traditional, saline-based expanders. They were also able to complete the expansion from their homes or offices, getting back to their lives faster following a mastectomy.
AeroForm is currently available in Australia, where it was approved for sale in late 2014.
"As U.S. mastectomy rates continue to rise and growing numbers of women undergo breast reconstruction, we are confident AeroForm will positively redefine the reconstruction process for women in the U.S.," said AirXpanders CEO Scott Dodson.
The company also received an update to its existing CE Mark for AeroForm to incorporate an enhanced inner film liner used to contain the CO2 cannister inside of the device. The clearance allows the enhanced version of AeroForm to be sold in Europe and Australia.
For more information, visit http://www.airxpanders.com/aeroform-technology/.