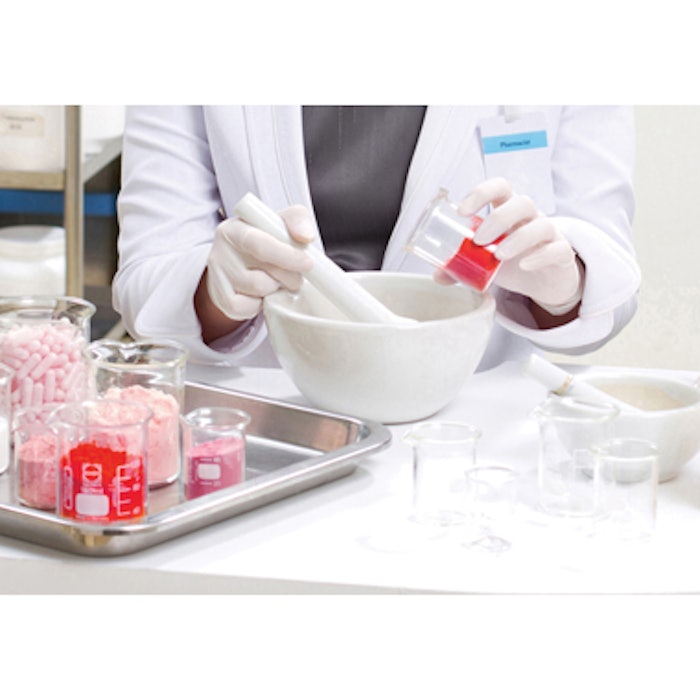 In 2012, 64 patients died and an additional 751 were injured due to contaminated compounded medications formulated and distributed by the New England Compounding Center. As a result, compounding pharmacies have become the subject of intense public and regulatory scrutiny, and the U.S. Food & Drug Administration (FDA) created a new two-tiered regulatory framework to improve oversight of these facilities.
If you sell prescription-strength private-label products or use a compounding pharmacy for specific patient needs, you need to understand state and federal regulations to help protect your patients and your medical license.
Conducting Due Diligence
Traditionally, the primary purpose of a compounding pharmacy is to create a specific formulation for a patient who needs a slight variation from an already existing prescription medication due to an allergy or other problem. The purpose is not to create and mass-produce new drugs without gaining FDA approval. No compounding pharmacy may compound drugs that have been withdrawn or removed from the market or have been otherwise proven to be unsafe or ineffective by FDA.
State pharmacy boards oversee compounding pharmacies, and most states have regulations in place that dictate whether physicians can dispense prescription-strength drugs from their practices and in what quantities. Before dispensing compounded prescription medications from your office, you should contact your state pharmacy board and medical board for guidance.
503A Compounding Pharmacies
The next step is to determine the type of compounding pharmacy you will use. There are two federal classifications for compounding pharmacies—503A and 503B. The 503A compounding pharmacies are traditional facilities that fulfill individual, patient-specific prescriptions approved by a prescribing practitioner. A licensed pharmacist with additional training in compounding distributes the specially compounded medication to the patient who has a valid prescription from the healthcare provider.
The compounds produced must be in compliance with United States Pharmacopeia (USP) chapters or the National Formulary (NF) monograph. These compliance standards ensure patient safety and maintain drug quality and purity. Each and every bulk substance (i.e. active pharmaceutical ingredient) used for the compounding process must be manufactured at an FDA-registered facility and accompanied by a valid Certificate of Analysis (COA).
These facilities, due to the patient-specific prescription requirement, are exempt from federal drug labeling requirements. Instead, the pharmacist and prescribing physician provide instructions for use to the individual patient.
The only exception to the patient-specific prescription requirement is when a patient needs to use a compounded product on an ongoing basis. In these cases, 503A pharmacies can provide a larger supply of the medication to be held in the medical office in anticipation of patient need. Many states restrict how much supply an office can keep on hand—typically the maximum is a 30-day refill supply for a patient already using the product. In this case, the physician administers or dispenses the drug and makes an entry in the patient's health record.
503B Outsourcing Facilities
To help hospitals and healthcare facilities obtain bulk products in case of price-gouging and difficult-to-source medications, the U.S. Drug Quality and Security Act (DQSA) created a new category of compounding pharmacy in November 2013. Commonly referred to as 503B outsourcing facilities, these facilities, which fall between traditional compounding pharmacies and industrial pharmaceutical manufacturing, can produce large batches of compounded drugs—with or without a prescription—to be sold to healthcare facilities for office use only.
All 503B pharmacies are required to register with their state pharmacy boards as well as the U.S. Drug Enforcement Agency (DEA) and the FDA. In addition to adhering to the same rules and regulations as a 503A pharmacy, they must comply with current good manufacturing practice (CGMP) requirements and product labeling requirements; report any adverse effects; have an independent quality assurance department in place; and undergo FDA inspections. These facilities may not collaborate with physicians on customized formulations.
Unlike 503A pharmacies, a 503B compounding pharmacy can compound and distribute non patient-specific formulations. However, before any new product [or compound] can be brought to market, multiple batches must be made and submitted for testing and stability studies.
Before using a 503B pharmacy, verify that the pharmacy is registered with the FDA and has passed inspection. You can find this information at fda.gov (Registered Outsourcing Facilities). The FDA inspects facilities that manufacture, process or pack FDA-regulated products (including compounding pharmacies) to ensure public health compliance. If any violations are noted, a facility may be issued a Form 483 or a Warning Letter with a list of observations or violations and a timeline for correction. All 483s and warning letters are public information and can be found at www.fda.gov > ICECI > Warning Letters.
Also confirm that the pharmacy is credentialed through the Pharmacy Compounding Accreditation Board (PCAB), which is part of the Accreditation Commission for Healthcare (ACHC, schc.org) service. PCAB accreditation assures pharmacies follow the highest compliance standards set out by the United States Pharmacopeia (USP) Convention.
Compounding pharmacies offer a valuable service, particularly for patients who are unable to use branded pharmaceutical products. Unfortunately, they may also present risks to physicians and patients. Before using a compounding facility for anything other than patient-specific prescriptions, practices are wise to review both federal and state regulations, and ensure that they are working with a reputable provider.
Retailing OTC Products
Many aesthetic practices offer private label, over-the-counter (OTC) skincare products to their patients. In some cases, these products are custom-formulated for the practice. While rules surrounding OTC products are far less stringent than those for compounded, prescription-strength formulations, you should be familiar with some regulations.
Skincare product labels must comply with the U.S. Food, Drug & Cosmetic (FD&C) Act and the Fair Packaging and Labeling (FP&L) Act as well as the regulations published by the U.S. Food and Drug Administration (FDA). The FDA defines a cosmetic as a product that is "intended to be applied to the human body for cleanings, beautifying, promoting attractiveness or altering the appearance."
Claims such as "moisturizing" or "softening" are considered a physical effect and are properly used for cosmetic marketing—as long as they are not misleading. However, claims such as "increased collagen production" or "minimizes wrinkles" imply a physiological effect, which makes such products drugs, requiring FDA approval prior to marketing.
In addition, cosmetic packaging must be branded accurately. That means the label must include the following:
List of ingredients in the product
Warning statement, when needed
Name and business address of the manufacturer, packer or distributor
The net quantity of the product (typically in ounces)
Typeface meeting minimum required size regulations
Allyson Avila is a partner at the national law firm of Gordon & Rees Scully Mansukhani. Contact her at 845.406.2935, aavila@gordonrees.com.
Image copyright Getty Images