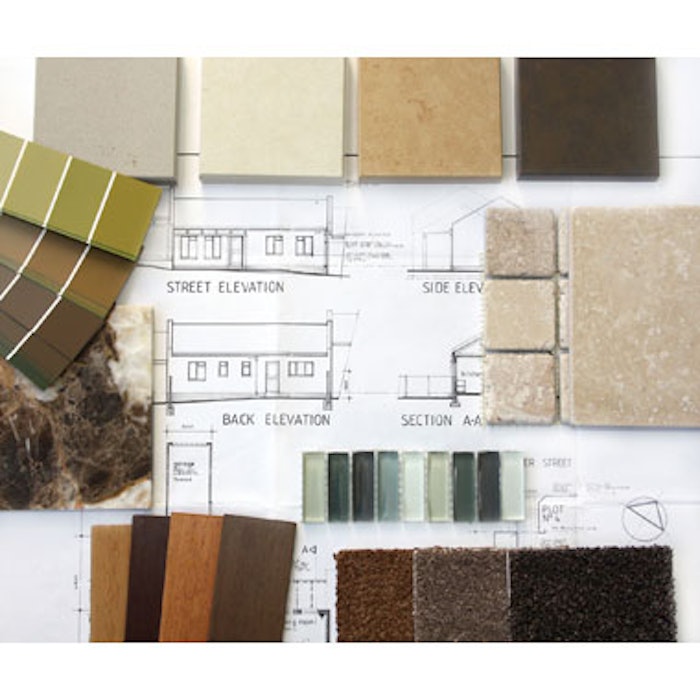 When we think of of medical facilities, we often think of stark green walls lined by straight-backed chairs, a messy pile of outdated magazines and the strong smell of antiseptic. But that kind of forbidding vibe has no place in an aesthetic practice.
"Many aesthetic practices are cash-based; there is a higher level of expectation of service," says Francis X. Acunzo, CEO of Acara Partners, an aesthetic medical business development firm in Branford, Connecticut.
Instead, aesthetic practice owners can—and should—welcome and soothe anxious patients with beautiful lighting, calming tones and comfortable furniture. Here are tips for creating an office space that will make patients feel relaxed and at ease—and want to visit again.
Thoughtful Layout
Ensure patients feel welcome as soon as they walk in the door, Acunzo says. Avoid the old-school style of placing the front desk behind an opaque glass screen that separates staff from patients. Instead, place your reception desk facing the front door, so your staff can greet patients as they enter. A standing desk allows a receptionist to receive patients in a more active way—they can say hello, shake their hands and give them a clipboard to complete in-take forms.
Offer a mix of seating arrangements in the waiting room—areas for people to sit with family members as well as more private spaces for people coming in alone. A restroom should be conveniently located nearby.
Also consider how patients will exit your office. Patients undergoing cosmetic treatments desire a discrete way of leaving the facility separate from the entrance, says Jennifer Ankerson, an Omaha, Nebraska, interior designer with Leo A Daly.
If you offer retail, you may want to create a small sales area near the exit, so that the provider can offer helpful products to patients before they depart. Or create a retail area that can be accessed through both the reception and exit areas.
Medical practices that do more invasive procedures may need additional support amenities such as vending areas, coffee bars and outdoor areas of respite, says Anindita Mukherjee, an architect at Leo A Daly's Atlanta office. Surgical practices may also want to create additional waiting areas within the facility for loved ones to relax during long procedures.
Consider placing recovery rooms, nurses' stations and dressing rooms adjacent to the operating room with direct access to the operating room, suggests Robert Milkie, principal, Meridian Design Associates, Architects in New York City.
Restrooms should be available in treatment and exam room areas. "This allows the patient to use the restroom discretely during treatment without going out into public spaces," says Ankerson.
If your practice will include lasers and energy-based devices, plan for both current and future electrical and ventilation needs, suggests Melissa K. Levin, MD, FAAD, founder of Entière Dermatology in New York City. "When working with the engineer, electrician and mechanical contractor, it's important to not only think about what medical devices you will start with, but also possible device additions to ensure you have sufficient electrical outlets in different rooms, as well as proper ventilation to cool the rooms that house the devices," she says.
Because patient privacy can be a challenge, particularly in small spaces, consider incorporating soundproofing during the buildout. Dr. Levin, who opened her private practice in 2018, soundproofed the walls and ceiling of her practice, and strategically placed speakers in all rooms and hallways. The sound system is designed to allow separate volume controls in different parts of the practice, depending upon the intended use.
Design Basics
Each aesthetic practice has a unique look and feel that, ideally, is consistent with the business' overall branding. But there are a few design goals that all aesthetic practices should aspire to. Because you are in the business of making people look and feel beautiful, your office space should reflect your ability to discern what true beauty looks like. "Therefore, it's important to incorporate symmetry and balance into design elements to communicate that message to patients," says Kobi Karp, architect and principle-in-charge, Kobi Karp Architecture and Interior Design in Miami.
In any office where elective procedures are performed, patients spend a significant amount of money and have high expectations. "Prioritize high-end finishes," says Mukherjee. "Self-pay patients need to feel that their thousands of dollars are going to be well spent, and the quality of the space makes them feel confident in their decision."
Medical practices and medspas must also consider infection control, and flooring is a big part of that. Flooring in surgical suites and operating rooms should be seamless, scrubbable and continuous with an integral wall base, Ankerson says. In exam rooms and reception areas, flooring doesn't have to be seamless, so you can use more aesthetic options, such as marble or a realistic wood-look luxury vinyl tile.
"You and your designer need to toe the line between a delightful, modern, comfortable aesthetic experience and a sterile, medical environment," says Ankerson.
Unique Touches
Let your unique brand and practice culture shine through in your choice of color, furniture and lighting. But don't go overboard with bright hues. Instead, consider classic colors, such as white and gray, that never go out of style. A new neutral color, a blend of gray and beige called "greige," is emerging as a cool and sleek choice. "The use of significant color can become outdated," says Acunzo. If your branding includes bright colors, he advises adding an accent color on a wall, furniture or pillow, which can easily be changed.
Karp prefers natural colors, meaning sky blues, seafoam whites or tones of green, "because nothing is as soothing and calming as nature," he says.
Lighting can completely change a space. As a dermatologist who serves both medical and cosmetic dermatology patients, Dr. Levin uses dimmable 5,000 kilowatt white lighting for patient examinations, but also installed dimmable softer yellow lighting in the patient rooms. For the hallways and waiting room, she opted for softer 3,000 kilowatt warm lighting.
Lighting in public spaces, such as the waiting area, should be indirect and soft, says Ankerson. She recommends drop-pendant lights over the waiting area for a chandelier effect, which creates a boutique-like ambiance. Lighting also can be used in conjunction with other finishes, such as translucent panels, to create an ethereal glow that adds visual interest or to subtly highlight a logo.
When selecting furniture, keep your branding in mind. Whether you want to create a plush, homey feel or sleek and modern look, Karp recommends furniture with a residential look and feel. "We try to make aesthetic practices feel like home," he says. "That provides patients with a sense of tranquility and relaxation."
Working With a Designer
Before selecting a designer, get multiple bids. Dr. Levin met with five designers before choosing one. "This not only helped determine my budget, but also further clarified my needs," she says. Seek referrals from real estate brokers and other physicians in your industry. You can also look for designers online by using social media platforms such as Instagram and Pinterest, since many designers showcase their work on these platforms.
Select a designer who is a good listener and observer. "It's your facility, and it should support your culture," says Ankerson. "We initially shadow clients for several days to observe their flow and pattern, learn what issues exist and analyze spaces for operational and spatial solutions. By observing, we are often able to find easy operational fixes and additional program space that might be hiding behind unnecessary or wasteful spaces. It's important to both understand the way a client works, and to ask how it could be improved."
Acunzo recommends employing designers who have already done projects that involve medical offices and retail stores. "Although it is easier to work with a local designer, don't be afraid to look nationally," he says. Designers with more experience may be located outside your region. Using online options such as Skype or GoToMeeting can help to facilitate the design process.
When it comes to determining your budget, aim to get the most bang for your buck. "To achieve high-end results within a budget, it's important to prioritize expenditures in those areas where patients spend the most time, such as waiting areas and treatment spaces," says Mukherjee.
Karen Appold is a freelance writer based in Macungie, Pennsylvania.
Image copyright Getty Images