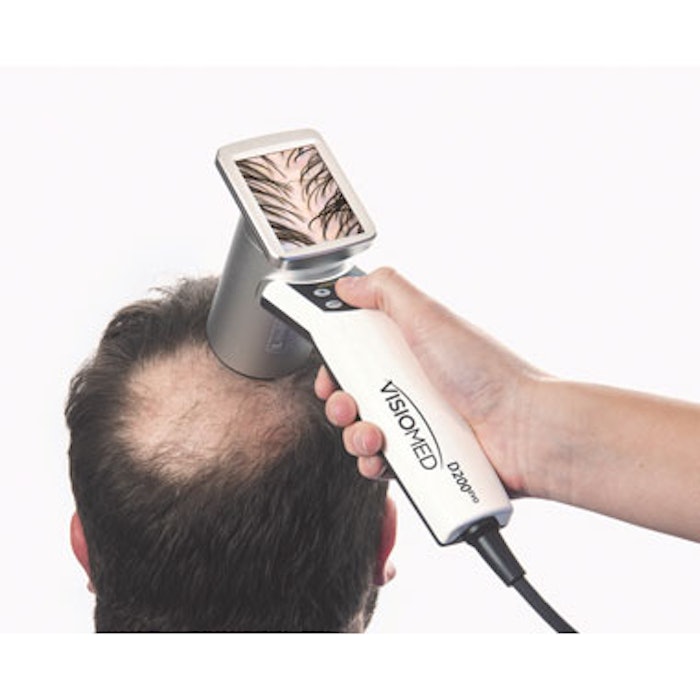 Hair loss and thinning hair affect the majority of men and women as they age. In the past few years, demand for hair restoration procedures has grown as new, more effective treatments come to market. To help practitioners and patients track progress, Canfield Scientific—maker of the Visia Skin Analysis system—has developed HairMetrix, an artificial intelligence (AI)-driven, noninvasive consultation tool.
"The two key breakthroughs of HairMetrix are eliminating the need to clip the hair to acquire accurate information and an immediate analysis to provide a more effective consultation," says Sam Esposito, product manager at Canfield Scientific. The system automatically measures all the key hair indicators and metrics, such as total non-vellus hair count, number of follicular units and terminal-to-vellus hair ratios, using similar analysis tools created and validated by Canfield Scientific for clinical research studies.
"This provides the practitioner an effective way to clearly communicate the treatment options while increasing compliance by providing objective evidence of results," says Esposito. "For male clients, you take images in the temporal, vertex and occipital regions, the images are automatically uploaded to and processed in our AI servers in the cloud and immediately returned with the completed analysis."
Providers use Canfield's VISIOMED D200evo dermatoscope to take images of the scalp, and the HairMetrix software analyzes the images and saves the data for follow-up comparison. In addition to capturing trichoscopy images, HairMetrix can capture global images using Canfield's optional Mirror mobile iPad application, which also now includes ALODEX, a clinically validated hair density assessment for quantifying the extent of hair loss.
"This complete hair consultation solution offers easy-to-read print reports, has a compare function for follow-up imaging, and the images and analytics are saved for future appointments," says Esposito. "It is easy to operate for users and easy for clients to understand, like the VISIA Skin Analysis consultation, but now for hair loss analysis versus skin analysis."
Canfield has been trialing the system since October 2019 with hair restoration specialists and key opinion leaders and will launch HairMetrix this Spring. "The early users are excited about their HairMetrix experience and we look forward to the broader launch," said Esposito.
Inga Hansen is the executive editor of MedEsthetics