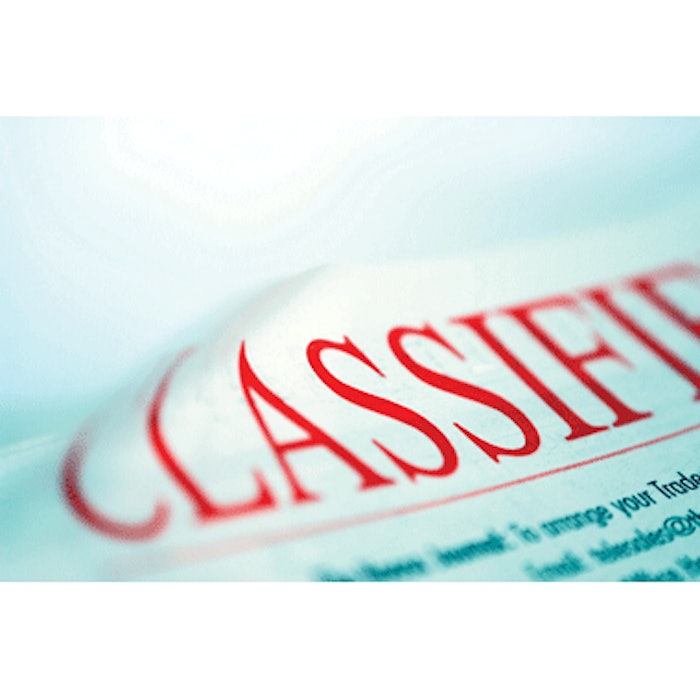 There has been a dramatic increase in the number of aesthetic practitioners and procedures in recent years. This has created a corresponding increase in the number of medical devices that are being purchased and sold on the "resale" market.
Purchasing a secondhand device creates an excellent opportunity to integrate a new procedure into an aesthetic medical facility, since the cost may be significantly lower for resale equipment. However, there are many issues that should be considered prior to such a purchase.
There are two distinct scenarios: You are either selling such equipment, or you are buying it. For those physicians who are selling the equipment, there are few issues to consider. The most important aspect of selling used medical equipment is to be honest about how and where you obtained it. This seems like common sense, but I have seen many instances in which a physician indicates that he received a device—typically a laser—directly from a manufacturer, and then when the serial number is traced, it appears that it was a resale laser. There are implications to this and as we will discuss, there are pitfalls.
Image copyight Thinkstock/istockphoto.com
[pagebreak]
Reselling Equipment
When you are selling medical equipment, it is important to get quotes from multiple vendors. There is a wide range of prices for most lasers and other aesthetic medical technologies. For example, vendors that have overseas clients will have a much broader market, and devices frequently sell for more money in foreign markets. The shipping is arranged by the vendor so selling in a foreign market will require no additional effort.
Another important aspect of selling medical equipment is the crate or shipping container in which the original device was delivered to you. I have seen physicians receive an extra $1,000 for their equipment when the original crate was still available.
Purchasing Used Equipment
There are many more issues to consider if you are buying a used medical device. These are expensive purchases and the primary issues are warranty and service related. However, there is one seemingly small issue that is becoming increasingly important: the history of the device. Many stolen devices have been unknowingly sold in the resale market. If you purchase a stolen device, you will not be able to get service on it, and you will likely have to return it and suffer the financial harm (you may still be required to pay for it).
This leads to the primary issues: service and warranty. These are significant concerns because they involve potentially large expenditures. Manufacturers have different policies for equipment that is purchased on the resale market. In many instances, a medical device—especially a laser—that was purchased on the resale market is not eligible for service or warranty. It is vital to know which manufacturers will service a resale laser and which ones will not.
The terms of service are critical as well. Many physicians purchase a device and then need service. They can hire a national firm to service the equipment. However, the service firm may not be able to get parts. Most manufacturers will verify the device's serial number and if the place of service is anywhere other than that of the original purchaser, the manufacturers may not service the device.
A physician who purchases resale medical equipment needs to determine in advance whether the manufacturer will service and provide warranty protection for the device. It is important to ask the vendor what the terms of service and warranty are, and it is also vital to contact the manufacturer. In many cases, you can register the new device with the manufacturer.
Manufacturers frequently require a certification fee for a device that has been either moved to a new location or purchased on the resale market. This fee can range from several thousand dollars to $25,000, and it merely grants that the manufacturer will service the device or provide parts to another servicing agent.
In such a scenario, the manufacturer will inspect the device and certify it for the specified price. There is no warranty or extended warranty coverage for this certification fee. The inspection can be problematic, because if the manufacturer's technician discovers that the device has been altered in any way, the company will not service it or provide warranty protection. You would be surprised at how many laser devices have been altered. It is not uncommon for owners and operators to modify the computer component of a medical device. Although this does not necessarily affect the performance of the device, it will render the equipment without service or warranty protection.
[pagebreak]
Is this Legal?
If challenged, certification fees are probably not legally supportable, but you will not want to engage in an extended legal debate when your device needs service. The aspect of this process that is legal is the denial of warranty protection if the device is moved, altered or sold on the resale market. This may be counter-intuitive, because in this society, most manufacturer warranties are transferrable—such as that of a car. However, the medical device warranty only protects the original purchaser and only if that purchaser utilizes the device in the location of original delivery (or if it has been moved to a new location by the manufacturer).
There is one final issue that merits consideration. Whether you buy or sell a medical device on the resale market, the shipping can be a costly and problematic endeavor. It is very important to review the shipper's terms of service (frequently referred to as a "bill of lading"). In many instances, the shipper is protected, but the buyer is left unprotected. Review the shipping terms and documents carefully. Certainly there are many shipping agents that transport medical devices, but the terms and shipping warranties vary greatly. Additionally, if there is a problem, the legal remedy may be impractical as it may require arbitration in another state. Do not assume that a national carrier has fair terms.
I also recommend that a physician hire an attorney to run a Uniform Commercial Code (UCC) search on a used medical device. This is inexpensive but can be invaluable. It is possible that the seller does not have clear title to the device. He or she may still owe money on the financing or lease. If, after your purchase, the seller subsequently defaults, you could call a manufacturer for service and find yourself greeting the repo man a few days later. Do not assume that a vendor has verified title to a device.
Given the cost of many medical devices, there is a strong temptation to acquire a device on the resale market. This can save tens of thousands of dollars. A physician may also receive tens of thousands of dollars for a device that is not providing revenue to the aesthetic medical practice. But due diligence is required to ensure these transactions are worthwhile.
Padraic B. Deighan, JD, PhD, is president of Aston McLaren, a medical and spa consulting firm, and the former president and CEO of DermAmerica, the nation's largest network of dermatology and plastic surgery centers. Contact him at 877.557.9669, www.medicalandspaconsulting.com.