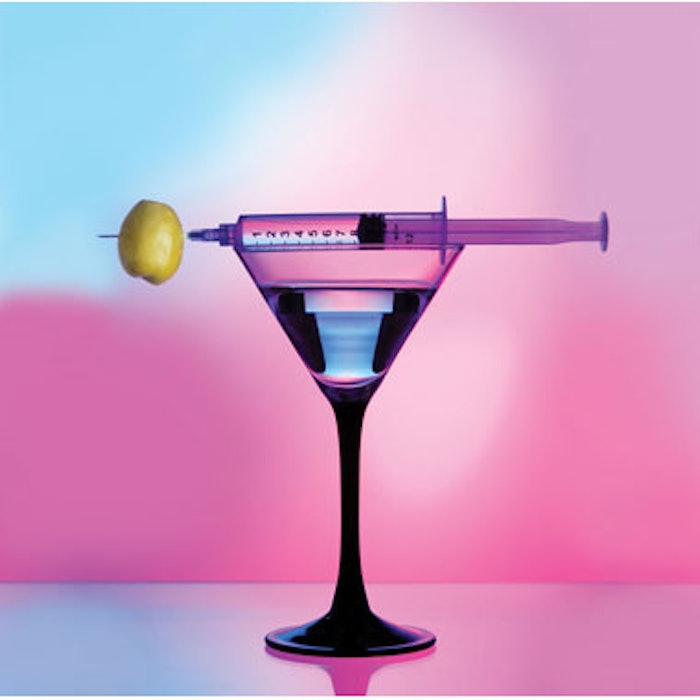 One thing I love about the medspa industry is that medspa owners and providers continue to innovate in their marketing, branding and businesses. This is also one reason it's difficult to keep track of what's legal in the medical aesthetic industry—many of the ideas we are asked about are brand new. They've never been tested before, and therefore it can be a challenge to determine where the legal constraints are.
Botox parties are examples of this. A medspa or a provider typically hosts these events—either at the medspa, a patient's house or another location, such as a salon. At these parties, people get together to socialize and learn about and try new treatments. Often, the business or provider offers discounts on the services. These are highly social events, often featuring alcohol, that mix pleasure with aesthetics, which makes the idea of getting injected with a needle a bit more palatable.
The question is, are these events legal, particularly when they are held off-site? In most states, it is legal to perform treatments outside of your practice or medspa, but not in all of them. For example, Nevada recently passed a law restricting the injection of botulinum toxins and fillers to a doctor's office, essentially banning off-site Botox parties. So review your state's regulations before planning an event.
If your state allows you to perform injectable treatments outside the office, remember that the same rules governing on-site medical care also apply to off-site treatments. New patients must be examined by a doctor, nurse practitioner (NP) or physician assistant (PA) prior to being treated. Proper records must be kept. Consent forms must be signed. Before and after photos should be taken. Everything you are legally required to do when you perform botulinum toxin injections in your practice or medspa must be done at a Botox party.
Additionally, check with your insurance carrier before the party to confirm that you have coverage for off-site treatments, and double-check local ordinances regarding serving alcohol—you may need to obtain a permit for this.
The Exam
A patient being treated by a registered nurse (RN) without first seeing the doctor, NP or PA is the biggest legal risk of Botox parties, or any other social event involving medical aesthetic treatments. Even if the patient consents to being treated by the RN without first seeing a doctor, the RN is not allowed to inject the patient without the initial exam.
This can be difficult to monitor at these types of events because unexpected guests may arrive, alcohol is sometimes being consumed and everyone is more relaxed. However, this is a step that must be followed. RNs cannot practice medicine. Therefore, they cannot legally perform the initial assessment, establish the physician-patient relationship and set a treatment plan.
Informed Consent
Obtaining patient consents—including privacy waivers, since treatments are usually performed out in the open—is also important. Providers should be mindful of patients consuming alcohol as well. While obtaining consent from people who have been drinking is not strictly illegal, alcohol makes people less inhibited and often clouds judgment, which is not good when it comes to such matters. All prospective patients should give consent before they begin drinking, and you should try to keep the imbibing to a minimum.
You should also be mindful of photos and social media posts. These events are ideal for marketing purposes—people are having fun, everyone is happy and you remove many of the clinical aspects of aesthetic medicine. However, you need to be careful when photos or videos are posted. Every patient is entitled to privacy, and if any of them fail to sign a release and an authorization to use their photos, you risk breaching that.
These events are broadly legal, but are they worth it? For many providers, the answer is yes, provided you strictly adhere to legal guidelines. Botox parties and similar social events are great ways to introduce new patients to your practice and procedures.
Medspas often offer discounts to patients who pre-book future or additional treatments the night of the event. It's not uncommon for a provider or practice to earn six figures in treatments and bookings with just one Botox party. However, you must be vigilant with your compliance efforts.
I urge providers to move cautiously when planning and hosting one of these events. Do your homework and ensure you understand your state laws. Go easy on the alcohol. Make sure you've got proper insurance coverage and, if you have any questions whatsoever, consult a qualified healthcare attorney in advance to confirm that all the proper documentation is in place, the required personnel are available and all rules are observed.
Alex R. Thiersch, JD, is a healthcare attorney who represents medspas and aesthetic medical professionals. He is the founder and director of the American Med Spa Association (AmSpa) and a partner at the ByrdAdatto law firm. Contact him at [email protected].
Image copyright Getty Images