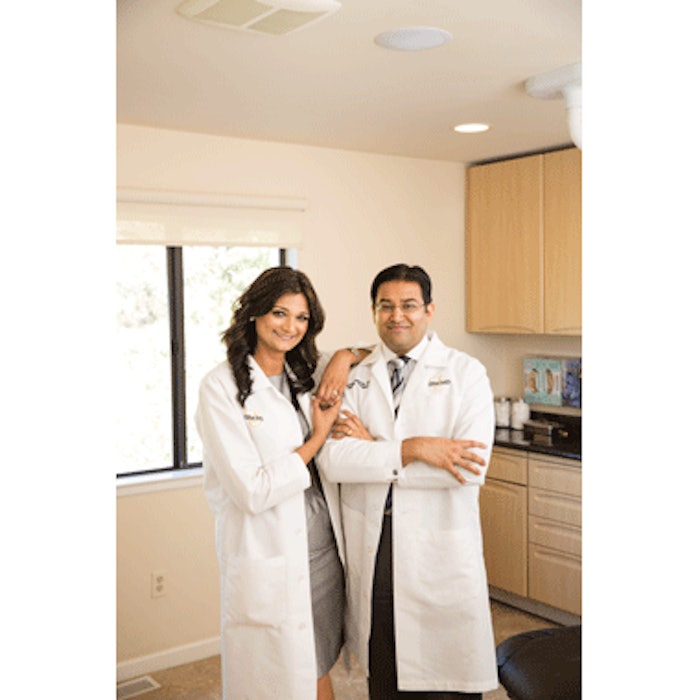 "The first three years were passion and growth; now we're focused on organization," says dermatologist Sonia Badreshia-Bansal, MD, of Elite MD, the joint dermatology-plastic surgery practice she launched in 2009 with her husband, plastic surgeon Vivek Bansal, MD. In less than four years, the couple has grown their Danville, California-based practice from one location with one employee to three locations with a team of 30.
The couple met as undergraduates on the first day of orientation at the University of California, Riverside, and found they had a lot in common. "We're both Indian. We come from families that are very community-oriented and both sets of our parents came to the United States in 1980 when we were four years old," says Dr. Bansal. The two also had a similar goal to enter medicine and, specifically, pediatrics. However, they would each gravitate toward different specialties during their time together at the Penn State College of Medicine.
"I had some very strong mentors who were dermatologists," says Dr. Badreshia-Bansal. "I wanted to see pediatric patients, but I also wanted a family-oriented practice and I felt dermatology would allow me to have a good balance in my own life between work and family as well."
Dr. Bansal was originally interested in pediatric surgery, but his interest shifted to plastic and reconstructive surgery during training. "Though I don't work with pediatric patients now, Sonia and I are starting a cleft lip and palate clinic, called the RoseBush Clinics, abroad," he says.
A Commitment to the Underserved
Though their plans to open a joint practice did not come into full view until residency, there were early signs the couple was a strong team professionally as well as personally. During their time as undergraduates, Drs. Badreshia and Bansal helped launch an after-school program for disadvantaged children living in the Riverside, California area as part of a university community relations project initiative.
At Penn State, the couple worked with second-year medical student Tim Weaver to create LION CARE, a student-run clinic that provides free primary healthcare services to the homeless. "The first two years of medical school is just books, and I felt like that wasn't what I had signed up for," says Dr. Bansal. "And there were a lot of people in need of health care. We would go out to local homeless shelters with the first- and second-year medical students and perform physical exams." LION CARE was one of the first volunteer programs accepted by Americorps (americorps.gov), and it continues to operate today, offering free healthcare services to patients at the Bethesda Mission homeless shelter and providing health education and prevention programs covering topics such as hypertension and diabetes.
Photography by Robert Houser.
[pagebreak]
The Move to Private Practice
During residency, the couple's paths appeared to diverge. Dr. Bansal had the goal of entering academic medicine, while Dr. Badreshia-Bansal was focused on private practice. "I love to teach, so I wanted to go into academic medicine and work my way up. Sonia wanted to practice in an environment where she could spend more time with the patients," says Dr. Bansal. "And she saw the benefit of offering dermatology and plastics together in a private practice." Dr. Badreshia-Bansal won out and, with some help from their families and a bank loan, the two physicians established their first office in downtown Danville, California, a wealthy suburb of Oakland and San Francisco.
"We were fortunate to have bought our own space directly out of residency," says Dr. Badreshia-Bansal, though the couple admits they were a bit naive at the start. After working with an attorney to form their medical corporation and securing their hospital privileges, they had to wait two years for construction on the new facility to be completed—a project estimated to take a few months.
Launching Elite MD in 2009 with one staff member and no patients, the ambitious couple set about growing the fledgling practice. Their entrepreneurial skills—honed while creating successful volunteer programs during college and medical school—combined with their media savvy gave them a strong start. In 2007, Dr. Badreshia-Bansal was chosen as a "Dove Real Woman" and featured in Allure magazine. This led to a variety of media opportunities, including interviews in USA Today, the Los Angeles Times and Teen Vogue. The couple appeared on CNN and "The Doctors" and Dr. Badreshia-Bansal currently appears weekly on Bay Area television station KRON 4 to share information on common skin concerns. All of which helped drive patients to Elite MD.
As the practice grew, the couple separated their clinical and cosmetic practices and brought in new providers, including a laser technician and esthetician. "We do not promote spa services, but we do have an esthetician who offers pre- and post-surgery skin care," says Dr. Bansal, who continued to pursue his passion by incorporating research and physician training. Through Dr. Badreshia-Bansal's role as clinical instructor at the University of California, San Francisco, and Dr. Bansal's service as an examiner for plastic surgery oral boards at Stanford University, more than 500 healthcare professionals and students have rotated through Elite MD.
"We have rotations for students and interns and we conduct research trials," says Dr. Bansal. "I wanted to build an academically strong practice, she wanted to build a clinically strong practice and that combination is very powerful."
[pagebreak]
A Multi-Disciplinary Approach
The doctors attend each other's meetings and value each other's input in patient care. "We have a very team-based and multidisciplinary approach to treating patients," says Dr. Badreshia-Bansal. "I value his ability to view things in a three-dimensional field, but I leave the surgical side to his expertise as a surgeon." Respectively, Dr. Bansal seeks his wife's input on noninvasive treatments and topical products available to enhance his surgical results.
"Early on, I thought lasers and noninvasive procedures had no value," says Dr. Bansal. "Now I understand the value of combination treatments. When other surgeons come in, their jaws drop when they see what we can do by combining these treatments with surgery. But I was not trained that way."
Despite their success in the cosmetic arena, "medical dermatology will always be at our core and has been invaluable to our growth," says Dr. Badreshia-Bansal, who authored the medical textbook Treatments for Skin of Color. "We are about 60% cosmetic and 40% medical, with about a 50% ethnic skin population, and the staff reflects our diversity of patients." Aesthetic services are offered in packages to help patients optimize their treatment goals, and the couple embraces a holistic approach to medicine that includes lifestyle education. Following laser liposuction performed by Dr. Bansal, for example, all patients are encouraged to continue with a healthy lifestyle. "We even offer a trainer right in our office to maintain these results," he says. "Everything is physician driven, with stringent protocols and supervision to maximize patient safety."
Maintaining Quality of Care
In an effort to maintain high standards in patient care, the couple has a hiring strategy that includes identifying and recruiting top talent. "Our laser technician, Jeff Wheaton, is an RN and was a top educator for Syneron," says Dr. Bansal. "We hired a top plastic surgery coordinator, who previously worked with a former president of the American Society of Plastic Surgeons."
"We do extensive research. We talk to other doctors about who the best companies are, who the best trainers are and we compensate extremely well," says Dr. Badreshia-Bansal. "We put on the golden handcuffs and these people work very hard for us."
The practice has strict protocols in place and, in keeping with its academic spirit, "we do morning huddles and daily rounds," says Dr. Bansal. In addition, the doctors hold weekly management meetings, monthly staff meetings and monthly division meetings. "In our monthly meetings, we always have an industry speaker," says Dr. Bansal. "Some practices have a closed-door policy to reps; we do not. We place a lot of onus on industry reps to train staff."
[pagebreak]
"If I have an interesting patient, I have my entire staff come in and learn from that patient. I also do pop quizzes with my staff," says Dr. Badreshia-Bansal. Elite MD has a "Practice Bible" that includes answers to frequently asked questions, patient prep instructions and information on the devices and products offered in the facility.
"When you're seeing more than 150 patients a day, it is difficult to maintain quality," says Dr. Badreshia-Bansal. "If we get even one complaint, we take that seriously. All staff members are brought together to learn if there is a problem. We don't want to make the same mistakes twice."
Elite MD has an extensive evaluation process for new technologies and procedures. "We investigate new equipment for six months before we buy, and everyone gets input—the RNs, the laser technician and the patients," says Dr. Bansal. To date, the practice has evaluated more than 100 new technologies and currently houses more than 30 energy-based devices. The practice's involvement in clinical trials, combined with an open-door policy for industry, has allowed them to stay on the forefront of new technologies and procedures. "We also do media work where we highlight new technologies that we're using, and that also brings manufacturers and patients to us," says Dr. Badreshia-Bansal. "It all comes full circle."
Inga Hansen is the executive editor of MedEsthetics.