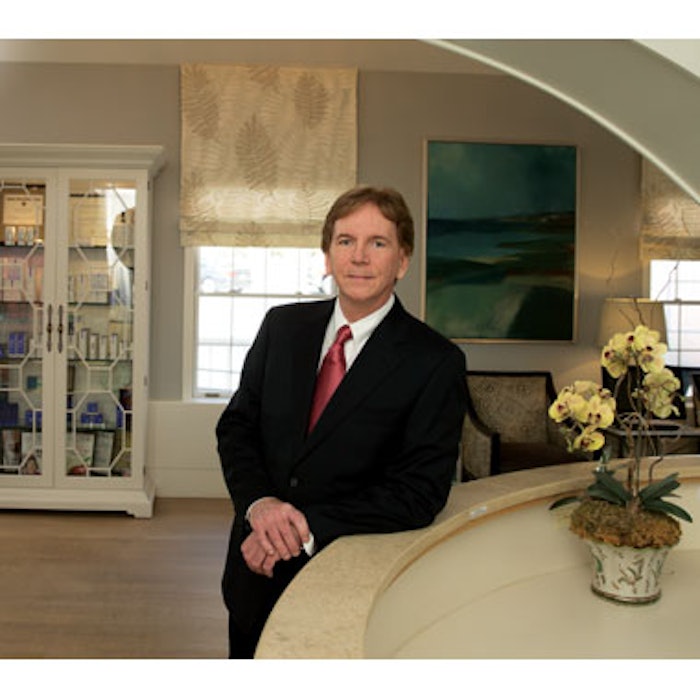 Growing up in a family of lawyers and teachers, Joseph O'Connell chose not to follow the family tradition and instead had dreams of becoming a famous artist or shutterbug. He took art and photography classes at a small New England preparatory school and followed with studio art and photography in college.
"I took a photography course with Roger Mertin, who at that time was probably in his 20s; Roger liked my work and he asked if I would trade for some of his. It was just my coursework so I gave it to him," he says. "I wish I had been astute enough to trade because Roger went on to become a very famous photographer; he even had work hanging in the Museum of Modern Art."
The Road to Plastic Surgery
Born and raised in West Hartford, Connecticut, Dr. O'Connell ultimately changed course, opting for a career as a plastic surgeon. His decision was influenced by the financial turmoil of the early 1970s. "I began college in 1973. I always enjoyed art and science in high school and I received an unsolicited offer for a college art scholarship. Much to my parents' chagrin, I turned it down because I didn't want to be a starving artist," he says. "Instead, I decided to attend the University of Rochester, which is well known as a science school."
Today, Dr. O'Connell is the owner and founder of The Aesthetic Center of Connecticut in Westport, a practice dedicated entirely to aesthetic medicine. Following his undergraduate studies, he received a scholarship offer from Cornell Medical School.
Two of his first-year anatomy course instructors—Robert Schwager, MD, and Gerald Imber, MD—were well-regarded New York plastic surgeons. Their passion and encouragement influenced his career path. "They would give lectures to the medical students, teach in the anatomy lab and show us what they did in their private practices," says Dr. O'Connell. "At that time, the chairman was Dr. Dicran Goulian—who was recently awarded the Presidential award from the American Society of Plastic Surgeons for his lifetime career achievements—and when it came time to do rotations in the third and fourth year, I rotated through plastic surgery."
After completing medical school and a general surgery residency, Dr. O'Connell saw plastic surgery as a way to integrate his artistic talents with a career in medicine. "If you're a general surgeon, there aren't too many different ways to remove a gall bladder or an appendix, but there sure are a whole lot of different techniques you can use during a facelift or other plastic surgery procedures," he says.
Setting Up Shop
After completing his plastic surgery residency at Cornell Medical Center in 1988, Dr. O'Connell realized that he was not interested in an academic position and, although he fielded several offers to join practices, he elected to set out on his own.
"I saved my pennies, and I started off renting space from a group of internists. When I finished my residency I didn't even have enough money for the first month's rent," he says. "So I moonlighted as a general surgeon in an inner city emergency room for about 21 straight days just to earn enough to open my door."
Photo by Melani Lust.
[pagebreak]
As his practice grew, he was asked to serve as Chief of Plastic Surgery at Bridgeport Hospital (a Yale affiliate), a position he held for seven years. He became a board examiner for the American Board of Plastic Surgery and he began publishing—his most recent work, on his unique facelift technique, is pending publication in the Aesthetic Surgery Journal. Dr. O'Connell also recently won his 14th consecutive Castle Connolly "Top Doctor" award.
Like many plastic surgeons, he started out doing reconstructive work, relying upon his training at Cornell and the Memorial Sloan Kettering Cancer Center where he gained comprehensive experience in breast reconstruction. But his passion and interests remained in aesthetic surgery.
About 15 years ago, the national mandate for the accreditation of office-based surgery centers combined with decreasing insurance reimbursement rates created the perfect storm for Dr. O'Connell, and he had an epiphany. He decided that he was through with insurance and would now deliver care on his own terms, and that meant a switch to full-time aesthetic surgery.
A One-Stop Aesthetics Center
Because of the sizable costs to build and outfit a surgical facility, Dr. O'Connell decided that he would no longer rent. He instead chose to purchase a property that he could customize to his needs. His vision was to create a facility that offered the full spectrum of aesthetic treatments—from hair and makeup to noninvasive medical aesthetic treatments and cosmetic plastic surgery.
"I was very fortunate to find a wonderful venue on Post Road in Westport that actually had been a surgery center," he says. "It's a 6,700-square-foot freestanding building. The entire first floor was operating rooms supported administratively by the upper two floors." He decided to remodel the building and open a new outpatient surgical facility on the second floor that is accredited by the American Association for Accreditation of Ambulatory Surgery Facilities (AAAASF). "And because we're in Connecticut, we're also state licensed," says Dr. O'Connell.
In addition to the surgical suite, the second floor in­cludes consult/exam rooms, a waiting area and adminis­tra­tive offices, including Dr. O'Connell's private office. The third floor is a noninvasive aesthetic center with care delivered in a spa-like environment. Offerings include a variety of laser services, IPL and SilkPeel microdermabrasion.
"We have the Fraxel Dual and Sciton Joule platform, and all patients are offered a Visia complexion analysis at no charge," he says. "We have a conference room and a dedicated CoolSculpting room." Dr. O'Connell performs the deeper laser resurfacing procedures while his full-time RN, who has been with the practice for over a decade, performs laser hair removal, IPL, micro laser peels and Fraxel Dual treatments under his on-site supervision.
When it comes to injectables, Dr. O'Connell feels strongly a physician should deliver these treatments. "It's all about education, training and the quality of the result—that's why I personally inject all the Botox and fillers and, of course, perform the surgeries," he says. "I don't understand doctors who think they're 'too busy' to personally do the injectables. They're literally giving their practices away."
Photo by Melani Lust.
[pagebreak]
In keeping with his focus on elective aesthetic care, Dr. O'Connell wants his patients to have a five-star experience from start to finish. The practice's property is so meticulously manicured that it received a beautification award from the Town of Westport. There's ample free parking and two hidden, private entrances for those who wish to bypass the waiting area.
"We flew in a well-known designer from Michigan to decorate the top two floors, and it's probably over the top. You won't feel like you're in a doctor's office; you'll feel like you're in somebody's living room," he says. "It's silver chandeliers, comfortable furniture, commissioned artwork and we commonly have two reception personnel at the desk because I don't want my patients waiting for anything."
Complementary Aesthetic Care
"Aesthetic surgery is neither form nor function alone but rather a natural, harmonious and subtle blending of the two," says Dr. O'Connell. In keeping with this philosophy, he feels that it is important for a plastic surgeon to learn about—and provide—nonmedical aesthetic services as well as medical procedures.
"For example, everyone that I perform a facelift upon needs makeup postoperatively for a short period of time. They all get their hair washed, and the majority subsequently get their hair colored. Most plastic surgeons know next to nothing about makeup and hair services," he says. "I found that my patients would end up in salons and makeup facilities where I had no control over the quality of the advice and services. I wanted to address that and I wanted to keep that in the family."
He was able to recruit Anthony DeMatteo—a local rock star hairstylist and owner of Salon DeMatteo—to his facility several years ago. Dr. O'Connell outfitted the first floor of his practice with a salon befitting his talents.
"The salon was designed by the same architect, and it mirrors the rest of the building so people understand the concept of comprehensive aesthetic services," says Dr. O'Connell. "We also recruited Gail Sagel, a nationally known makeup artist and beauty author. She has run an extremely successful makeup business in Westport for many years. Her business is known as Beautiful Faces. We're all separate entities but we work together and incentivize our patients to stay in the family. It's the entire aesthetic package, both medical and nonmedical all under one roof. That's my vision."
Because he believes that an informed and educated patient is more likely to become a satisfied long-term patient, Dr. O'Connell incorporates TouchMD—a software platform that can be used to highlight the practice's offerings, store before and after images and create procedure simulations—throughout his facility.
"I have it in my exam rooms, in the waiting area, and Gail and Anthony also have it. I find that it improves the experience when patients can actually see the anatomy and understand the nuances of a procedure," he says. "You can take photos of them, draw on the photos and walk a patient through the procedure with diagrams. It not only improves patient understanding but I think they enjoy learning a little more about the procedures."
Photo by Melani Lust.
[pagebreak]
Finding Success
One of the first pieces of advice Dr. O'Connell offers to young plastic surgeons is to read the book Hug Your Customers by Westport native Jack Mitchell, who runs a chain of clothing stores called the Mitchells Family of Stores.
"It's probably the best customer service book ever written and it's required reading for all of my employees. This book, along with Customers For Life by Carl Sewell and Paul Brown, tells you the little things you need to do in order to distinguish yourself from others in your industry," he says. "For instance, yesterday it was raining and I have some promotional umbrellas—so every patient of mine yesterday left the office with an umbrella at no charge. That's what Jack Mitchell would call a 'hug.' There are a lot of little things you can do to improve your level of customer service and they all add up."
The office is always evolving and looking at new ways to better serve its patients. "We enjoy looking at new technologies but we never buy an expensive new technology without personally trying it in our hands," he says. "We've gone to EMRs but we don't have voicemail because I don't want my patients talking to a machine."
Even with so much on his plate, Dr. O'Connell still finds time to satisfy his artistic yearnings. He's taken drawing, sculpting and photography courses but for the past decade he has turned much of his artistic attention to a new endeavor—restoring vintage automobiles.
"I guess it's the plastic and reconstructive surgeon in me—always trying to restore what time or Mother Nature has tarnished," he says.
Keith Loria is a freelance writer based in Oaktown, VA.
Photo by Melani Lust.