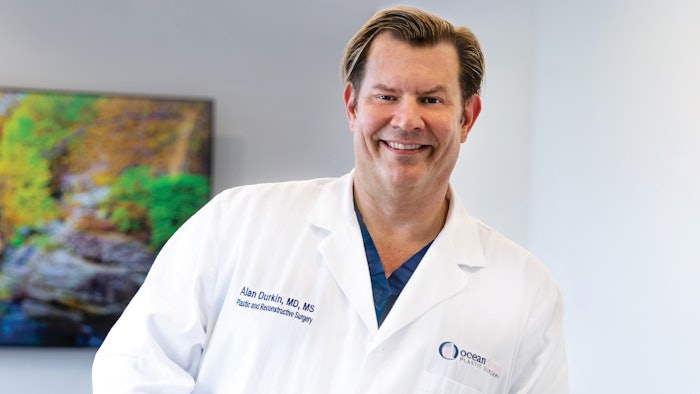 When patients step into the offices of Ocean Drive Plastic Surgery and MedSpa, located in Vero Beach, Florida, they are greeted with the scent of lavender thanks to the fresh flowers that are in the waiting room every day. This is just one of the small details that Alan Durkin, MD, concerns himself with to ensure that every single person coming into his practice has a first-rate experience.
"We wanted to create a culture and environment that emphasizes respect, communication and listening," he says. "The core of the business is the medical spa. This allows us to synergize our spa services with our surgical procedures. Almost all our surgical patients will have spa appointments during the course of their recoveries, because that enhances the experience. The reverse is also true. Our mission is to make people happy and well."
A diplomate of the American Board of Plastic Surgery and American Board of Surgery, Dr. Durkin specializes in cosmetic plastic and reconstructive surgery. Those undergoing surgery utilize the practice's private overnight suites and VIP entrances. Dr. Durkin and his staff perform house calls and provide private duty nursing. In addition to surgery, Ocean Drive Plastic Surgery and MedSpa provides a continuum of cosmetic care through its medspa, laser facility and make-up studio.
Finding his Passion
The son of an oncologist, Dr. Durkin knew early on that he wanted to pursue medicine, but during college the avid chess player and "huge science fiction fan" was drawn to physics. After graduating magna cum laude with a B.S. in biology from the University of Miami, he earned an M.S. in physics from the University of Chicago.
"When I came out of college, my career path was going towards physics, but I was drawn away from it, because it wasn't a very social endeavor," he says. "I ended up applying to medical school to be a pediatrician."
But, surgery rotations during his third year of medical school at the University of South Florida changed his career path once again. As soon as he stepped into the operating room, he knew this was something he would do the rest of his life.
"The privilege and responsibility of taking someone to the operating room was just compelling, and I felt so lucky to have felt that," he says. He first set his sights on orthopedics, but when no spots were available in the orthopedic rotation, he entered a plastic surgery rotation.
"I went to the plastic surgery rotation that morning and assisted with a cleft lip surgery at a children's hospital. Then, we went to a surgery center and did a facelift, and again, that was it," he says. "I not only knew I wanted to be a plastic surgeon, but I wanted to emphasize and understand the human face."
While he calls marrying his wife—biochemist Roxanne Durkin, PhD—the best decision he's ever made, pursuing plastic surgery is a close second.
In addition to his private practice, Dr. Durkin currently serves as clinical assistant professor of plastic surgery at both Florida State University and Nova Southeastern University and is on staff at Indian River Medical Center in Vero Beach and Sebastian River Medical Center in Sebastian, Florida.
Over the course of his career, he has published more than 25 peer-reviewed papers and lectured at national and international physician symposiums. Currently, he is involved in multiple clinical trials involving facial and breast aesthetic surgery.
"Plastic surgery allows you to be a lifelong learner," he says. "It's a specialty that will keep you humble every day of your life."
Coming Home
After completing his residency at the University of South Florida, Dr. Durkin accepted a position far from his home state and his future as a top aesthetic physician, choosing to put his skills to use serving the Navajo Nation in a Level 1 trauma center in Flagstaff, Arizona.
Three years later, he and his wife decided to seek a new opportunity closer to home. "I had interviewed with Ferdinand Becker, MD, a facial plastic surgeon, prior to going to Flagstaff, and he called me every six months for three years, which was really humbling," Dr. Durkin says. "He kept saying he wanted me to come back because he thought I would be good for his practice and for the community."
He started a fellowship with Dr. Becker in January 2011. A year later, the Durkins purchased the practice from Dr. Becker, who was suffering from Parkinson's disease and anxious to see his practice continue on.
"I was his last fellow. After my fellowship, he handed the practice over to me. Two years later, we rebranded as Ocean Drive Plastic Surgery and MedSpa," says Dr. Durkin.
His goal in rebranding was two-fold: He wanted to grow the practice into something more inclusive. "Over 70% of what I do today is nonsurgical," he says. "The reality is plastic surgery is expansive, and that expansiveness can only be achieved if you have an armamentarium of different modalities and interventions, and the expertise to provide it."
Also, Dr. Becker was a facial plastic surgeon, while Dr. Durkin offers a full-range of facial and body surgeries. As part of his focus on aesthetics, he wanted to create a more spa-like environment as well.
"We believe plastic surgery provides an opportunity that no other surgical specialty really has," he says. "People come to see me of their own free will, not out of illness. So, we wanted to offer a better experience than anyone else."