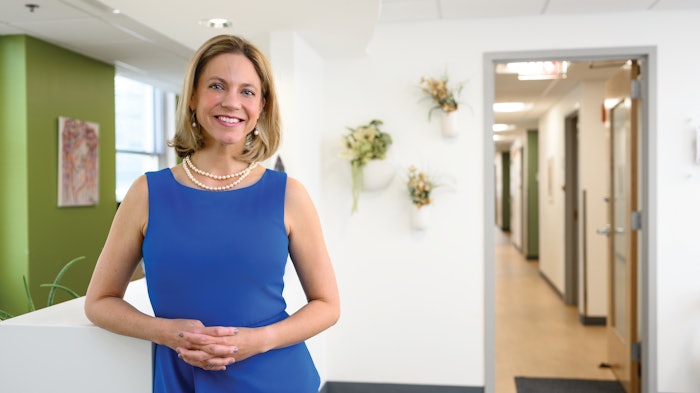 Many physicians dreamt of becoming doctors from a young age. Not so for Emmy Graber, MD, MBA, founder of The Dermatology Institute of Boston. "No one in my family is a physician, so I didn't have any experience with it," she says. "It wasn't something I had thought of." Instead, it was a love for biology and the encouragement of classmates that led her to apply to medical school during her senior year at Penn State.
"I really liked science in high school and was a biology major in college," she says. As graduation approached, several of her friends who were applying to medical school urged Dr. Graber to join them. "I suppose it was a bit of peer pressure that led me to medical school," she says.
She applied and was accepted to the Penn State College of Medicine. Once there, she knew medicine was the right career path for her, with one possible exception. "I remember sitting in the lecture hall and saying to one of my friends, 'I am so interested in everything. I think I could do any specialty, except dermatology.'"
But that soon changed. "When I got into the clinics and saw how things play out in real life and not just in a textbook, dermatology was the most interesting specialty and the best fit for me," she says. What drew her in, specifically, was working with acne patients.
Finding Her Focus
"I was always excited to see the patients who had acne," says Dr. Graber. "I really enjoyed taking care of those patients because I could make them feel better about the way they looked and improve their confidence. You can see real changes in the skin happening alongside real changes in their self-esteem."
Acne remains a core focus of her combined general dermatology and cosmetic dermatology practice. It was a desire to help her acne patients with scars that led her to a laser and cosmetic fellowship with SkinCare Physicians in Chestnut Hill, Massachusetts, following residency.
"I would treat these acne patients, and they would come back and ask me how we could treat their scars," she says. "And I had no idea."
There, she learned a tremendous amount not only about treating acne scars, but the needs of cosmetic patients, in general. "That really launched my career in cosmetic dermatology," she says. "It was a wonderful experience and a great group of people."
Today her areas of focus are acne, acne scarring and cosmetic dermatology. "I've built my career around those three things," she says.
The Dermatology Institute of Boston, founded five years ago by Dr. Graber, now has 13 employees, including a second board certified dermatologist, Freya Meyer, MD, and nurse practitioner, Cindy Sershen, DCNP. "They, along with our other team members, have been crucial to the practice's success," says Dr. Graber. "We all do general dermatology. I perform cosmetic procedures. Dr. Meyer does some injectables, and Cindy also does PRP for hair loss."
But Dr. Graber did not consider private practice at the start of her career. After two years with SkinCare Physicians, her focus was on academia and continuing her education.
A Varied Career
She was offered a position with Boston University, where she helped grow the University's laser and cosmetic clinic and also served as the associate residency program director. "It was great working with residents and medical students. I loved, loved that aspect of academic practice," says Dr. Graber.
During this time, she also enrolled as a full-time student at the Wharton School of Business at the University of Pennsylvania. "I was flying back and forth between Boston and Philadelphia, so I could work full-time and complete the executive MBA program at Wharton," she says. "It was a busy two years, and it was a big time of self-reflection."
Her desire to earn an MBA was "in part, just a love of learning and a love for education," she says. The other part was a desire to have a varied career.
"I loved seeing patients, but I also knew that alone was not going to sustain my career forever," says Dr. Graber. "I wanted to have another aspect or angle to my career that would challenge me in other ways. I didn't know at the time if it would be management, working for industry or running a practice."
After finishing the MBA program, she knew that she wanted to open her own practice—"I really liked and was excited about the strategic and operational challenges of opening a practice," she says—and she knew exactly where she wanted to practice.
Continue reading more of our exclusive insights with Dr. Graber in our Digital Magazine...
Inga Hansen is the managing editor of MedEsthetics.