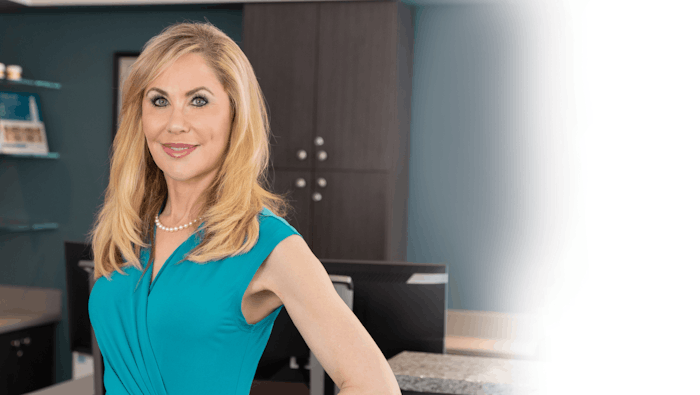 [Photography by Peter Thompson]
Amy Brodsky, M.D., never had any intentions of going to medical school growing up. It wouldn't be until she was in college that a career in the medical field even crossed her mind. Inklings of her future in medical aesthetics were apparent early on, however, when she began taking oil painting lessons at 10 years old. Brodsky took to oil painting eagerly and has been an avid oil painter ever since, with the act of painting translating seamlessly into enhancing facial aesthetics. She explains, "I always had this aesthetic eye because I felt like the paintbrush was very similar to the syringe and a needle. Your skin is your largest canvas."
A Lifechanging Decision
Originally a bio-engineering major, Brodsky's life changed forever when her best friend passed away at the young age of 21. "I was like, I need to do something that makes a difference. So, I decided to study for the MCATS," remembers Brodsky. As she was dating her husband at the time, who needed to remain in Chicago, Brodsky only applied to three medical schools. She explains, "If I didn't get it, I didn't get it. I kind of did it on a bet and I got in."
After she began medical school, Brodsky came into contact with the dermatology field by accident. She recalls, "I was dating my husband and he had a history of severe cystic acne, so he would periodically take me to his dermatology appointments." After speaking with his dermatologist, Brodsky decided to moonlight for him throughout medical school and her residency. She also ended up working for him after her residency for five years before deciding to branch off and start her own practice in 2007. Over the next 13 years, Brodsky grew her practice from only including her to having three offices and almost 60 employees before selling it to Private Equity in 2020.

The Birth of the Sun Hero Program
The Sun Hero Program was born in 2012 when Brodsky was trying to find a way to get her children to wear sunscreen. She explains, "My kids were six and seven or eight years old, and it was becoming increasingly difficult to make them want to wear sunscreen. I looked around at different ads and commercials and what I noticed is that the girls were all wearing bikinis and the boys were sometimes wearing sun protective shirts. But, this whole image was conveying that it's cool to show your skin and be tan, so I wanted to create a whole paradigm shift."
Initially called "It's Cool in the Pool," Brodsky's goal was to get pediatricians involved in educating children about sun protection. "What I wanted to do was to make pediatricians put sun protection on their anticipatory guidelines. From there, I wanted to make it really cool to wear sun protective shirts like the rash guards, so I was working to make them cool and mainstream."
Inspired by a sun protection program in Australia, Brodsky wanted to bring something similar to the U.S. With the help of a group of influential citizens in Chicago, she was able to create a charity called the Pediatric Sun Protection Foundation (PSPF).
Continue Reading our Digital Magazine for the entire feature profile on Dr. Amy Brodsky...