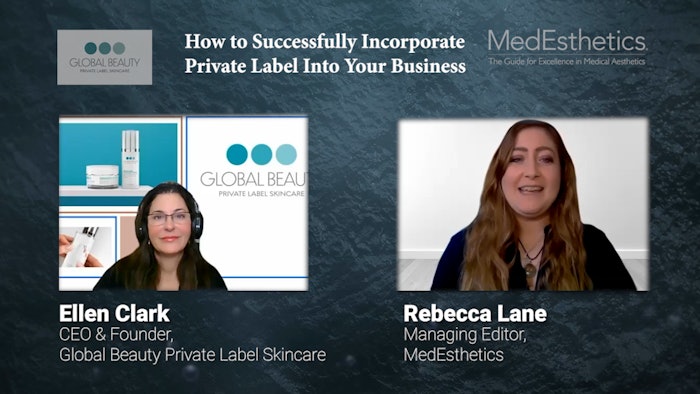 This video is sponsored by:
Global Beauty Private Label / Control Corrective
Private label skin care is growing ever more popular as a tool to add revenue, increase patient loyalty and retention, boost brand recognition and more. However, the seemingly daunting task of where to even begin when it comes to first incorporating private label into a business and then how to maintain and utilize it successfully can make even the most confident practitioner hesitate at the idea. Shedding a little light on what adding private label to a business entails can add some much needed perspective and dispell the mystery surrounding private label skin care.    
We sat down with Ellen Clark, CEO and founder of Global Beauty Private Label Skincare, to discuss the secrets to successfully incorporating private label into a medspa or aesthetic practice. Clark delves into every detail of the ideal formula for adding and maintaining private label in an aesthetic practice, outlining the process from start to finish and how to ensure each aspect and step is optimized to produce the best possible results. She also discusses the customizable aspects of private label that allow a business to set their own pace when it comes to how much and how quickly they want to add private label products, whether that means starting with just one product and building from there or launching an entire skin care line. Private label is not a "one size fits all" business tool, but rather one that can be tailored to the individual business so practitioners can utilize it in a manner that fits their needs. Don't get me wrong. It still requires work, but, as Clark discusses, Global Beauty is designed to help you figure out how to make it fit your brand and business needs so you can successfully incorporate private label skin care. Join us as we delve into how to navigate the ins and outs of private label skin care to ensure its success in your business.