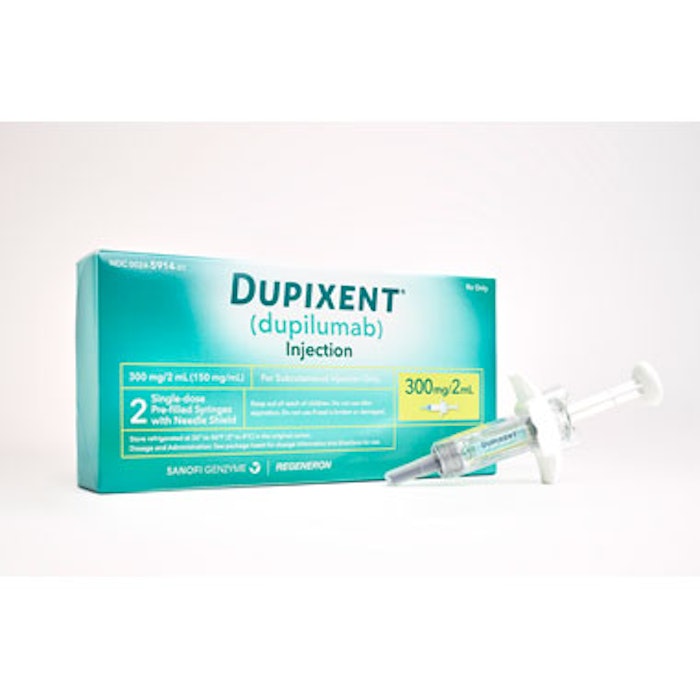 The U.S. Food and Drug Administration (FDA) has approved Dupixent (dupilumab) Injection from Regeneron Pharmaceuticals, and Sanofi for the treatment of adults with moderate-to-severe atopic dermatitis (AD).
Dupixent is a human monoclonal antibody that is designed to specifically inhibit overactive signaling of two key proteins, IL-4 and IL-13, which are believed to be major drivers of the persistent underlying inflammation in AD. It comes in a pre-filled syringe and can be self-administered as a subcutaneous injection every other week after an initial loading dose and can be used with or without topical corticosteroids.
"People with moderate-to severe atopic dermatitis cope with intense, sometimes unbearable symptoms that can impact them for most of their lives," said Julie Block, president and CEO of the National Eczema Association. "To date, there have been few options available to treat people with moderate-to-severe atopic dermatitis who have uncontrolled disease. That's why today's approval of Dupixent is so important for our community. Now we have a treatment that is expected to help address patients suffering from this devastating disease."
Dupixent received FDA breakthrough designation in 2014 and was evaluated with Priority Review, which is reserved for medicines that represent potentially significant improvements in safety or efficacy in treating serious conditions.
The approval was based on data from three randomized Phase 3 pivotal trials known as SOLO 1, SOLO 2 and CHRONOS (2,119 total adult patients). The studies examined the use of Dupixent either alone (SOLO 1 or SOLO 2; 1,379 adult patients enrolled) or with topical corticosteroids (CHRONOS; 740 adult patients enrolled) in patients with inadequately controlled moderate-to-severe AD. In all these studies, Dupixent met the primary and key secondary endpoints.
In the SOLO 1 and SOLO 2 studies, treatment with Dupixent as monotherapy significantly improved measures of skin clearing and overall extent and severity of disease. At 16 weeks:
38% and 36% of patients who received Dupixent 300mg every two weeks achieved clear or almost clear skin as measured by the 5-point Investigator's Global Assessment (IGA) scale (primary endpoint), compared to 10% and 9% with placebo.
51% and 44% of patients who received Dupixent 300 mg every two weeks achieved a 75% or greater reduction in their Eczema Area and Severity Index score (EASI-75) from baseline, compared to 15% and 12% with placebo.
41% and 36% of patients who received Dupixent 300 mg every two weeks achieved a greater than or equal to 4 point improvement in the daily intensity of patient-reported itch, as measured by the Pruritus Numerical Rating Scale (NRS), compared to 12% and 10% with placebo.
In the CHRONOS study, treatment with Dupixent with topical corticosteroids (TCS) significantly improved measures of overall disease severity at 16 and 52 weeks, when compared to placebo with TCS.
The most common adverse events that were noted to be greater than or equal to one percent included injection site reactions, eye and eyelid inflammation including redness, swelling and itching, and cold sores in the mouth or on the lips.