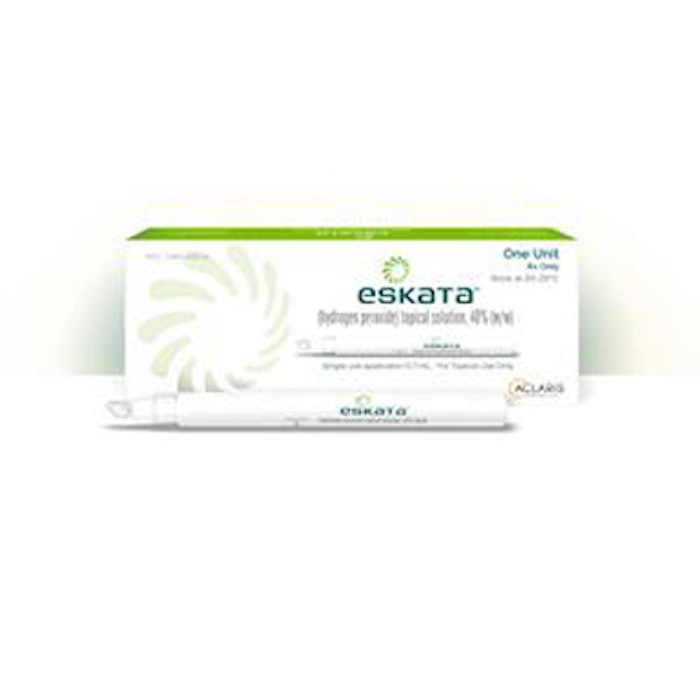 The U.S. Food and Drug Administration (FDA) has approved Aclaris Therapeutics' ESKATA (hydrogen peroxide) topical solution, 40% for the treatment of raised seborrheic keratoses (SKs). The proprietary, high-concentration hydrogen peroxide-based topical solution is applied directly to the raised SKs by a healthcare provider using a pen-like applicator. The approval was based on two pivotal Phase 3 trials that demonstrated the safety and efficacy of ESKATA for the treatment of raised SKs. In these trials, patients received up to two treatments, with one at treatment initiation and a second at week three. Patients treated with ESKATA were more likely to have all four treated SKs completely cleared after two treatments than patients who received placebo. ESKATA was generally well tolerated, with the most common side effects being itching, stinging, crusting, swelling, redness and scaling at the site of application.
"This achievement delivers on Aclaris' commitment to bringing innovative therapies to market that address significant unmet needs in dermatology," said Neal Walker, MD, president and CEO of Aclaris. "For the first time, with the approval of ESKATA, patients will have access to an FDA-approved topical, noninvasive treatment for raised SKs."
For more information, visit www.eskata.com.