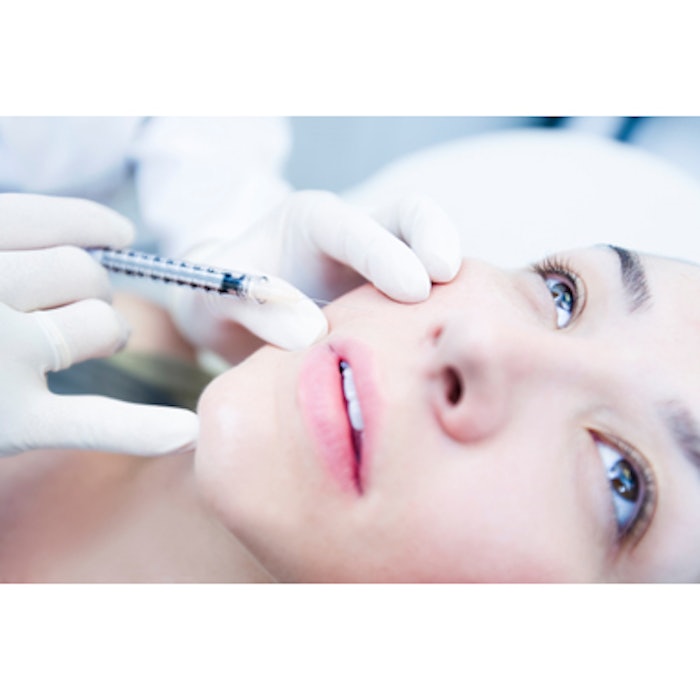 Researchers from Kobe University Graduate School of Medicine in Kobe, Japan, are advocating the use of two tools that may help reduce the risk of vascular embolism and skin necrosis following hyaluronic acid (HA) filler injections: ultrasound to help identify blood vessels during deep injections and 2-dimensional laser speckle flowgraphy (LSFG) to noninvasively measure blood flow to the skin.
Takanori Iwayama, MD, et al, performed multiple HA filler injections (Juvederm Vista) in the face of a 38-year-old man. They injected filler on the left side of the face without the use of ultrasound guidance using a traditional, more superficial technique. The filler was deposited into the region just under the dermis in the left nasolabial fold and alar base. On the right side of the face, they injected the same filler into the periosteum in the nasolabial fold and alar base using an ultrasonography-guided cannula method. Following treatment, skin blood flow was evaluated with 2-dimensional laser speckle flowgraphy (LSFG).
The injector was able to detect both the cannula tip and blood vessels with the ultrasonography. LSFG revealed a reduction in skin blood flow in both sides of the face following treatment with the filler, but there was less reduction in blood flow on the right side where the ultrasonography-guided cannula method was used.
The study was published on April 20, 2018 in Plastic and Reconstructive Surgery – Global Open
Image copyright Getty Images