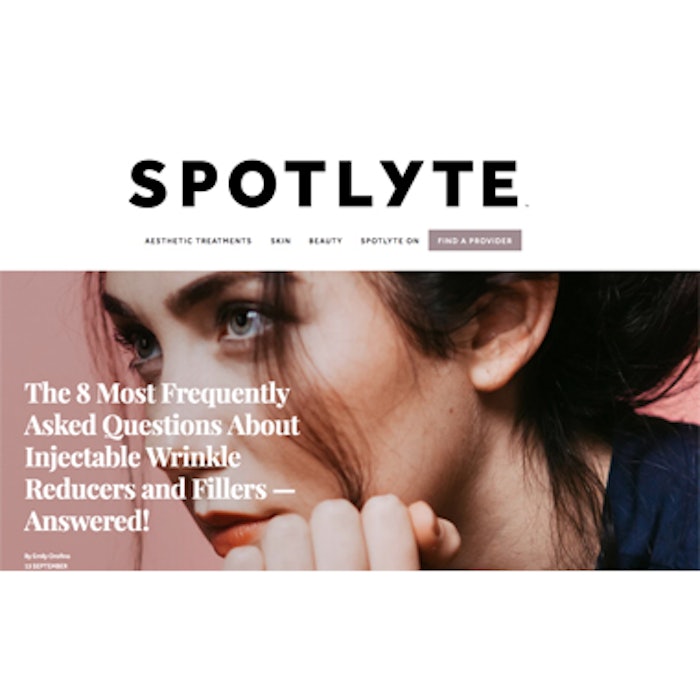 Allergan has launched Spotlyte, a digital hub of curated content designed to help consumers learn more about medical aesthetic treatments. The site features researched content, product reviews and insider profiles, together with the latest beauty news and trends. In addition to its editorial content, Spotlyte will provide consumers access to a team of trained specialists who can chat directly with anyone considering medical aesthetic treatments and help connect them to local licensed providers.
Alexandra Wilkis Wilson, co-founder of Gilt Groupe and Glamsquad, and senior vice president of Consumer Strategy and Innovation at Allergan is leading the effort. Spotlyte is also the first venture from the new Allergan-owned digital ventures unit, Project Moonwalker, which will serve as a launchpad for new innovations in medical aesthetics.
"We have a unique position as industry leaders to identify emerging trends in real time and change the way that consumers engage with medical aesthetics," said Alexandra Wilkis Wilson. "I have spent most of my career focused on the consumer while creating powerful brands at the intersection of technology and lifestyle. The core goal of Project Moonwalker is to enable information flow and access. Spotlyte is the first step in changing how consumers can become better educated on medical aesthetics."
To learn more, visit www.thespotlyte.com or follow the site on Instagram @Spotlyte.