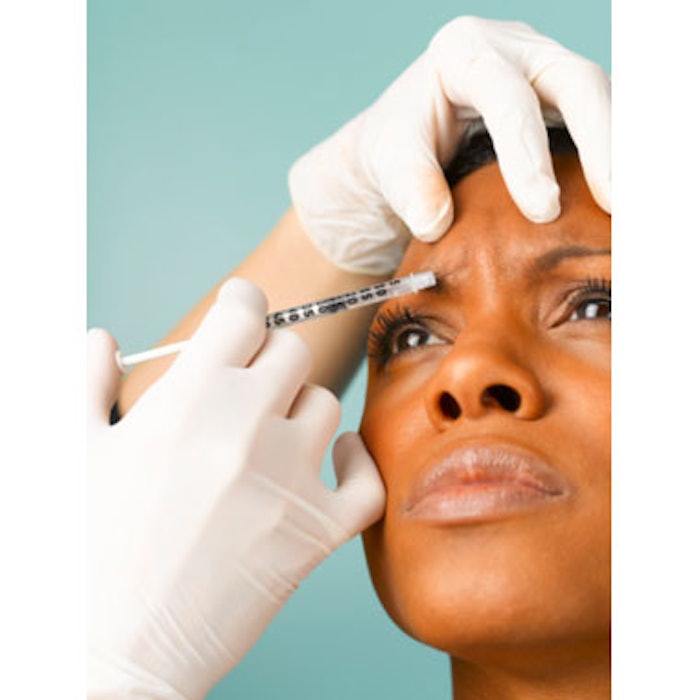 Revance Therapeutics has released SAKURA Phase 3 study data for its injectable daxibotulinumtoxinA (RT002) for moderate-to-severe glabellar lines. The study included nearly 2,700 patients, who received up to three treatments and were followed for more than a year and a half. Based on investigator assessment, more than 95 percent of patients achieved a score of none or mild glabellar lines at maximum frown at week 4 after each of three treatments. The median time to return to baseline was 28 weeks. The median time to loss of none or mild wrinkle severity was 24 weeks. These results were consistent with those seen in the Phase 3 pivotal trials, SAKURA 1 and SAKURA 2.
"The results of this trial are exceptional since they demonstrate that RT002 has consistently and predictably produced long duration and high response rates and was well tolerated over successive treatments," said SAKURA investigator Jean Carruthers, MD.
At week 1, 95.8 percent of patients had none or mild wrinkles. This increased to 97.7 percent after the third treatment. The most common treatment-related adverse events were headache (3.3 percent of treatments), injection site pain (2.7 percent) and injection site erythema (2.5 percent). There were no treatment-related serious adverse events. Eyelid ptosis was reported in 0.9 percent of treatments and decreased in frequency with successive treatments. This was substantially lower than the rate observed in SAKURA 1 and SAKURA 2 (2.2 percent).
The company also announced that it has entered into a license agreement with Shanghai Fosun Pharmaceutical Industrial Development (Fosun Pharma Industrial), a wholly-owned subsidiary of Shanghai Fosun Pharmaceutical (Fosun Pharma), for $30 million upfront. The agreement provides Fosun Pharma Industrial with the exclusive rights to develop and commercialize RT002 in mainland China, Hong Kong and Macau (the Territory).
Image copyright Getty Images