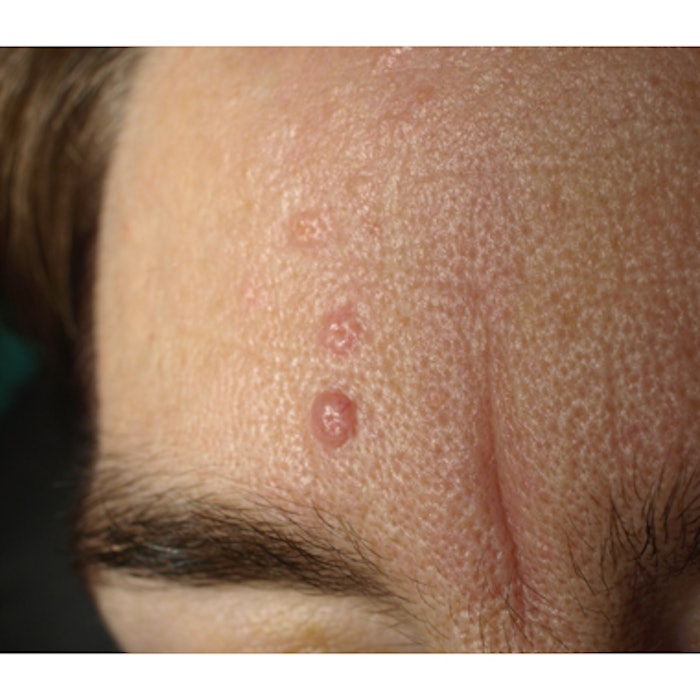 Pulse Biosciences has announced positive results from a clinical efficacy study of its proprietary Nano-Pulse Stimulation (NPS) technology for the treatment of sebaceous hyperplasia (SH). Non-thermal NPS delivers nanosecond duration energy pulses to disrupt the functions of internal cell structures while maintaining the outer cell membrane, initiating a cascade of events within the cell that results in regulated cell death.
The Sebaceous Hyperplasia clinical study enrolled 73 patients, each with up to four facial lesions. Patients received one or two NPS treatments per lesion at five centers in the U.S. The study's primary success measurement was the degree of clearance as rated by the investigator at the final study visit.
Initial data indicate that 221 of 222 (99.5%) facial SH lesions treated with NPS energy were rated as clear or mostly clear by clinical investigators 60 days post treatment. Approximately 92% (n=203) of treated lesions were assessed as clear or mostly clear after a single NPS treatment. Patients rated 78 percent of lesion outcomes at study end as satisfied or mostly satisfied. In some cases, mild to moderate posttreatment hyperpigmentation was noted, particularly in patients with higher Fitzpatrick Skin Types.
"We are very excited about our NPS study findings and those of the other four centers because we see many patients in the clinic with sebaceous hyperplasia who opt out of treatment simply because current thermal-based modalities lack reliable efficacy and pose a high risk of damaged skin in the treated area," said Gilly S. Munavalli, MD. "Based on our cumulative clinical experience, NPS represents a reliable and consistent treatment that not only successfully eliminates bothersome SH lesions, but also addresses the underlying cause of the condition by treating the sebaceous gland that resides in the dermis while sparing surrounding non-cellular skin tissue."
In addition to Dr. Munavalli, other investigators in the SH study included laser and cosmetic skin surgeon Suzanne Kilmer, MD of Sacramento, California; facial plastic surgeon James Newman, MD, chief of plastic surgery at Premier Plastic Surgery Clinics in the San Francisco Bay Area; Thomas Rohrer, MD, dermatologic and Mohs skin cancer surgeon in Boston; and laser and cosmetic dermatologist Brian Zelickson, MD of Minneapolis.
Image: Creative Commons/Klaus D. Peter