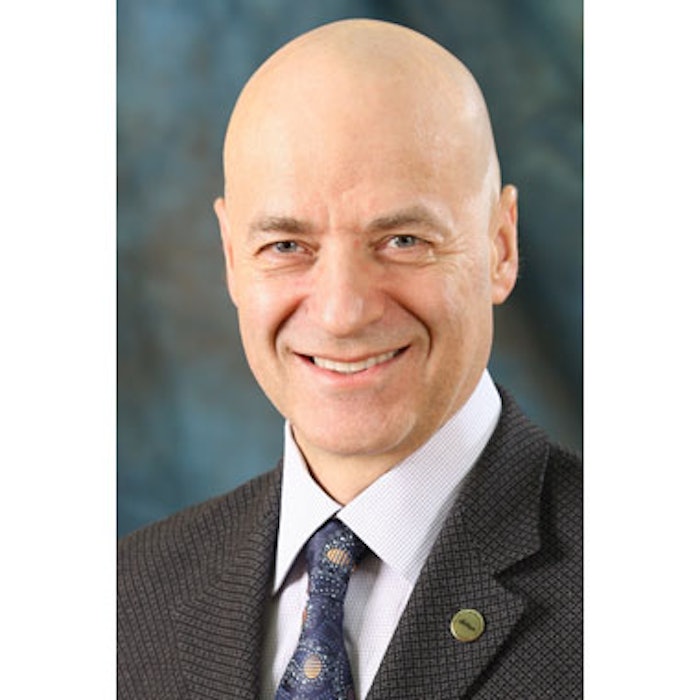 George J. Hruza, MD, MBA, FAAD, is the new president of the American Academy of Dermatology (AAD). He began his one-year term on Tuesday, March 5, at the conclusion of the 2019 AAD Annual Meeting in Washington, DC.
Dr. Hruza earned his medical degree from New York University, where he completed his dermatology residency. He is an adjunct professor of dermatology at St. Louis University and has written four laser dermatology textbooks and published more than 150 articles.
Dr. Hruza previously served as a member of the AAD Board of Directors and chair of the Investments Committee. He also is a past president of the American Society for Dermatologic Surgery, the American Society for Laser Medicine & Surgery and the St. Louis Metropolitan Medical Society.
"The healthcare landscape is evolving, and it's important for dermatology to evolve with it," said Dr. Hruza. "During my time as president, I will work to empower our members to view change as an opportunity and to inspire them to get involved in the Academy's efforts on behalf of their specialty. If we work together and speak with a united voice, we can drive positive development."
AAD members also elected three new officers and four new board of directors members:
Vice president: Jane M. Grant-Kels, MD, FAAD, professor of dermatology, pathology and pediatrics; vice chair of the department of dermatology; director of the cutaneous oncology center and melanoma program; and founding chair emeritus of the dermatology department, dermatology residency program and dermatopathology lab at UConn Health in Farmington, Connecticut. Dr. Grant-Kels previously served as a member of the AAD board of directors and co-chair of the Dermatopathology Rapid Response Committee. She is also a past president of the Connecticut Dermatology and Dermatologic Surgery Society.
Secretary-Treasurer: Marta J. Van Beek, MD, MPH, FAAD, will begin a three-year term as secretary-treasurer. Dr. Van Beek is the chief of staff for University of Iowa Hospitals & Clinics in Iowa City, Iowa, as well as the C. William Hanke Professor of Dermatologic Surgery and director of the dermatologic surgery division at the UI Carver College of Medicine. She previously served as assistant-secretary treasurer and chair of the Council on Government Affairs and Health Policy.
Assistant Secretary-Treasurer: Daniel D. Bennett, MD, FAAD, will begin a three-year term as assistant secretary-treasurer. Dr. Bennett is an associate professor and vice chair of clinical affairs in the department of dermatology at the University of Wisconsin-Madison School of Medicine and Public Health. He currently serves as deputy chair of the Regulatory Policy Committee and previously served as chair of the Mohs Micrographic Surgery Committee.
Board of Directors:
Lawrence J. Green, MD, FAAD; Adelaide A. Hebert, MD, FAAD; Alexander Miller, MD, FAAD; and Cyndi J. Yag-Howard, MD, FAAD, will enter four-year terms as members of the board of directors.
Image: George J. Hruza, MD