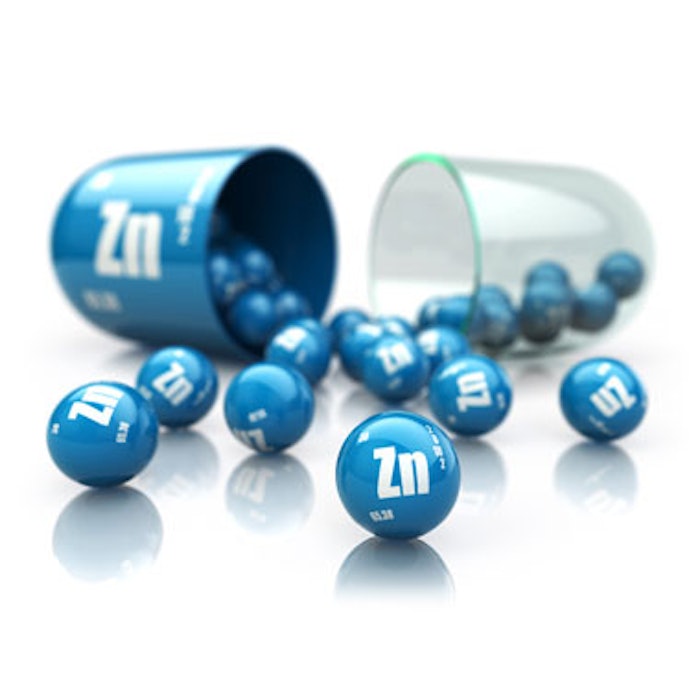 A literature review performed by Raja Sivamani, MD, et al, and published online in the American Journal of Clinical Dermatology (November 19, 2019) revealed strong evidence for the use of Zinc supplementation to combat the inflammation of acne and atopic dermatitis.
The researchers searched the Cochrane Central Register of Controlled Trials, EMBASE, MEDLINE and Ovid for all papers on the use of zinc for inflammatory dermatologic conditions (including acne vulgaris, atopic dermatitis, diaper dermatitis, hidradenitis suppurativa, psoriasis and rosacea) up to May 29, 2019.
They identified 229 articles, 22 of which met inclusion criteria. Ten of 14 studies evaluating the effect of zinc supplementation on acne found the supplementation to be beneficial. Zinc was also shown to be beneficial in one of two studies on atopic dermatitis, one of one study on diaper dermatitis and three of three studies evaluating its effects on hidradenitis suppurativa. The one article found on psoriasis and one article found on rosacea showed no significant benefit of zinc treatment on disease outcome.
Image copyright iStock.com/Bet_Noire