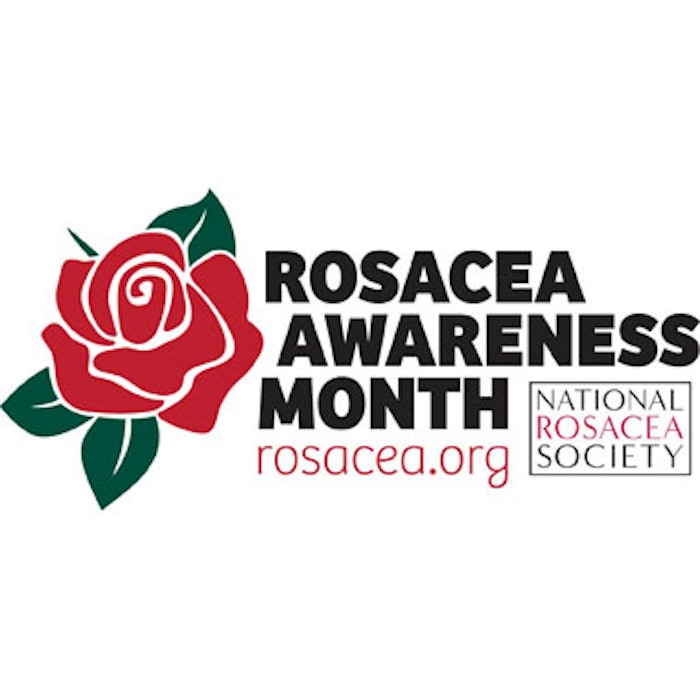 The National Rosacea Society (NRS) has designated April as Rosacea Awareness Month in an effort to better educate the public on the current understanding of this complex condition and encourage those who believe they may have rosacea to see a dermatologist for diagnosis and appropriate therapy.
"Advances in medical therapy and in our understanding of rosacea have made it more possible than ever for many patients to achieve clear skin," said Julie Harper, MD, clinical associate professor of dermatology at the University of Alabama-Birmingham. "But even as our arsenal of therapeutic options has expanded, one obstacle remains: We can only help rosacea sufferers who come to us for treatment."
Those interested in spreading awareness during the month of April are encouraged to visit the official Rosacea Awareness Month landing page at www.rosacea.org/ram for ways in which they can participate.
Individuals may also visit the National Rosacea Society's website at www.rosacea.org for information and patient materials, including Recognizing Redness, an informational booklet that includes a redness register to allow patients to gauge relative redness before and after flare-ups or treatment; Rosacea Review, a newsletter for rosacea patients; a "Rosacea Diary" to help patients identify and avoid lifestyle and environmental factors that may trigger flare-ups in their individual cases; and other booklets to help patients understand, manage and cope with their condition. Professionals can order bulk quantities of educational materials for their patients through the website, by writing the National Rosacea Society, 196 James Street, Barrington, Illinois 60010, by calling the NRS at 847-382-8971 or via email at info@rosacea.org.
"We are at the beginning of a new decade, and it's clear we have made significant strides in improving the quality of life for our rosacea patients," Dr. Harper added. "With greater awareness and the availability of advanced therapies to address rosacea's most troubling signs and symptoms, we are optimistic that increasingly more patients will see dramatic improvements in the years ahead."