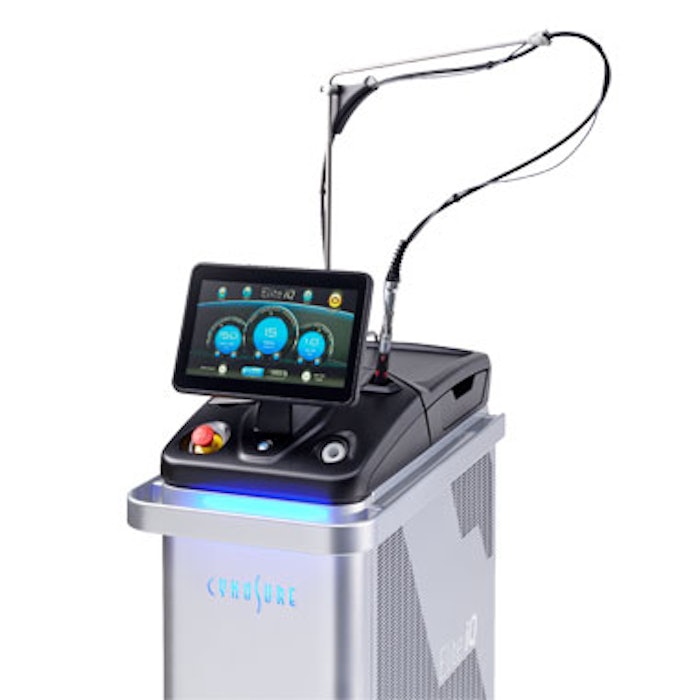 The Cynosure Elite iQ platform, the next generation of the company's Elite+ Aesthetic Workstation, is now available in the U.S. The alexandrite Nd: YAG system offers higher power and features the Skintel Melanin Reader, so practices can offer customized laser hair removal treatments for all skin types, anywhere on the body including the face, back, chest, arms, underarms, bikini area and legs.
The Skintel technology measures melanin and reads the specific skin types of patients, allowing for real-time adjustment of treatment settings. "The Elite iQ device meets the growing market demand for hair removal and skin revitalization solutions for men and women across all skin types," said Todd Tillemans, CEO of Cynosure. "At Cynosure, we pride ourselves on anticipating the needs of our customers and their patients. This elevates our industry-leading technology with even greater power, efficiency and safety."
The Elite workstation also offers an enhanced, intuitive user interface with a new dashboard design and a built-in treatment guide to help determine hair removal test spot settings; dynamic screen lighting to easily view the active wavelength; high treatment versatility with adjustable pulse width, fluence and repetition rate; and the ability to save settings for future use. The upgraded platform includes a sliding drawer accessible from both sides of the device, a flat-top design for easy access to accessories during treatments and it is more easily maneuvered with a new wraparound handle.
For more information, visit www.cynosure.com/elite-iq.