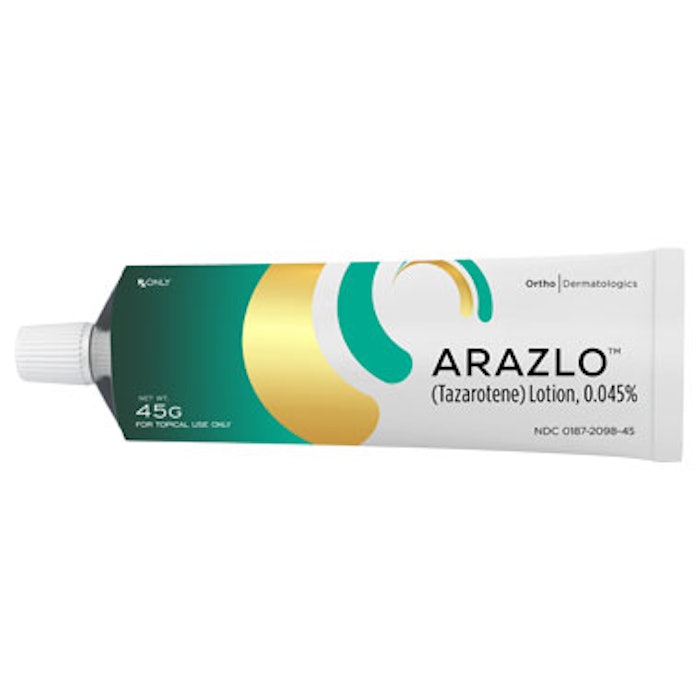 Ortho Dermatologics ARAZLO (tazarotene) Lotion, 0.045%, is now commercially available to healthcare professionals in the United States. The U.S. Food and Drug Administration (FDA) approved the topical in December 2019. ARAZLO is the first tazarotene acne treatment available in lotion formulation.
"Retinoids like tazarotene are highly effective in treating acne and considered a cornerstone of acne treatment, but often are perceived to be associated with skin irritation. Clinical studies have demonstrated that ARAZLO's proprietary formulation provides the proven efficacy of a retinoid in a lotion that is more tolerable to patients than a higher concentration tazarotene," said Bill Humphries, president of Ortho Dermatologics.
In a Phase 2, head-to-head study, ARAZLO and Tazorac (tazarotene) Cream 0.1% showed similar treatment success rates and similar reductions in both inflammatory and non-inflammatory lesions over 12 weeks, and ARAZLO was associated with about half the number of adverse events and fewer treatment-related adverse events (5.6 percent with Tazorac versus 2.9 percent with ARAZLO).
"The novel lotion formulation of ARAZLO has been shown to be generally well-tolerated, allowing more patients with multiple types of acne to take advantage of its efficacy," said Emil Tanghetti, MD, lead ARAZLO study investigator and founder of the Center for Dermatology and Laser Surgery, Sacramento, California. "I am excited to offer ARAZLO to my patients and anticipate they will be pleased with their results."