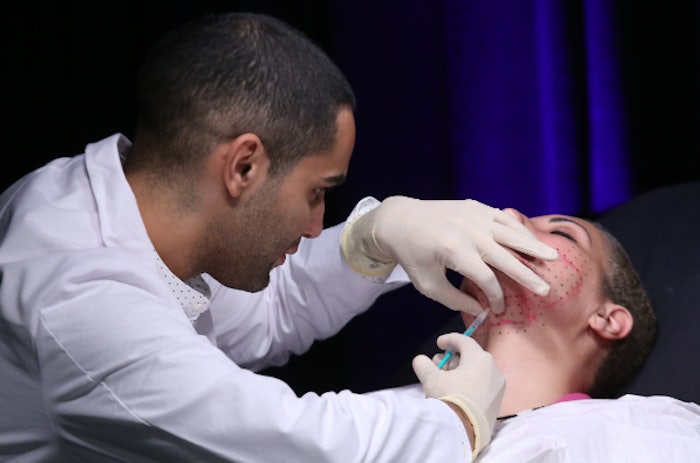 Photo courtesy of ASDS.
The American Society for Dermatologic Surgery (ASDS) opened the registration for their Annual Meeting taking place on Oct. 6-10 in Denver, Colorado. The meeting will be the organization's first in-person event since 2019 and will feature three educational program tracks with more than 70 sessions, 23 of which are newly introduced. 
Related: ASDS Survey Reveals the Pandemic's Impact on Dermatology
"We're looking forward to hosting board-certified dermatologists and their office staff back together again, providing premier education on the latest innovations and techniques for all career levels," said ASDS president, Sue Ellen Cox, M.D. "The ASDS Annual Meeting has reached record attendance in recent years, even through the pandemic when we met virtually, but nothing replaces the meaningful interactions and interactive, hands-on education that we offer in-person."
The 2022 meeting will offer patient demonstrations, hands-on opportunities and multiple sessions where attendees can learn in an initiate and interactive environment. 
Three of the nine plenary sessions are new to attendees. These sessions include, Cultural Competence and Wellness, Innovative Treatments from Around the World and Emerging Concepts. There are special lectures like the annual Lawrence Field, M.D. Honorary Lecture, the fourth annual Vic Narurkar, M.D. Innovations in Aesthetic Dermatology Lecture, and a keynote presentation from the Boston Marathon hero and award-winning physician, Natalie Stavas, M.D. 
"The content at this year's meeting is packed with valuable education on relevant topics affecting dermatologists across the globe, which our esteemed faculty has procured to rejuvenate the program with updated educational tracks including the addition of 23 new sessions," said ASDS Annual Meeting work group chair, Deirdre Hooper, M.D. "Our balanced program allows dermatologists the ability to customize their experience based on their specific interests and strengthen their expertise in a meaningful way with like-minded colleagues."
The pre-conference sessions on Thursday, Oct. 6, 2022, will include the Innovation and Entrepreneurship Workshop, Chemical Peels Workshop, Unplugged: Straight Talk About Devices and More, and the Industry Organized Hot Topics Dinners. The event's Friday morning presentations will feature top-rated scientific abstracts at the "Best of" sessions. 
There are also targeted sessions and activities for residents and dermatologists that include: Resident Networking Event, Resident/Early Career Roundtables: Creating Connections for Advice, Leadership, Practice Management and Career Development, the Golden Scalpel Knowledge Bowl, and the new, Hands-on Workshop: Residents and Fellows-in Training Surgical and Reconstruction Skills and the Resident Reception. 
There will be a welcome reception on Friday, Oct. 7, a cocktail hour and Annual Gala on Saturday, Oct. 8, Sample Sunday in the Exhibit Hall on Oct. 9, and networking breaks between sessions throughout the entirety of the event.