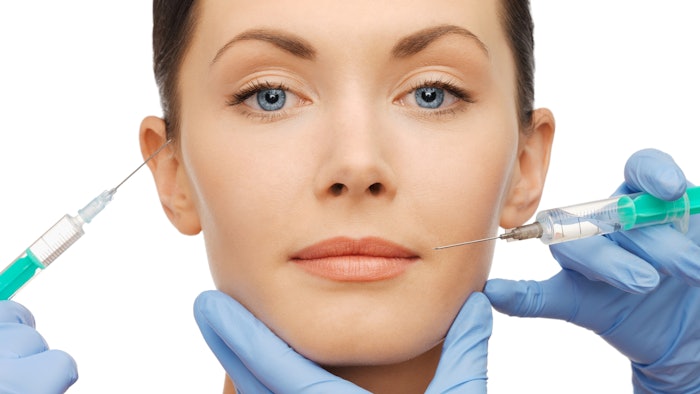 A new line of dermal fillers is coming to the U.S. market. Revance, a biotechnology company focused on aesthetic and therapeutic offerings including its investigational neuromodulator product, DaxibotulinumtoxinA for Injection, has announced the launch of the RHA (resilient hyaluronic acid) collection of fillers.
The line includes RHA-2, RHA-3 and RHA-4. Through a 100+ person field force, the company plans to approach prestige aesthetic practices across the U.S., offering the RHA collection of fillers, along with an integrated fintech platform, HintMD. The same commercial infrastructure is anticipated to roll out DaxibotulinumtoxinA for Injection for the treatment of glabellar lines upon FDA approval later this year.

Revance has recently concluded the RHA Collection PrevU early clinical experience education and training program for select practices ahead of the consumer launch of the line and plans to share observations in the near future.
The fillers are designed with a crosslinking method that preserves the hyaluronic acid (HA) network to more closely mimic natural HA found in the skin. The gels are designed to be resilient and adapt to facial movement, which may provide a more natural look at rest and in motion. The safety and efficacy of the fillers has been demonstrated through clinical studies, including an 18-month head-to-head European clinical study of RHA 2, 3 and 4 for the treatment of nasolabial folds (NLF) published in Dermatologic Surgery.
Results showed overall physician preference for RHA Collection products due to ease of injection and product placement, immediate results and results after massage of the injected tissue; high levels of satisfaction immediately after injection and in the long-term for both investigators and participating subjects; fewer touch-ups by (or at) day 14 (26.7% versus 35.6% with comparators); and better long-term improvement of NLF volume based on 3D skin topography measurements.
Observations from clinical experience included:
RHA fillers blend well into wrinkles and folds with excellent tissue integration
RHA 2 and RHA 3 fillers could be used effectively in the superficial and mid-dermis for the treatment of perioral and marionette lines
RHA 4 filler, when used for volumizing, injected very easily and, during the follow-up period, the treated areas remained supple and treatment results natural looking.
"Revance is positioned to re-energize the aesthetics industry with the creation of a prestige category of innovative products and services and elevated customer and patient experiences available through select practices. Our commercial team, comprised of industry experts with decades of aesthetics and commercial experience, is now trained and in position to execute Revance's first commercial launch," said Dustin S. Sjuts, chief commercial officer, Revance. "We are delighted to be entering the market with the RHA Collection, the latest innovation in HA technology, and an integrated fintech platform, HintMD, designed to transform existing payment processing ecosystems and improve both aesthetics practice economics and patient experiences. We plan to follow with our lead investigational candidate DaxibotulinumtoxinA for Injection after its anticipated approval, which is just around the corner."