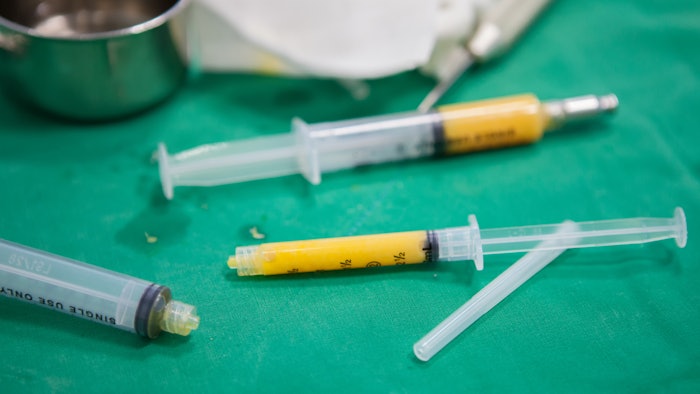 An experimental porcine study comparing the feasibility of autologous fat grafts (AFG) collected using two different techniques—punch blades (PB) and liposuction (LP)—with instruments of distinct thicknesses found better viability following harvesting with PB overall.
Eduardo Gustavo Pires de Arruda, MD, et al, subjected 20 minipigs (Sus scropha domesticus) to AFG harvesting via en bloc resection using 3 mm (Group I) and 5 mm diameter (Group II) round punch blades (PB) and liposuction (LS) with 3 mm (Group III) and 5 mm diameter cannulas (Group IV). All samples were grafted intramuscularly (biceps femoralis).
The researchers used hematoxylin and eosin (HE) staining to identify intact adipocytes, fat necrosis, fibrosis, inflammation and oil cysts, as well as immunohistochemical staining (IHC) (perilipin-A, TNF-α, CD31) to quantify the feasibility of adipocytes, tissue necrosis and neoangiogenesis.
They found that fat necrosis and histiocyte presence were significantly lower in the AFG harvested using a PB than in LS, per HE analysis. For perilipin-A, a statistical difference was observed between subgroups I and III and I and IV, suggesting instrument diameter has no effect on graft integration. This was also confirmed in comparisons between groups II and III (p=0.059) and II and IV (p=0.132).
The authors concluded, "In this experimental study, fat collected using a PB demonstrated higher adipocyte viability than fat collected with LS. The diameter of the collection instruments, whether PB or LS, had no effect on graft integration."
Read the full study, published online September 1 in the Aesthetic Surgery journal, here.