Pulse Biosciences presented data on four promising indications for its Nano-Pulse Stimulation (NPS) technology, which delivers nano-second pulses of electrical energy to nonthermally clear cells while sparing adjacent noncellular tissue, at the American Society for Dermatologic Surgery (ASDS) virtual meeting on October 9-12, 2020. In two oral and two e-poster presentations, the company's CellFX system was shown to be effective in treating sebaceous hyperplasia, cutaneous non-genital warts, plantar warts and basal cell carcinoma (BCC).
"Nano-Pulse Stimulation (NPS) Procedure to Treat Sebaceous Hyperplasia – A Dose-Ranging, MultiCenter, Pivotal Study," Author: Girish (Gilly) Munavalli, MD, medical director of Dermatology, Laser & Vein Specialists of the Carolinas, Charlotte, NC.
This presentation showcased the successful use of lower NPS energy levels to maintain high levels of effectiveness in clearing sebaceous hyperplasia lesions with greatly improved cosmesis and high subject satisfaction. There was also evidence of favorable clearance rates on the hands, legs, knees and neck with no plume detected in a subset of NPS procedures.
"A Prospective, Nonrandomized, Multicenter Pivotal Study of NanoPulse Stimulation (NPS) for Treatment of Cutaneous Non-Genital Warts," Lead Author: Edward (Ted) Lain, MD, chief medical officer of Sanova Dermatology, Austin, TX,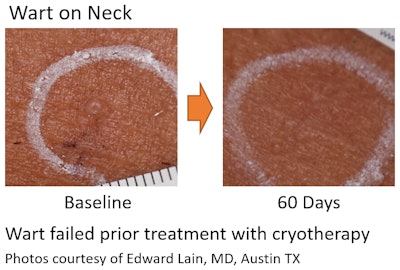 Outcomes revealed that NPS technology's nonthermal, cellular mechanism can achieve a high rate (80%) of common wart clearance with a low rate of residual skin effects and rapid skin recovery. "We are pleased to present conclusive evidence of consistently high rates of clearance across a variety of anatomical areas in one to two NPS treatments," said Dr. Lain. "Compared to today's standard wart treatments, which typically require two to four visits to clear common cutaneous warts, these NPS results represent a much more convenient approach for the patient and the physician."
"A Prospective, Nonrandomized, Multicenter Pivotal Study of NanoPulse Stimulation (NPS) Technology for Cutaneous Warts on the Feet," Author: Brenda LaTowsky, MD, Clear Dermatology& Aesthetics Center, Scottsdale, AZ (Poster Presentation).
NPS technology cleared 44% of plantar warts, the majority (78%) of which had a history of prior failed treatments.
"A First Human Feasibility Study of Nano-Pulse Stimulation (NPS) to Evaluate the Potential Elimination of a Biopsy-confirmed Nodular or Superficial BCC in a Short-term Treat and Resect Study Design,"  Author: Christopher B. Harmon, MD, Mohs surgeon and founder of Surgical Dermatology Group, Birmingham, AL (Poster Presentation).
Biopsy-confirmed complete absence (100% clearance) of residual basal cell carcinoma (BCC) in the known NPS treatment zone for 21 superficial BCCs with impressive short-term favorable healing observed. The study also indicated encouraging findings of biopsy-confirmed elimination of residual BCC in the known NPS treatment zone for eight nodular BCCs and 21 superficial BCCs. This indicates a promising potential for NPS treatment of both BCC-subtypes.
"The positive results being shared at this year's ASDS meeting add to the growing body of evidence in support of using Nano-Pulse Stimulation technology delivered by the CellFX System to treat a broad range of dermatology applications for which targeted clearance of cellular lesions or structures is medically or cosmetically desirable," said Darrin Uecker, president and CEO of Pulse Biosciences.