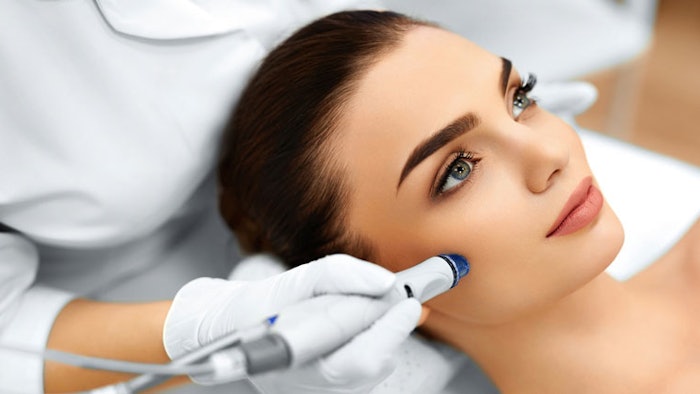 The HydraFacial Company has extended its partnership with Circadia, offering the Chrono-Peptide Booster and ProTec Plus Booster for use with Hydrafacial hydradermabrasion treatments.
HydraFacial boosters allows professionals to tailor treatments by using serums to address specific skin concerns. Circadia's ChronoPeptide Booster features peptides that targets fine lines, age spots, wrinkles, texture and imperfections; the ProTec Plus Booster plumps skin and smooths fine lines and wrinkles while hydrating the skin. 
"The Circadia boosters for HydraFacial are already loved by providers and consumers alike here in the US, and we are excited to expand our partnership globally," said Clint Carnell, CEO of The HydraFacial Company. "Combining the skin care offerings of Circadia with our technologies allows HydraFacial providers the opportunity to customize their treatments for even more skin types."
The HydraFacial is a nonlaser skin care device that merges spa therapies with medical technologies, offering customizable procedure that help to improve the appearance of fine lines, wrinkles, enlarged pores, congested skin and brown spots. It features patented Vortex-Fusion technology to cleanse, extract and hydrate.
Circadia professional skin care is based on the skin and body's natural circadian rhythms. Chronobi­ology, the science of defending skin from environmental damage during the day, and stimulating internal repair mechanisms during sleep, is at the core of their concept.
Circadia's formulations combine pure botanicals, stem cells, second generation vitamins, and peptide technology to achieve optimal skin health and beauty. The specialty treatment products utilize these technologies to address a multitude of skin conditions, including aging, acne, dehydration, pigmentation and rosacea.
"Circadia is proud to utilize our innovative skin science and formulary expertise to deliver these exclusive boosters through HydraFacial patented technology for exceptional results," said Michael Q. Pugliese, CEO.