Cutera University Clinical Forum (CUCF) is set to take place November 13-15, 2020 at the Thompson Hotel in Dallas.
The two-day event will feature interactive experiences and the opportunity to learn best practices for Cutera's new and current technologies: including the truSculpt flex and newly launched Fraxis PRO.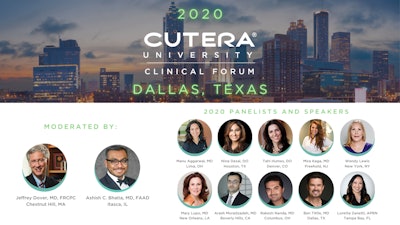 The forum will be moderated by Jeffrey Dover, MD, FRCPC and Ashish Bhatia, MD, FAAD.
Speakers include Manu Aggarwal, MD; Nina Desal, DO; Tahl Humes, DO; Mira Kaga, MD; Wendy Lewis; Mary Lupo, MD; Arash Moradzadeh, MD; Rakesh Nanda, MD; Ben Tittle, MD; Loretta Zanetti, APRN.
The 2020 program includes:
New Cutera innovations
Novel interactive experiences
A live panel of leading industry experts
Professional networking
Marketing workshops
Technology demonstrations
Hands-on social media expertise
Aesthetic trends and treatment forecasting
Cutera is taking steps to ensure a safe environment for all attendees so they can take advantage of the forum.
Click HERE to register.