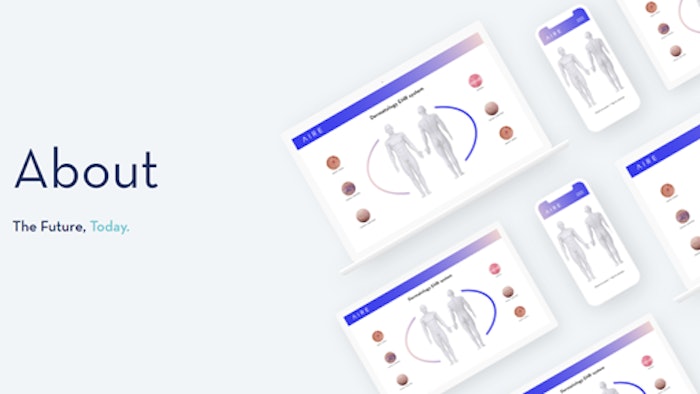 Dermatologists Dhaval Bhanusali, MD, and Omar Noor, MD, have launched a new model in e-commerce called AIRE SkinStore. The digital skin care platform, which operates on a virtual inventory model, allows dermatologists across the country to curate product recommendations, while providing discounts for their patients.  
We spoke with Dr. Bhanusali about the genesis of the idea for the AIRE SkinStore and how it differs from existing online professional skin care retail stores.
MedEsthetics:  How does this platform work?
Dr. Bhanusali: It's a dermatologist-driven platform. If a patient comes to my office and asks for a skin care product recommendation, I can go through the platform and click and choose certain products that I feel are appropriate for the patient. There's a discount already built in, which can be increased or decreased by the dermatologist based on what they feel is appropriate. Then the doctor clicks the button. The patient receives an email and they can "checkout at their leisure."
The interesting part about this is we're treating it the way we would treat a prescription skin health plan. You get refills, but they are limited. So let's say you want to do two refills in the spring. The idea is the patient will run out of refills in the fall and then engage with their dermatologist, who could than change the regimen to a more appropriate winter skin care regimen.
MedEsthetics: Where did the idea for AIRE SkinStore come from?
Dr. Bhanusali: I joke that I am half dermatologist and half tech innovation nerd. I first started my tech work in dermatology by building Hairstim and Skin Medicinals. Omar and I first joined forces on a free EMR for our dermatology colleagues, but then realized there was a ton more work to do. Unfortunately, a lot of practices have suffered financially due to the pandemic, and we wanted to do something that would help all of us. First we came up with AIRE Marketplace, which is almost like an Amazon-style platform where physicians can receive discounted options on all types of equipment and supplies, because we're buying together. Then I thought about skin care.
I don't like to sell things. In my office I always say my patients are my family and I don't want to come across as a salesperson, but unfortunately you have this difficult line to walk where you want to provide them the best option, but you don't want to sell them the best option. So how do you create something that takes care of the first without feeling like the second?
We also looked at, what are the barriers that practices face in offering retail skin care? The first is inventory; it's a significant cost and, once you have an inventory, you feel like you have to sell it, which compromises the integrity of the doctor-patient relationship. The second challenge is diversity of products. No one brand has figured out how to build a perfect product line, and they never will. One brand may have a great neck cream and eye cream, but another company has a better pigmentation product. There's always a need for product diversity. Lastly, why can't we give our patients better discounts?
We tried to create a win-win-win where patients are saving money, dermatologists can offer home care products without carrying inventory and in a way that feels less invasive and it validates the brands because these are dermatologist-recommended products.
MedEsthetics: How do you choose which products to carry?
Dr. Bhanusali: We put science first. We look for brands that have put the time and money into investigating the science of their products. We speak with colleagues and ask for their recommendations and we've already had quite a few doctors reach out with their suggestions.
From there, we look into the brand and make sure it's a legitimate skin care line. Then we ask our colleagues what they think. As we grow, we will likely have a vote for approval among our users. We don't want to bring on brands just to bring on more brands. That's of no value to anyone.
Currently, we have PCA Skin, Sente, Skinmedica, Neocutis and Heliocare. We just signed an exclusive partnership with OPTE from P&G. I helped early in the development of the device, and it's humbling to see them take a chance on us.
MedEsthetics: Is there a cost for physicians to sign up and is it available to any physician or practice?
Dr. Bhanusali: It's purely dermatology for now, and there's no cost whatsoever to join.
MedEsthetics: How does the store work in terms of inventory and payment to the practices?
Dr. Bhanusali: The physician sets the price. The patient gets the email and checks out. The products are shipped directly from the skin care company. We collect the payments here on behalf of everybody, and then distribute it as necessary and then we send out the financials each month to the practices.
MedEsthetics: Can consumers access the site and order products without a participating doctor? 
Dr. Bhanusali: No, it's not front-facing. We are adding a physician finder, so patients can go on and search and connect with a dermatologist. But the big thing is, we want to link everyone through a dermatologist's office. We want to make sure when anything is purchased, it's the appropriate product for the patient.
MedEsthetics: Where did the name come from? Why AIRE?
Dr. Bhanusali: Because it is not a physical location. The idea is you create a beautiful ecosystem of supplier-physician-patient without having anything that takes up space in your office.
MedEsthetics: How can doctors become part of the site?
Dr. Bhanusali: They can go to airehealth.com. My hope is that it relieves a burden of stress and it helps offset some of the financial worries for the physicians and also the patients. I think it's time for something like this. Every patient that comes in has a bag full of skin care products. This is a cool way to save them a few dollars and get them on the right products.