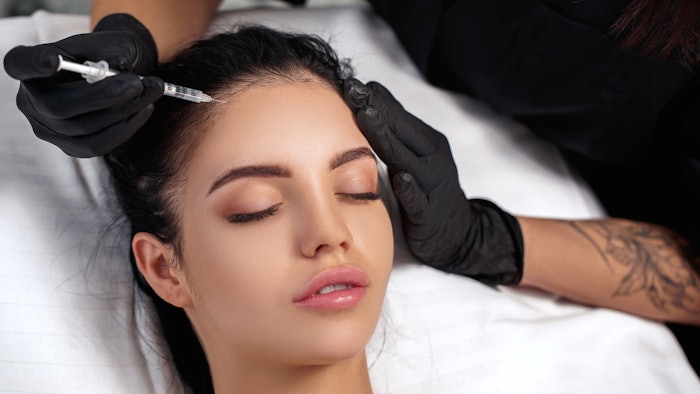 Revance Therapeutics announced the results from its Phase 2 multicenter, open-label study of the investigational drug candidate DaxibotulinumtoxinA for injection for the combined treatment of upper facial lines including glabellear lines (GL), dynamic forehead lines (FHL) and lateral canthal lines (LCL). 
In the Phase 2 study, which had a duration of 36 weeks, 48 subjects (18 years of age and above) were enrolled to receive a single treatment of DaxibotulinumtoxinA for injection. Subjects received 40, 32 and 48 units of DaxibotulinumtoxinA for injection in the glabellar complex, forehead and lateral canthal areas, respectively. 
At week 4, the researchers assessed the proportion of subjects achieving a score of none or mild wrinkle severity at maximum contraction (i.e. maximum frown, eyebrow elevation and smile effort) using the Global Assessment Frown Wrinkle Severity (IGA-FWS), Investigator Global Assessment Forehead Wrinkle Severity (IGA-FHWS) and Investigator Global Assessment Lateral Canthal Wrinkle Severity (IGA-LCWS) scales. 
Proportion of Subjects Achieving a Score of None or Mild at Week 4
Glabellar lines: 95.8%
Foreheadlines: 95.8%
Lateral Canthal Lines: 91.7%
The study measured the duration of effect in responders, which were defined as the median time to return to baseline wrinkle severity or the time loss of none or mild wrinkle severity, both based on investigator and subject assessments. 
Median Time to Return to Baseline
Glabellar lines: 33.3 weeks
Forehead lines: 35.3 weeks
Lateral Canthal Lines: 35.2 weeks
Median Time to Loss of None or Mild
Glabellar lines: 25.0 weeks
Forehead lines: 24.0 weeks
Lateral Canthal Lines: 28.1 weeks
DaxibotulinumtoxinA was generally safe and well tolerated when all three facial areas were injected simultaneously. There were no treatment-related serious adverse events (SAEs). The most common adverse events were injection site erythema (6.3%), facial discomfort (4.2%) and headache (2.1%). No eyelid or brow ptosis was reported. 
Participants used a seven-point Subject Global Satisfaction of Treatment Questionnaire to rate their satisfaction with the treatment. At week four, 100% of participants reported being at least "somewhat satisfied" with the treatment in all three areas. Eighty-three percent, 78.7% and 80.9% reported being "very satisifed" with the treatment of glabellar, forehead and lateral canthal lines, respectively. 
"This full upper face data complements our already reported results from individual dose-ranging studies, and further expands the body of knowledge on our next-generation neuromodulator. As we saw in our other aesthetic and therapeutic clinical trials, DaxibotulinumtoxinA for Injection delivered a meaningful duration of effect, ranging from 24 to 35 weeks, depending on the measure used and indication studied, while being generally well tolerated by patients," said Roman Rubio, MD, senior vice president of clinical development at Revance.