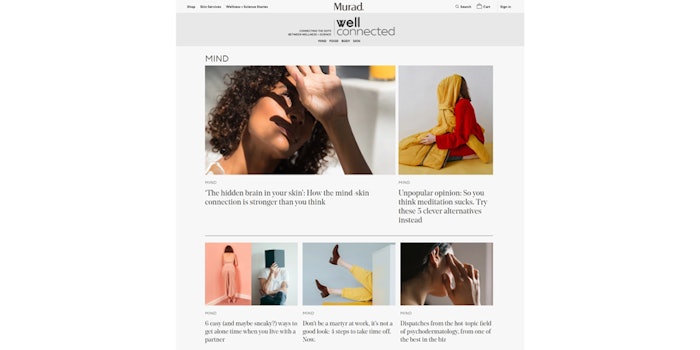 Clinical skin care brand Murad has announced the launch of Well Connected, a digital magazine that connects the dots between wellness and science.
The digital magazine features original content from clinicians, researchers and experts and covers founder Dr. Howard Murad's four key pillars of wellness:
Being Kind to Your Mind
Eating Your Water
Awakening Your Body
Nourishing Your Skin
"Well Connected is the next step of Dr. Murad's decades-long journey to improve the well-being of his patients and consumers," said Michelle Shigemasa, CEO of Murad. "Consumers have come to trust us for our clinically backed, efficacious formulas, and they can expect that same standard when they read Well Connected. Our goal is to serve up science-backed resources that people can have confidence in on their own health and wellness journeys."
Each month will feature a guest editor, responsible for curating the site's content around significant wellness topics:
Candace Reels, activist and founder of The Female Collective (speaking on the trend of inclusive wellness)
Sophia Amoruso, serial entrepreneur and New York Times bestselling author (providing expertise on the trend of financial wellness)
Dr. Zion Ko, a board-certified internist who has amassed a legion of followers on TikTok and Instagram (connecting with the youth generation who are just discovering holistic skin wellness)
"Well Connected symbolizes the next key step of many as we continue to diversify our content offerings and serve as a trusted source for wellness – including total skin health – for consumers and readers everywhere," says Shigemasa.