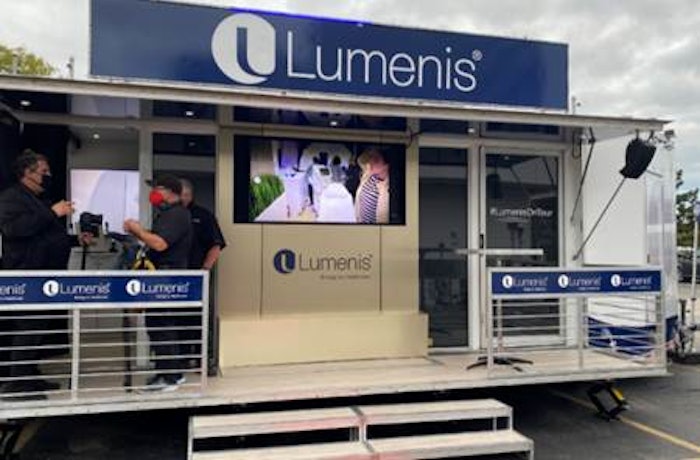 Back in September 2020, aesthetic device developer Lumenis hit the road in its LuMobile, a glass-encased mobile tradeshow booth, to bring its award-winning technologies to physicians in a safe, yet interactive environment amidst the ingoing pandemic.
The LuMobile tour kicked off in Chicago and has been traveling across the country for the past seven months. We caught up with Brad Oliver, president of Lumenis, to learn more about the tour and how it's shaping Lumenis' future vision for physician engagement.
MedEsthetics: How is the LuMobile tour going?
Brad Oliver: It has been extremely well received. It is outdoors and everyone has been following the guidelines on masks. There was a lack of dialogue happening throughout the market during pandemic, and this gave us a forum where we could continue the dialogue with physicians in a safe environment. It has been a great way to meet with colleagues without being in a conference room. It helped bring everyone together.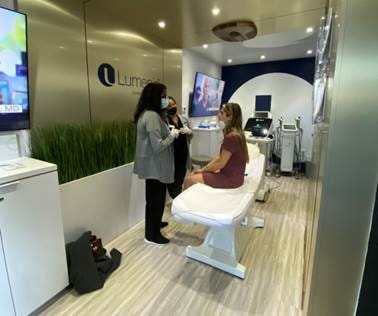 MedEsthetics: Why did Lumenis decide to launch this tour?
Oliver: Doctors obtain a huge amount of knowledge from industry during events and conferences and vice versa. But there was a drought in opportunities to meet collectively, other than on Zoom, and we lost a lot of engagement on Zoom after the third or fourth month. So, this was a nice in-between option, where you're not inside a conference room, you're not in a tiny boardroom; you're outdoors and you can have good face-to-face exchanges on how to improve medicine and how to improve outcomes for patients across multiple specialties. 
MedEsthetics: Is there anything you've learned from this experience that will shape your efforts going forward?
Oliver: We learned a lot from the specialists we serve about how we can best help them. We also learned that everything is weather dependent. We had rain. We had hail. But still, we had a great turnout.
It was funny, we were in the Carolinas and we had a record number of people signing up. Then a tropical storm hit, and we had to get everything to high ground before it flooded. This was very different compared to hosting an event in a conference center or hotel room.
But a change of venue, no matter what you do, is always nice and refreshing. Now that we know that being outdoors is a huge factor in a mitigating the spread of the virus, I think we'll see more events being held outdoors.
Obviously, some of that will be region dependent because there are challenges with different weather conditions in different markets, but I think we will see a change. Physicians used to go to four or five different conferences a year; they may not do that anymore. We need to be ready to change based on where the physicians are spending their time, so we can really talk to them and find the best place to share with them how we are advancing our technologies. When you think of those crowded indoor exhibit halls; I don't know when we'll be going back to that.
MedEsthetics: How many cities has the LuMobile visited?
Oliver: We've made more than 20 stops. We traveled from the east coast to Florida then across to Texas then Louisiana, Arizona, Southern California and Northern California and then on to Denver, so it's truly been an across the U.S. tour. There were some events that had to be cancelled due to pandemic restrictions. For instance, we had an event planned in San Francisco that was canceled because the city was largely closed, and it just didn't work out with the optics. So, we are rolling with the punches. And we're still on the road!