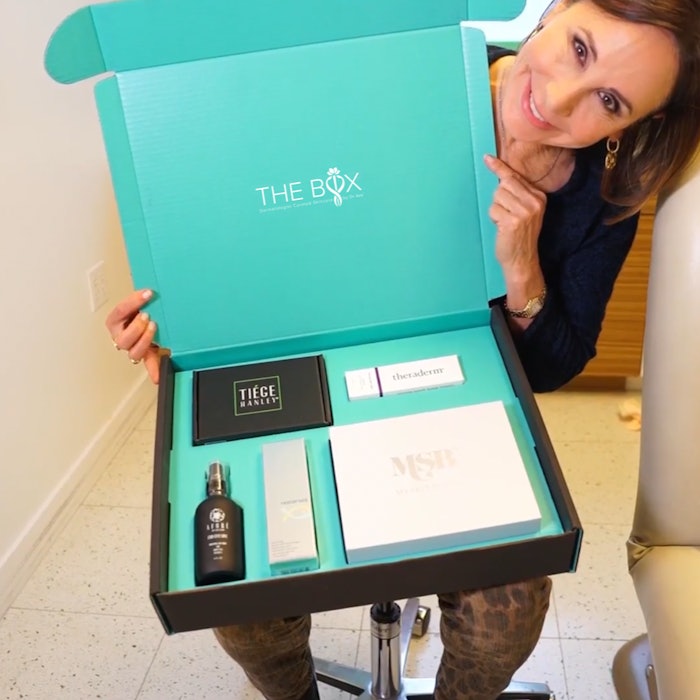 Ava Shamban, MD, founder of AVA MD dermatology clinics, has introduced The Box by Dr. Ava. The box, which is part of a subscription membership program, includes curated seasonal professional skincare products and vouchers for in-office treatments. We spoke with Dr. Shamban to learn more about what inspired this program, how it's going and her future plans. 
Why did you decide to launch The Box by Dr. Ava?
During the first four weeks of the pandemic, my medical team and I virtually treated over 300 patients while our physical offices were shut down. The pandemic showed me how many MORE patients I was able to see by connecting virtually and made me realize that people want to speak with a dermatologist but don't always have time to come in for an appointment and multiple follow ups.
This crazy time and the change in the way we communicate gave me perspective on how I want to take care of all patients who are seeking guidance, including those with aesthetic/skin needs who live in a different state than I do.
There are many beauty box offerings on the market, but none curated by a dermatologist. The Box By Dr Ava fills a marketplace gap; especially for consumers living in "derm deserts."
How do you decide what products to include in the boxes you send out?
Every product in The Box By Dr Ava is selected to support different skin issues. When it comes to ingredients, we look for products that contain high quality 'holy grail' ingredients, and I only include solutions that I would share with both my inner circle and patients. It goes without saying, we offer SPF in every box.
I am also dedicated to providing only full-sized products in these boxes. I don't think sample sizes give consumers enough time to really experience a product or see it take effect. I firmly believe in every product I curate for The Box so I want subscribers to love them and watch them truly take effect.
How is the launch of these boxes going? What kind of feedback have you received from subscribers? 
We unveiled The Box By Dr Ava over the holidays when many parts of the US were in various phases of lock down. Our launch box, HEROES Box By Dr Ava, gave subscribers two skin care solutions and one treatment:
●      TruSculpt flex - One session of truSculpt flex, with Multi-Directional Stimulation (MDS) that helps to build, strengthen and tone your abs, glutes and thighs. truSculpt flex targets specific muscle groups to replicate intensified crunches, squats and twisting actions without hitting the gym. (valued up to $750)
●       TIZO3 by TIZO pure mineral sunscreen offers a sun protection factor of 40 with a sheer tint and matte finish. Wear alone or as a skin-perfecting makeup primer. 
●       U.SK Under Skin Precious Elixir - U.SK Under Skin's revitalizing line features a specific purified growth factor and peptides carried by precious metals or gemstone nanoparticles to boost collagen and elastin, firm the skin and reduce signs of aging.
Our subscriber community is vocal, and we are constantly connecting with them through direct response, Facebook, Instagram and Clubhouse. We learned that a variety of skin care options that can be enjoyed from home is important to our subscriber base, which led us aways from in-office treatments for Q2.
We heard them and came back with The Box by Dr Ava Spring 2021 offering:
●       MySkinBuddy - a home use facial device for clearer complexion and brighter skin tone, valued at $300
●       Restorsea Therapeutic Neck Decolletage Treatment for firmer, more evenly toned skin, valued at $150
●       Theraderm NuPeel - naturally exfoliate skin cells to promote glowing, radiant skin, valued at $30
●       Aforé Effusive Mist - a first-of-its-kind antioxidant-packed CBD facial toning mist which hydrates, calms and cools the skin, valued at $50
●       Tiege Hanley Kit (Wash Body Bar, Scrub Body Bar, Lip) for soft and smooth skin, valued at $25.50
●       Tiege Hanley Level One Skin Care (voucher) to smoothen, hydrate, and protect skin, valued at 43.99
Our spring box really helped us boost our subscribers, and we will use the Q2 feedback to amplify offerings in our Q3 Box.
What is your overall goal with sending these boxes?
The Box By Dr Ava fills a need, especially for consumers living in "derm deserts." My goal is to bring dermatological curated skincare and advice, making it accessible and approachable. I want to elevate the field of dermatology and help people across the nation realize that help is accessible - whether it be remote or in person. Really, my end goal is to empower consumers to evaluate skin care they may not otherwise discover and help them feel confident in their skin.
I want to give back through The Box also. I am doing this by providing skin care advice and products to those who seek it, and this season, we're making a donation to Direct Relief with every purchase of the Spring Box.
Direct Relief assists those affected by poverty and provides essential medical resources to those challenged by emergency situations. This organization does amazing and inspiring work that we are proud to support!
What impact has this subscription box had on your practice?
The Box has given my practice exposure to great solutions and approaches that we may not have experienced before. My whole team tests the products and works together to provide feedback on the products we are considering. We answer subscriber questions and have really banded together to create this offering. I am certainly busy but I love what I do, and developing The Box is just an extension of what I do every day in my practice.
What methods are you using to provide skin care advice to the patients who subscribed to the box?
The Box By Dr Ava is the only physician curated subscription box and service that reaches consumers at their doorsteps. When you subscribe, you enjoy access not only to products, but to a professional team through exclusive digital events, a private Facebook community that answers and encourages conversation about skin care and tele-aesthetic consultations.
When we select products for The Box By Dr Ava, we select brands with product founders who share my enthusiasm in consumer and patient education. And we host regular IG Live sessions with product founders after business hours. 
Website: theboxbydrava.com