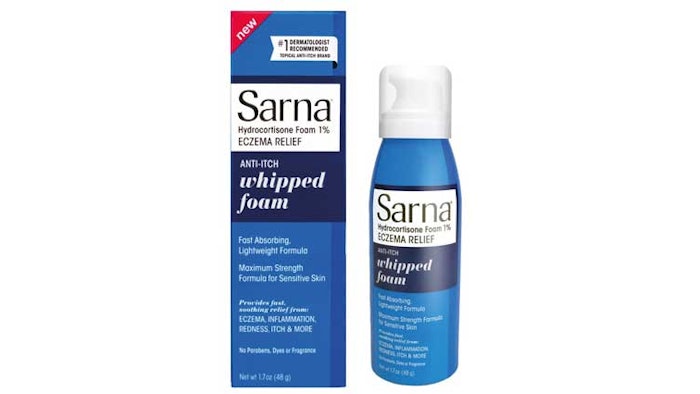 Crown Therapeutics has launched its Sarna Eczema Relief Whipped Foam (Hydrocortisone 1%), an over-the-counter (OTC) whipped foam eczema therapy product.
Related: Scientists Discover Origins of Eczema and Psoriasis
Reportedly known for its foam delivery system, the moisturizing, light and airy technology is said to deliver quick-absorbing relief to itchy, eczema-prone skin. The product is also formulated with 1% hydrocortisone for safe and effective therapy for adults, children and those with sensitive skin, without the need for a prescription.
The foam helps to heal eczema flare-ups via its patent-pending eN2fused technology, which the company describes as a matrix-infused technology containing millions of compressed gas microbubbles that expand when dispensed. The formula reportedly helps to prevent transepidermal water loss and improves the skin's natural protective barrier.
"Consumer demand has increased for more formulations that absorb quickly into the skin without leaving unwanted residue," said Steve Gallopo, Crown Therapeutics vice president, global OTC sales and marketing. "Sarna has had tremendous success and is positioned to improve the anti-itch category. This whipped foam technology drives the brand to the forefront of innovative skin science solutions."
Previously: Formula Focus: Sensitive and Compromised Skin Strengthener
Ingredients (active): Hydrocortisone 1%; (inactive): Benzyl Alcohol, Carbomer, Cetyl Alcohol, Dimethicone, Glycerin, Glyceryl Stearate, Isopropyl Myristate, Nitrous Oxide, PEG-100, PEG-100 Stearate, Petrolatum, Propylene Glycol, Purified Water (aqua), Sodium Hydroxide, Stearic Acid.