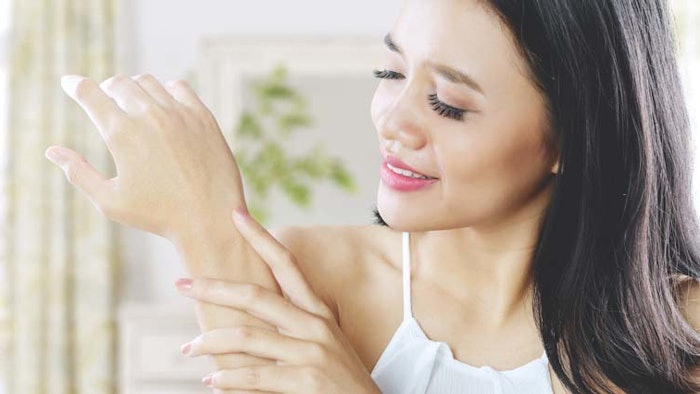 Rodan + Fields (R+F) is taking a multifunctional probiotic, protective and anti-inflammatory approach to soothe irritated skin, as the company revealed in research presented during the virtual May 2021 Society of Investigative Dermatology meeting.
In relation, in a separate study, the company described a multi-mechanistic and synergistic antioxidant blend to subdue inflammaging. Both studies sought to identify and combine ingredients specifically curated to mitigate environmentally induced stress and damage in skin.
Multitargeted Skin Soothing
In one research abstract, R+F explained the effective prevention and treatment of skin inflammation requires a multi-pronged approach to modulate skin inflammation, protect against environmental aggressors and restore microbiome balance. Here, researchers evaluated a novel botanical and vitamin E blend, called RF Botanical Soothing Blend, for its ability to mitigate intracellular reactive oxygen species (ROS) in cultured human dermal fibroblasts generated by UV radiation and pollution (urban dust, UD). Also explored were downstream effects associated with the propagation of the inflammatory cascade in skin.
Results indicated the complex reduced the level of cytokines in cells following the induction of an inflammatory state. The blend also decreased ROS in a DPPH assay and intracellular ROS in a DCFH assay following ROS propagation by UD and UV. Further, the inclusion of an effective probiotic was shown to support the growth of the normal flora S. epidermidis, which has been previously demonstrated to induce host immunity in vivo. Together, these in vitro results indicate carefully selected skin soothing ingredients in an optimized combination may mitigate stress-induced skin irritation while also protecting from external aggressors.
See related: Skin Rescue Squad; Antioxidants and Hydration Impart Proactive Protection
Antioxidant Blend for Synergistic Anti-inflammaging
Additionally, R+F developed a synergistic antioxidant blend (contents undisclosed) to slow the progression of skin damage by combining three specific molecules, each exhibiting different biological mechanisms: scavenging ROS, mitigating intracellular ROS and reducing ROS-induced inflammaging markers. The blend was characterized in vitro and its abilities to quench free radicals (DPPH assay) and intracellular ROS generated by UVA (DCFH assay) were confirmed.
The blend also was found to mitigate markers correlated with inflammaging (photoaging and hyperpigmentation) caused by environmental oxidative stress (PGE2, IL-8, MMP-1). These results support a multi-mechanistic approach via a specified antioxidant blend to effectively alleviate environmentally induced skin damage for anti-inflammaging benefits.
"Investigative dermatology is rooted in our brand's DNA," Sumita Butani, M.D., senior vice president of innovation for R+F. "We are eager to share this research in hopes of advancing our collective approach to skin care and bringing the highest level of product efficacy to our consumers."
See related: Shiseido Uncovers Macrophage Connection to Inflammaging