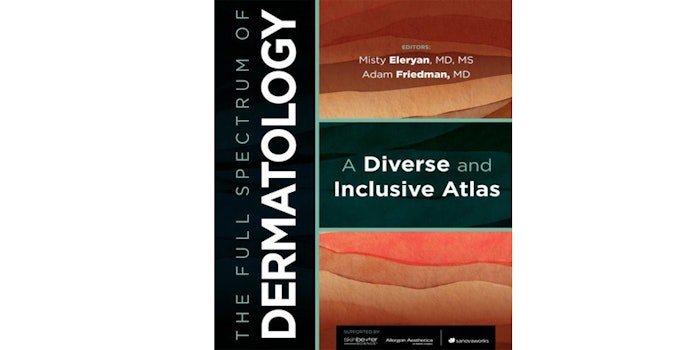 Courtesy of Allergan
Allergan Aesthetics and SkinBetter Science, through their DREAM (Driving Racial Equity in Aesthetic Medicine) initiative, have funded the development and distribution of The Full Spectrum of Dermatology: A Diverse and Inclusive Atlas.
Leaders from academic dermatology and education worked  together to create this comprehensive atlas that will help to address what has become a well-documented gap in dermatology education. Developed by co-editors Misty Eleryan, MD, MS, and Adam Friedman, MD, published by SanovaWorks and Educational Testing & Assessment Systems, the Atlas includes high-quality images taken by dermatologists trained in medical photography which provide side-by-side images of the most commonly seen dermatology conditions in a full spectrum of skin tones.
"To effectively diagnose and manage skin diseases in all patients, dermatologists need to be fluent in the diverse array of clinical presentations of even the most common skin diseases in all skin tones," said Dr. Friedman, professor and chair of dermatology at GW School of Medicine and Health Sciences. "The investment being made by leaders of our dermatology community and industry in this innovative project validates and highlights its extraordinary importance."
"Understanding the need for racial equity in all sectors of society, Skinbetter Science and Allergan Aesthetics, as part of their DREAM Initiative, supports the Atlas' efforts to advance the education of health care practitioners. This comprehensive collection of images is designed to better serve the full spectrum of skin tones—hopefully providing physicians and other health care practitioners the opportunity to advance diagnosis," said Jonah Shacknai, executive chairman of Skinbetter Science. 
Contributing fellows and members of the Atlas Advisory Committee include:
Fellows
Nagasai Adusumilli, MBA
Gabrielle Benesh, BS
Alexis Carrington, MD
Nneamaka Ezekwe, MD
Advisory Council
Blair Allais, MD
Olabola Awosika, MD
Steven R. Cohen MD MPH
Holly Kerr, MD
Adeline Kikam, DO, MS
Jenny Kim, MD, PhD
Alex Ortega Loayza, MD
Lynn McKinley-Grant, MD
Ginette Okoye, MD
Lauren Payne, MD
Raja Sivamani MD MS AP
Mara C. Weinstein Velez, MD