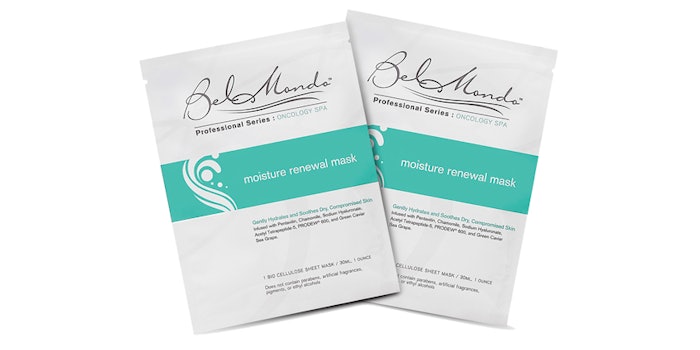 Courtesy of Bel Mondo Beauty
Bel Mondo Beauty is supporting the mission of Looking & Feeling FAB (LFF), a nonprofit organization that provides cancer patients with skin care treatments, massages and skin care education for free.
Bel Mondo is a provider of professional sheet masks used during aesthetic services.
Bel Mondo has committed to donate 300 of its "oncology-approved" Moisture Renewal Masks annually to LFF. Bel Mondo developed its Moisture Renewal Mask in collaboration with Oncology Spa Solutions (OSS) – an educational organization that has trained more than 5,000 skin care professionals in the emerging specialty of oncology aesthetics. 
"Our goal is to improve the quality of life for cancer patients, to let them experience the healing power of touch and to help them regain confidence in their appearance," stated Holly Brown, LFF founder. "Through our Wellness Program, we provide clients with five free treatments as well as complementary skin care products for home use. Bel Mondo's sheet mask is a safe, effective moisturizing treatment that our clients are really going to enjoy and benefit from."