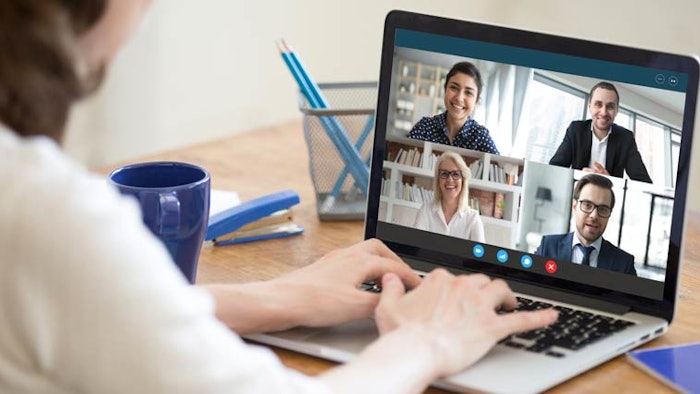 A survey conducted by Advanced Dermatology indicated Americans are more self-conscious about their appearance than before the pandemic, which had led to an increased interest in skin care products and cosmetic dermatology procedures.
Related: Cosmetic Patient Evaluation in a Time of Zoom and Selfies
Advanced Dermatology surveyed 1,450 Americans in August 2021 to better understand how video calls affect self-perception. The respondents were 44% male and 56% female, with an average age of 37 years old and an age range of 18 to 68 years old.
Of the respondents, 83% reported frequently staring at themselves on video calls, 85% felt more self-conscious when seeing themselves on video calls and 73% indicated they are less happy with their appearance now than before the pandemic. Respondents felt most self-conscious about bags under their eyes, their forehead, teeth and shape of face.
Related: Helping Patients Combat Zoom Dysmorphia
Almost half of the respondents (45%) reported looking more tired on video calls, with more stressed, fatter and less attractive being the next most reported perceptions.
The survey also revealed some aspects of voyeurism in video calls, with 78% of respondents saying they've compared their own faces to coworkers' faces and 75% admitting to staring at others more in virtual meetings because no one can tell.
Compared to pre-pandemic, 76% of respondents now put more consideration into grooming and outfits when planning for a video call, and 87% check their appearance before joining the call. The touch-up feature on most video chat devices is popular, with 60% saying they will use it if it's available.
Related: Zoom Meetings Boost Patient Interest in Cosmetic Procedures
The heightened focus on appearance and resulting insecurities are creating bigger investments in skin care routines. Of respondents, 59% have bought skin care products or changed routines and 61% are more interested in cosmetic procedures specifically because of their appearance on video calls.