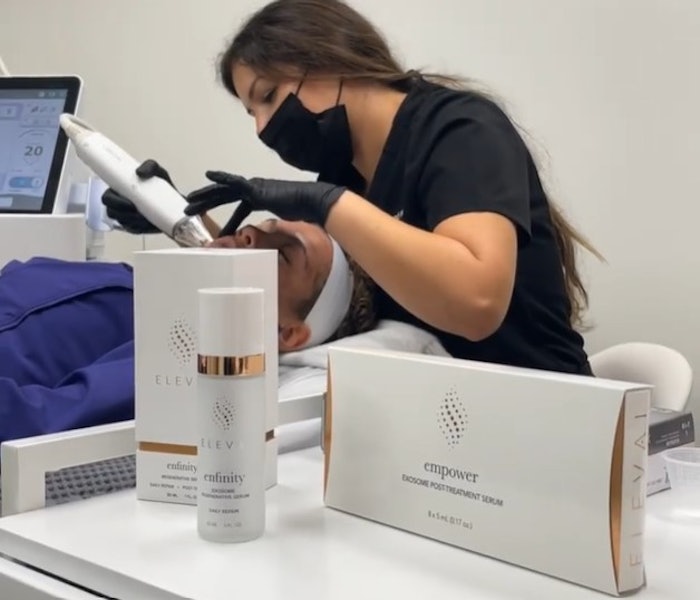 Courtesy of @elevaiskincare
ELEVAI Labs has launched the E-SERIES line of products for use following in-office medical aesthetic procedures.
ELEVAI is a biotechnology company focused on developing regenerative skin care applications. 
The E-SERIES product line was designed to support and enhance the results of in-office aesthetic procedures including microneedling, laser skin resurfacing, microdermabrasion and chemical peels.
ELEVAI's E-SERIES products contain proprietary mesenchymal stem cell (MSC) exosome technology, backed by clinical data. ELEVAI exosomes include growth factors known to support skin health.
The new E-SERIES product line includes:
Empower - An after-treatment serum with ELEVAI Exosomes as its main ingredient, specifically designed for one-time application postprocedure. The serum can be used on sensitive skin.
Enfinity - A rejuvenating serum for at-home daily use following in-office treatment. It contains a blend of ELEVAI Exosomes, stem cell growth factors, hyaluronic acid, copper peptides, collagen boosting peptides and vitamin C designed for increased bioavailability and collagen stimulation.
"We are excited to launch the new ELEVAI Post-Treatment E-SERIES skin care line, bringing the very latest in stem cell exosome technology to skin care and delivering results you can clearly see and feel," said Dr. Jordan Plews, CEO and co-founder of ELEVAI.
The E-SERIES products will be available only through skin professionals in the U.S.